January 18, 2012
Press Release: Carnegie Mellon Electrical and Computer Engineering Students Host Third Annual Festival Showcasing Creative Project Prototypes
Student Teams Tap School Work and Real-World Demands To Build Functional Designs
Contact: Chriss Swaney / 412-268-5776 / swaney@andrew.cmu.edu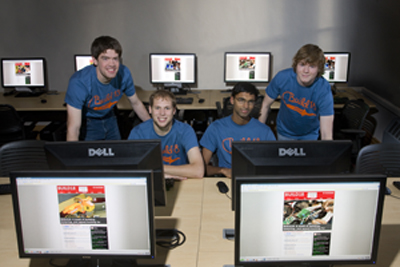 PITTSBURGH—Succeeding in innovation and invention, of course, means identifying the customers' needs and satisfying them. Not everything works the first time.
But whether 120 Carnegie Mellon University engineering students are being playful with a new mind-controlled toy car or deadly earnest in promoting bicycle safety, their energy and ingenuity will be on display from 3 to 5 p.m., Jan. 20 in Hamerschlag Hall at the third annual Build-18 Project Showcase.
"Build-18 is a great and unique opportunity to complement our studies with the application of real-world engineering skills. That means using what we learn in electrical and computer engineering (ECE) to create a cool product in a short time. We work in teams to devise innovative technical solutions, on the fly, with the equipment available," said Erik Schmidt, an ECE senior and Build-18 leader from Ellicott City, Md.
This year, some of the projects being showcased include a sensor-sensitive vest to monitor safety features for the avid cycler and a specially designed digital clock that posts photos to Twitter to incentivize the sleeper to wake up.
The festival (also known as "hackathon") evolved out of ECE students' desire to designate time during the semester to work on their own creative technical ideas and to realize out-of-the-box solutions to real-world problems. Ever practical, they elected to operate under strict deadlines and limited funding as is the case for most entrepreneurial startups.
"We wanted to get out of our comfort zone and apply the concepts we learn in the classroom in new ways," Schmidt said.
Schmidt reports that more than 40 teams, of two to five students each, elected to participate in the activity the first week of spring semester classes.
Susan Farrington, head of ECE student and alumni relations and a Build-18 adviser, praised the students for their organizational skills and enthusiasm for technical innovation. "Our students have very demanding schedules and for them to take time to orchestrate and participate in this event is both amazing and a testament to the quality of our engineering programs and this university," she said.
Carnegie Mellon is one of the fastest growing entrepreneurial universities in the U.S. It's students and faculty have created more than 300 companies and 9,000 jobs in the past 15 years. Last year, the university launched its Greenlighting Startups Initiative, a portfolio of CMU incubator groups designed to speed innovation from the research lab to the marketplace.    
       
###
          
Above, CMU ECE students Nolan Hergert, Erik Schmidt, Nipunn Koorapatc and Collin Buchan prepare for the Build 18 prototype festival.