January 17, 2012
Press Release: CMU's Jane McCafferty Tackles Challenges of Marriage in Her New Novel, "First You Try Everything"
Contact: Shilo Rea / 412-268-6904 / shilo@cmu.edu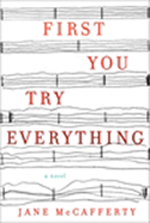 PITTSBURGH—What would you do if your college sweetheart, the one you've been married to for more than a decade, suddenly decided he was over you?
In "First You Try Everything," award-winning author and Carnegie Mellon University Associate English Professor Jane McCafferty tells the story of a collapsing marriage and a wife determined to save it. Set in Pittsburgh, McCafferty uses both main characters' perspectives - Ben and Evvie - to explore the challenges each face now that their once tight bond over shared ideals has evaporated.
"I wanted to study heartbreak, and how the grief of heartbreak can feel like a form of madness," said McCafferty, who teaches fiction writing, literary journalism, magazine writing and occasional reading courses in both fiction and non-fiction in CMU's Department of English. "I was also interested in exploring how two point of view characters can amplify and contradict each other's stories."
In a review, Booklist describes "First You Try Everything" as a "deeply moving portrait of the dissolution of a marriage ... [with] heartrending scenes illuminating the pain of separation, both for the one leaving and the one left."
The magazine Marie Claire also praised the novel, calling it an "evocative read ... the novel masterfully conveys both the youthful love that Ben and Evvie once shared and why it fizzled."
"First You Try Everything" is McCafferty's second novel. Her first, "One Heart," was published in 2000. She also is  the author of two collections of short stories, "Thank You for the Music" and "Director of the World and Other Stories," which won the Drue Heinz Literature Prize. In 2010, she collaborated with CMU professors Jim Daniels and Charlee Brodsky on "From Milltown to Malltown," which combines poetry and photography to examine the transformation of Homestead, Pa., from the once thriving steel-producing capital of the world to an area divided.
McCafferty is the recipient of an NEA Award, the Great Lakes Colleges Association's New Writers Award and two Pushcart Prizes, one each for her fiction and non-fiction.
Published by Harper, "First You Try Everything" can be purchased at http://www.amazon.com/First-You-Try-Everything-Novel/dp/0066210623.
Follow the Dietrich College of Humanities and Social Sciences on Twitter at http://www.twitter.com/CMU_DietrichHSS.
     
###