January 11, 2012
Media Advisory: New Book by CMU Professor and Former US Envoy to Africa Jendayi Frazer Focuses on "Preventing Electoral Violence in Africa"
Contact: Shilo Rea / 412-268-6094 / shilo@cmu.edu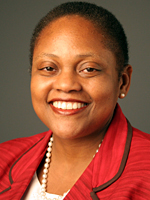 Event: Recent elections in sub-Saharan Africa show that no country is immune to having violence mar the electoral process and its outcomes. In March 2010, Carnegie Mellon University's Center for International Policy and Innovation (CIPI) and the Ghana Center for Democratic Development (CDD-Ghana) convened 38 high-level participants representing 10 countries, the United Nations and 26 diverse organizations in Accra, Ghana, to participate in the Conference on Preventing Electoral Violence and Instituting Good Governance.
CMU Press has published the results of those deliberations in a new book, "Preventing Electoral Violence in Africa."  Edited by Jendayi Frazer, director of the CIPI and distinguished public service professor at CMU, and E. Gyimah-Boadi, executive director of CDD-Ghana, the book offers timely guidance on what can be done to prevent violence from disrupting elections in Africa.
"This book was inspired by a simple truth: no person should face death to cast a vote nor for the choice made," said Frazer, the leading architect of U.S.-Africa policy over the last decade, most recently serving as the U.S. Assistant Secretary of State for African Affairs from August 2005 to January 2009, and previously as the U.S. ambassador to South Africa.
The publication of "Preventing Electoral Violence in Africa" coincides with a number of recent tense, highly contested elections, most notably Liberia's October 2011 elections and the Democratic Republic of Congo's November 2011 contest. In 2012, 20 African countries are scheduled to hold presidential and legislative elections. The book consists of a foreword written by Randy Newcomb, president and CEO of Humanity United, three chapters penned by Frazer and perspectives by five other expert contributors on topics such as understanding electoral violence, diplomacy's role in mitigating violence and electoral success stories in Africa.
Frazer described the volume as a resource for practitioners in the field. "Anyone who is interested in the question of election violence and how it does not need to be inevitable will find it invaluable."
The CIPI will participate in two events to mark the book's publication and to encourage continued discussion on electoral violence in Africa.
In Washington, D.C.
When:  6 – 8 p.m., Thursday, Jan. 19
Where: Heinz College, 444 N. Capitol Street, NW, Washington, D.C. 20001
Details: The CIPI and CMU's Heinz College Washington, D.C., Office will host Frazer for a discussion on African elections' current events and how the recommendations in "Preventing Electoral Violence in Africa" are relevant. The event is part of the Heinz College DC Discussions Series.

In Pittsburgh, Pa.
When:  6 – 8 p.m., Tuesday, Jan. 24
Where:  Bricolage Theater, 937 Liberty Avenue, Pittsburgh
Details:  The World Affairs Council of Pittsburgh is hosting a Political Salon featuring Frazer and the new book in an event titled "A Question of Citizenship: Voting Rights and Challenges in Africa and the United States." The event will focus on the challenges involved in fostering peaceful, free and fair elections in sub-Saharan Africa and the United States.

###
Pictured above is CMU's Jendayi Frazer.