February 21, 2012
Statement From Jared L. Cohon, President of Carnegie Mellon University, in Reaction to U.S. President Barack Obama's Proposed Budget
Contact:
Teresa Thomas / 412-268-2900 /
thomas@cmu.edu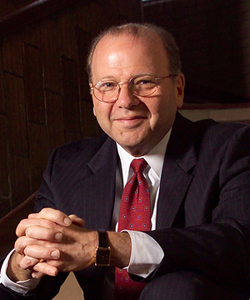 The proposed budget released by U.S. President Barack Obama continues his bold vision to re-ignite job growth and foster long-term competitiveness by investing in innovation and research. Strong support for growth in the National Science Foundation, the National Institute of Standards and Technology, the Department of Energy's Office of Science and the continued vitality of the National Institutes of Health recognizes the critical need to advance basic research in a host of areas capable of unleashing new industries and addressing the essential challenges facing American communities. It is a budget that also reflects the important role of America's universities in sparking regional economic growth.  
The president's budget makes critical investments that are vital to the Pittsburgh region. The proposal continues support for the National Robotics Initiative that
he unveiled at Carnegie Mellon University in June 2011
, which recognizes the power of next generation robots as co-workers, empowering trained workers to help revitalize American industry. This support is related to a broader $2.2 billion commitment to support manufacturing. The goal of this funding is to ensure U.S. leadership in emerging advanced manufacturing industries and to launch a new era of collaboration among universities and large and small industrial companies. In advancing a proposal for a $55 million First in the World Competition to model innovation and quality on college campuses as part of a higher education affordability initiative, the president highlights the important role that breakthroughs in the cognitive sciences can play in improving student success and attainment.  
In his State of the Union address, the president highlighted the essential role that basic research undertaken in part by the National Energy Technology Laboratory (NETL) played in unlocking the potential of shale energy. Carnegie Mellon looks forward to working with the Obama administration and our Congressional delegation to ensure that NETL remains a key resource in leading the transition to clean fossil and renewable energy.  
Carnegie Mellon recognizes that this bold budget proposal also brings responsibilities. Among the most critical of these responsibilities is the need to redouble efforts ensuring that investments in research spark job and business growth. In expressing support for the president's budget, Carnegie Mellon reaffirms its commitment to respond to this challenge and to continue to lead in stimulating entrepreneurship through its
Greenlighting Startups
initiative and the dynamic collaborations with industry that have helped attract companies such as Google, Disney, Lockheed Martin and Caterpillar to Pittsburgh.
###
Pictured above is Carnegie Mellon University President Jared L. Cohon.