December 18, 2012
News Brief: Carnegie Mellon's Jendayi Frazer, Actor Ben Affleck and Others To Brief Congress on the Security Situation in Democratic Republic of the Congo
Contact:
Shilo Rea / 412-268-6094 /
shilo@cmu.edu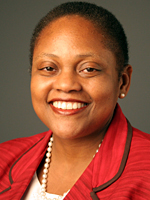 Carnegie Mellon University's
Jendayi Frazer
will join Oscar winner Ben Affleck, founder of the
Eastern Congo Initiative
, and others at a briefing before the
House Armed Services Committee
on Wednesday, Dec. 19 at 10 a.m. The panelists will update the committee on the evolving security situation in the Democratic Republic of the Congo (DRC) and the implications for U.S. National Security. The briefing will take place at the Rayburn House Office Building Room 2118 in Washington, D.C.
Frazer, a distinguished service professor within the
Dietrich College of Humanities and Social Sciences
and the
Heinz College
, is a leading architect of U.S.-Africa policy over the last decade. She most recently served as the U.S. Assistant Secretary of State for African Affairs from August 2005 to January 2009 and previously as the U.S. ambassador to South Africa.
Frazer, who is the director of CMU's
Center for International Policy and Innovation
, will provide her insights into the conflict in the DRC and speak to the diplomatic and other policy options that U.S. policymakers should consider to address the situation in Congo and in the region.
For more information on the briefing or to watch the proceedings live, visit
http://armedservices.house.gov/index.cfm/hearings-display?ContentRecord_id=b1e6e7e8-16c5-44b7-82f2-819128243357
.