December 13, 2012
Press Release: Carnegie Mellon's Master of Product Development Program Plans Expansion
Tepper School of Business Joins School of Design and Department of Mechanical Engineering as Partner in Interdisciplinary Education
Contacts: Mark Burd / 412-268-3486 / mdburd@andrew.cmu.edu                   
Chriss Swaney / 412-268-5776 / swaney@andrew.cmu.edu
Pam Wigley / 412-268-1047 / pwigley@andrew.cmu.edu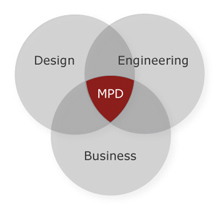 PITTSBURGH—When Carnegie Mellon University began its Master of Product Development (MPD) degree program a decade ago, it was the first of its kind, combining instruction and expertise from three world-class schools on campus. The program, a one-year graduate-level offering, takes a holistic approach toward innovation, underscoring the importance of an interdisciplinary perspective for successful product development. Now the Tepper School of Business has officially joined the School of Design and the Department of Mechanical Engineering as a third partner in oversight of this interdisciplinary degree, underscoring growing interest in the program by traditional business professionals.
"The program is designed to mirror the challenges that design professionals experience in the real world," said Jonathan Cagan, Master of Product Development co-director and the Tallman and Florence Barrett Ladd Professor of Mechanical Engineering. "It is not feasible to design in a vacuum, approaching innovation from a single perspective. Today's great products and services are the innovations of teams of professionals that understand the intersection of form, functionality, logistics, marketing and consumer behavior."
Joining Cagan as co-directors of the MPD program are Eric Anderson, associate professor in the School of Design and associate dean of Carnegie Mellon's College of Fine Arts, and Peter Boatwright, the Carnegie Bosch Associate Professor at the Tepper School of Business. In addition to interdisciplinary research conducted in the program, Cagan and Boatwright also have collaborated on two books, "The Design of Things to Come" and "Built to Love: Creating Products that Captivate Customers," which introduced the concept of "product emotions" and detailed the scientific process by which design teams can build the emotions into products that their customers desire.
Currently, the class consists of approximately 20 students, annually. With increased interest from students with business backgrounds and new opportunities for capstone projects supplied by industry sponsors, the program is expected to grow to 30-40 students in the near future.
"Hands-on experience in dealing with actual product development challenges is a cornerstone of our MPD program," Cagan said. "Each year we work closely with industry sponsors throughout the duration of the course whereby students, under the guidance of instructors and corporate mentors, focus on identifying, understanding, conceptualizing and realizing new product opportunities. As the program celebrates its 10th anniversary, we also champion the companies and products that we have helped to innovate."
Previous corporate sponsors for the capstone course, called Integrated Product Development, include Bodymedia, Dormont Manufacturing, Ford, MSA, Navistar International's Truck Group and Monaco RV division, New Balance, Nissan, Proctor and Gamble and Respironics. Increasing student enrollment is expected to create additional opportunities for corporate sponsorship and participation.
Additional information about the Master of Product Development program is available at http://www.cmu.edu/mpd/index.html

###