December 10, 2012
News Brief: Jim Daniels' Film, "Mr. Pleasant," To Air on WQED Dec. 22
Contact:
Shilo Rea /
shilo@cmu.edu
/ 412-268-6094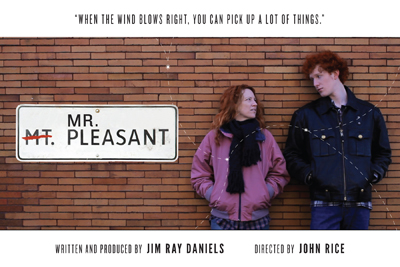 PITTSBURGH—Two years ago, Carnegie Mellon University's
Jim Daniels
debuted
"Mr. Pleasant" at the Three Rivers Film Festival
. Now, the film that tackles how middle-class college students aspire to "get out" and break away from their roots to make it big, is getting a television premiere. "Mr. Pleasant" will be shown on Pittsburgh PBS affiliate
WQED
at 10 p.m., Saturday, Dec. 22 as part of the station's
"Filmmaker's Corner."
Written and produced by Daniels, a Detroit native, and directed by Point Park University's John Rice, the film tells the story of "Red," a college student from a working-class Detroit family who mistakenly thinks that simply escaping his hometown is enough to fix his life and open opportunities for him.
"The theme of 'Mr. Pleasant,' similar to many of my other stories, poems and screenplays, is the working-class stereotype that the goal for everyone should be to get out," said Daniels, the Thomas Stockham Baker Professor of
English
in the
Dietrich College of Humanities and Social Sciences
. "I want to turn that stereotype on its head and instead portray the idea that people shouldn't spend all of their time working towards other people's definition of success."
Shot mostly in Pittsburgh, the film covers one weekend of Red's life and takes place mostly in a car. Unsure of how he fits into his new college life, Red starts making bad choices as a way to compensate for his insecurities. Through a series of events from staying at a party longer than his friends and losing his ride home, to meeting a young woman and interacting with new types of people, Red is forced to confront his own prejudices and simplistic worldview and think about the aimless, self-destructive life he's been living at college.
"Mr. Pleasant" was funded by Daniels' Berkman Faculty Development Grant from Carnegie Mellon and Rice's grant from the Point Park University Faculty Development Fund. This is the third film that Daniels and Rice have collaborated on; the other two are 2005's "Dumpster" and 1994's "No Pets," directed by Tony Buba, for which Daniels wrote the screenplay and Rice was the director of photography.
Carnegie Mellon connections to "Mr. Pleasant" include music from
Creative Writing Program
alumni Billy Price, Jesse Kates, Michael Gabriel and Michael Kaniecki, music from the School of Music's Benjamin Opie and other alumni who worked as part of the film's crew.
Daniels has taught creative writing at Carnegie Mellon since 1981. His work frequently crosses different genres, something he credits teaching at Carnegie Mellon for stimulating. He has published four books of short stories and 12 books of poetry. He has written three films, including 2010's
"Mr. Pleasant,"
and edited or co-edited four anthologies. Also in 2010, Daniels collaborated with CMU professors
Jane McCafferty
and
Charlee Brodsky
on
"From Milltown to Malltown,"
which combines poetry and photography to explore the transformation of Homestead, Pa., from the once thriving steel-producing capital of the world to an area divided.
Daniels' most recent poetry collection,
"Having a Little Talk with Capital P Poetry,"
won the
Independent Publisher Book Award's
2012 Gold Medal for Poetry and the 2012 Paterson Award for Literary Excellence from the
Paterson Poetry Center
.
"Trigger Man: More Tales of the Motor City,"
Daniels' latest book of short stories, was the winner of the
Midwest Book Awards
in the Fiction: Short Story/Anthology category. In 2007, Daniels was awarded the Blue Lynx Poetry Prize for "Revolt of the Crash-Test Dummies." He also has received the Brittingham Prize for Poetry and the Tillie Olsen Prize, two fellowships from the National Endowments for the Arts and two from the Pennsylvania Council on the Arts. His poetry has appeared in the "Pushcart Prize" anthology, "Best American Poetry," Billy Collins' "Poetry 180" and Ted Kooser's "American Life in Poetry" series. And, his poem "Factory Love" was
reproduced on the roof of a racecar.
For more information on "Mr. Pleasant," visit
http://mrpleasantmovie.com/
.
To learn more about the humanities at Carnegie Mellon University, watch this video:
http://youtu.be/DFdHcQN-Chs
.
"Mr. Pleasant" tells the story of "Red," a college student from a working-class Detroit family who mistakenly thinks that simply escaping his hometown is enough to fix his life and open opportunities for him. The flim will get its television premiere at 10 p.m., Saturday, Dec. 22 on WQED.