August 28, 2012
Press Release: Carnegie Mellon's Philip LeDuc Named Fellow of Prestigious Biomedical Engineering Society
Contact: Chriss Swaney / 412-268-5776 / swaney@andrew.cmu.edu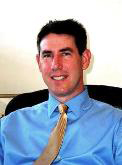 PITTSBURGH—Carnegie Mellon University's Philip LeDuc has been named a fellow of the Biomedical Engineering Society (BMES) for his exceptional achievements and experience in the field, including cell and molecular biomechanics.
"This is a wonderful honor for me to be recognized by my peers as I work to improve the lives of people worldwide and to excel in biomedical engineering research," said LeDuc, a professor of mechanical engineering with courtesy appointments in the Biomedical Engineering, Biological Sciences and Computational Biology departments.
LeDuc, one of nine fellows named this year, will be honored Oct. 25 during the BMES annual meeting in Atlanta.
With more than 5,000 members worldwide, the BMES is the leading society of professionals devoted to developing and using engineering and technology to advance human health and well-being.
"We applaud Phil LeDuc's latest accolade and his innovative work, which spans the gamut from exploring nutrition for the healthy growth of infants and children in underdeveloped countries to novel molecular biomechanics research," said Yu-Li Wang, head of CMU's Biomedical Engineering Department.
Richard E. Waugh, BMES president and a biomedical engineering professor at the University of Rochester, praised LeDuc for his great energy and enthusiasm.
"Phil has been a terrific asset to BMES. He played a key role in the development of our strategic plan and was instrumental in bringing that process to a productive close. He is also spearheading an international group to explore ways in which BMES can extend its reputation and influence outside the U.S.," Waugh said.
LeDuc is studying how a protein's shape and form determine how it functions in the human body from a mechanics perspective. Misguided proteins, for example, have been linked to disease such as cancer and arthritis, and problems in wound healing.
LeDuc has won numerous awards, including a National Science Foundation Career Award, the Grand Challenges Exploration Award from the Bill & Melinda Gates Foundation and the Beckman Foundation Young Investigators Award. He is a faculty member of the prestigious Sloan Foundation Minority Ph.D. Program.
###