August 13, 2012
News Brief: Carnegie Mellon Supports Governor Corbett's Visit to Promote Pennsylvania in Silicon Valley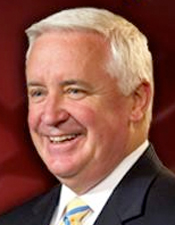 Carnegie Mellon University leaders and several heads of CMU startup companies will be meeting with Pennsylvania Governor Tom Corbett at CMU's
Silicon Valley
campus Tuesday and Wednesday. The governor is traveling to Silicon Valley to promote Pennsylvania as the location of choice to both major tech firms and emerging start-ups.
Seven of CMU's "
Greenlighting Startups
" companies will have representatives to meet with the governor on Tuesday to hear his plans and what he hopes to accomplish during his visit. Based in Pittsburgh, the companies include NoWait, Inc., Wombat Security Technologies, CommunityVibe, Clear Count Medical Solutions, Plextronics, Shoefitr and Thar Pharmaceuticals.
"Those of us going on this trip are all excited to have a chance to show off what we've built to startup centers across the nation," said CMU alumnus Eric Silver, founder and CEO of Pikimal. "I'm deeply impressed by the responsiveness of Governor Corbett, the Pittsburgh Tech Council, and Carnegie Mellon University: by building bridges between Pittsburgh and the Silicon Valley, they increase our ability to raise money and to create jobs and companies in Pennsylvania."
The university's Greenlighting Startups initiative is designed to help entrepreneurs move innovations from the research lab to commercialization more quickly. In the past 15 years, CMU has helped to create more than 300 companies and 9,000 jobs.
The governor will also be visiting companies with CMU ties. Visits will take place with Google, which opened its first Pittsburgh office on CMU's campus, and businesses that came to Pittsburgh by acquiring CMU startups, such as McKesson, NetApp and Apple. ModCloth, another CMU startup, will also host a visit by the governor.
CMU Provost and Executive Vice President Mark Kamlet will be joining the governor on some of his visits to Silicon Valley's leading companies and venture capital firms. Ray Lane, chairman of CMU's Board of Trustees and general partner of Kleiner, Perkins, Caufield and Byers, will host a reception for the governor during his visit. In addition, Carl Rosenthal, co-director of CMU's Entertainment Technology Center at the Silicon Valley campus, will be part of a roundtable discussion about transformational games, which involves the application of game design techniques and gaming technologies to enhance education, health care and workplace training.