September 27, 2011
News Brief: CMU Installs 10 Solar-Powered Waste and Recycling Containers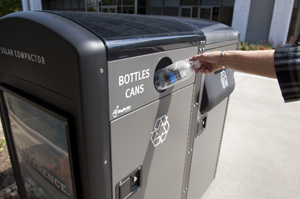 Carnegie Mellon and Waste Management, Inc., have installed 10 new waste and recycling containers on campus that use solar-powered batteries to compact trash and wirelessly transmit information to collectors notifying them when the containers need to be emptied. The containers, from the Massachusetts-basedfirm BigBelly Solar Inc., will reduce operating costs and improve efficiency by eliminating the need for daily trash pick-ups.  
"We are pleased to add these new compactors to our waste minimization efforts at the school," said CMU's Environmental Coordinator Barb Kviz. "Not only are we reducing our carbon footprint but we are making it easier for our students to recycle."  
The solar powered containers complements
CMU's green practices
. With 100 percent of CMU's electricity coming from renewable power sources, the university is ranked as a green power leader by the U.S. Environmental Protection Agency.