September 26, 2011
Press Release: Carnegie Mellon University in Qatar To Offer Undergraduate Degree Programs in Biological Sciences and Computational Biology
Contacts: 
D. Murry Evans / CMU Qatar Campus / +974 4454 8490 /
dmevans@qatar.cmu.edu
Jocelyn Duffy / CMU Pittsburgh Campus / 412-268-9982 /
jhduffy@andrew.cmu.edu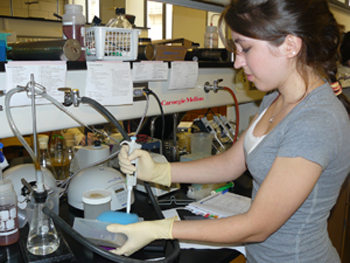 DOHA, Qatar—
Carnegie Mellon University in Qatar
has launched two new undergraduate degree programs in biological sciences and computational biology. The programs are a collaborative effort with Weill Cornell Medical College in Qatar (WCMC-Q), with students receiving their degrees from Carnegie Mellon.
"Carnegie Mellon Qatar is excited to partner with Weill Cornell Medical College in Qatar to offer new programs in biological sciences and computational biology. Graduates will be uniquely qualified to solve problems and contribute to cutting-edge research in fields such as biomedicine, health care and global health," said Ilker Baybars, Ph.D., dean of Carnegie Mellon Qatar.       
Javaid I. Sheikh, M.D., dean of Weill Cornell Medical College in Qatar, said: "WCMC-Q is delighted to join CMU-Q in offering bachelor's degrees in biological sciences, which would be an important contribution to the vision of Qatar becoming a knowledge-based society by 2030. These joint programs are a shining example of increasing collaboration among Qatar Foundation's institutions to reflect the vision of Her Highness Sheikha Moza Bint Nasser."       
Carnegie Mellon plans to offer two degree paths: a Bachelor of Science (B.S.) in biological sciences and a B.S. in computational biology. These majors will be offered in collaboration with their associated departments at Carnegie Mellon in Pittsburgh: the
Department of Biological Sciences
in the
Mellon College of Science
for the biological sciences degree, and the
Lane Center for Computational Biology
in the
School of Computer Science
for the computational biology degree. As part of its new incoming class, Carnegie Mellon has enrolled six transfer students into the new B.S. in biological sciences program.
Students pursuing the B.S. degree in biological sciences will undertake a rigorous, quantitative course of study that requires substantial laboratory experience. The program will equip students for graduate study, medical school, or jobs in industry, government or academic research. 
Students completing the B.S. degree in computational biology will be highly trained in one of the most rapidly growing areas in modern biology. Computational biologists, who apply computer science techniques to complex biological problems, will be prepared for work in biomedical imaging, genomics and population genetics, among other important areas.
The new programs draw on the unparalleled expertise of two world-class institutions. Carnegie Mellon, known internationally for its researchers who solve real-world problems, was the first university in the United States to offer an undergraduate degree in computational biology. Founded in 1898, Weill Cornell Medical College in New York is among the top ranked medical research centers in the United States.
Students who are enrolled in Carnegie Mellon Qatar's three existing undergraduate programs — business administration (BA), computer science (CS) and information systems (IS) — will be able to participate in the new programs by taking courses in biological sciences or computational biology. This interdisciplinary opportunity will enable them to develop an understanding of key issues in biological sciences that directly impact their disciplines.
Once fully established, between 20 and 25 students are expected to enroll in the programs annually. The core curriculum will include mathematics, the physical and life sciences, computational biology and laboratory courses. According to their degree path, students may take advanced electives in neuroscience, immunology, computational biology, as well as liberal arts classes. Students attending other universities at Qatar Foundation will also be able to cross-register for various courses in the biological sciences.       
"These new degree programs are a milestone in complementing the efforts of our partners with whom we are working to enhance health care research education and I am especially proud of the collaboration across QF's international partners that has made it possible," said Fathy Saoud, Ph.D., president of Qatar Foundation for Education, Science and Community Development. "Graduates with a mix of modern biology, computational biology and business skills will be paramount in the operational research functions of QF's Sidra Medical and Research Center, whose opening we are eagerly anticipating in 2012."  The president added, "Through a unique joint collaboration between two university campuses in Education City, modern biological sciences, particularly computational biology, will be offered for the first time in the Middle East."       
Continuing Carnegie Mellon's longstanding tradition of undergraduate research, degree-seeking students will have the opportunity to engage in a 10-week discovery-based research program at Carnegie Mellon Qatar, WCMC-Q, Sidra Medical Research Center or other Qatar research institutions.
"Undergraduate research is at the heart of Carnegie Mellon's biological sciences program. Our students learn critical thinking and problem-solving skills that they are able to apply to any career that they may choose," said Fred Gilman, dean of the Mellon College of Science. "Our students and alumni cite undergraduate research as one of the best parts of their education. We are excited to bring these opportunities to Carnegie Mellon's Qatar campus."
###