September 21, 2011
Press Release: Carnegie Mellon's Paul S. Steif Pens New Dynamic Textbook for Engineering Students
Visual Appeal and Everyday Experiences Seek To Demystify Subject
Contact: Chriss Swaney / 412-268-5776 / swaney@andrew.cmu.edu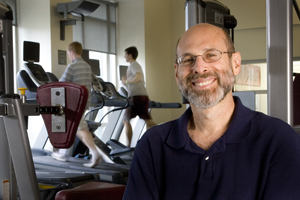 PITTSBURGH—A new textbook created by Carnegie Mellon University's Paul S. Steif could help spark increased student interest in engineering, a profession essential to retaining the nation's global competitiveness.
"I wrote a new textbook for engineering students to help demystify the subject and to take an approach more in sync with learning styles of a generation of students who literally grew up on the Internet," said Steif, a professor of mechanical engineering at Carnegie Mellon.
The book, "Mechanics of Materials," published by Pearson, is visually appealing and filled with depictions of everyday experiences with simple objects designed to help students grasp major engineering concepts with ease and agility. The book helps students relate engineering concepts to many real-world engineered systems, such as wind turbines and devices that physicians use to fix broken bones.
"We are extremely pleased with this textbook because it illustrates how the study of materials deforming under stress has broad applications to so many critical engineering products and systems," said Nadine Aubry, the Raymond J. Lane Distinguished Professor and head of Carnegie Mellon's Department of Mechanical Engineering. "It is so very important that we continue to encourage more youth to consider engineering as a career goal."
In fact, Steif's new book comes at a time when government officials are striving to address the nation's engineering shortages. In August, the U.S. President's Council on Jobs and Competitiveness announced that 50 leaders have committed to increasing the number of engineering internships available at companies from Corning Inc. to Pittsburgh-based U.S. Steel. Both the council and President Obama are committed to graduating 10,000 more engineering students from U.S. colleges and universities each year. Last year, the U.S. graduated more than 100,000 engineers, according to the 2010 Engineering Workforce Commission of the American Association of Engineering Societies, Inc. of Elkridge, Md.
"Engineering is all around us every day. We need students to understand that learning engineering involves gaining greater insight into how the world works, with the prospect that they can play a greater role in improving how things work," said Steif, whose research focuses on how students learn engineering concepts.
Steif's research has investigated stress and cracking during cryopreservation of biological tissues. He received his bachelor's degree in mechanical engineering from Brown University in 1979 and a Ph.D. in mechanical engineering from Harvard University in 1982. 
     
###
     
Pictured above is Paul S. Steif in the fitness room at Carnegie Mellon's University Center. Steif used everyday examples in his new book, like fitness equipment, to help explain engineering concepts.