October 31, 2011
Press Release: Biotech Innovator Jonathan Rothberg To Speak at Carnegie Mellon Nov. 3
CMU Alumnus, Trustee's Work on DNA Sequencing Could Lead to Treatments for Genetic Diseases
Contact:
Ken Walters / 412-268-1151 /
walters1@andrew.cmu.edu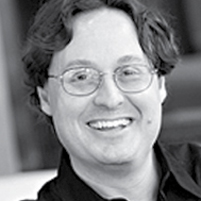 PITTSBURGH—Jonathan Rothberg (E '85), whose work on DNA sequencing may lead to treatments for genetic disorders, will speak at 4:30 p.m. on Thursday, Nov. 3, at Carnegie Mellon University's Rashid Auditorium. Rothberg will appear as part of The Innovator's Forum, a new series sponsored by CMU's
Greenlighting Startups
initiative, which connects top entrepreneurs with the university community.
The founder and CEO of Ion Torrent, Rothberg is best known for pioneering high-speed, massively parallel DNA sequencing. He created the Ion Personal Genome Machine (PGM), which sequences DNA to allow researchers and doctors to identify, diagnose and potentially develop treatments for genetic diseases. Personal genome sequencing assesses the status of a person's genes at one time, including genes that are implicated in causing disease.
Earlier this year, PGM enabled two teams of scientists in Germany and China to decipher the deadly E. coli bacterium that caused more than 50 deaths in Europe in just three days — a task that would have taken up to two weeks using traditional instruments.
This month, the Wall Street Journal's Technology Innovation Awards recognized Rothberg for PGM, which "promises to sequence DNA more quickly and at a lower cost than other sequencing technologies," the awards committee said. In 2008, Science magazine named PGM one of the year's top 10 breakthroughs.
A 1985 CMU engineering graduate, Rothberg will talk about his work as a scientist and entrepreneur, his time at CMU and his future challenges in the personal genome field. CMU Provost and Executive Vice President Mark Kamlet will moderate the discussion, with a question and answer period afterward.
###