November 18, 2011
Press Release: Carnegie Mellon's Donghyun You Earns Young Investigator Award From US Navy
Assistant Professor of Mechanical Engineering Will Work To Improve Design of Submarine Propellers
Contact: Chriss Swaney / 412-268-5776 / swaney@andrew.cmu.edu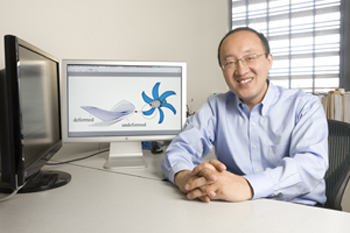 PITTSBURGH—Carnegie Mellon University's Donghyun You has earned a three-year, $512,000 Young Investigator Award from the U.S. Department of Navy's Office of Naval Research to design innovative ocean propulsion systems inspired by nature.
You, an assistant professor of mechanical engineering, is developing a computational system to improve the design of submarine propellers for quieter operation and greater energy efficiency.
"I am honored by this award which will help me continue my work of looking at biologically inspired designs of novel fluid systems for ocean propulsion," You said. "I am looking at how the natural ocean environment impacts these important propulsion systems and how we can emulate some of the pitching/rolling motions of fish and other aquatic life into our novel propulsion systems."
This year, the Navy selected 21 proposals from more than 270 applications. The Navy's Young Investigator Program (YIP) identifies and supports academic scientists and engineers.
"This is a wonderful achievement by Dr. You, who is being recognized through this prestigious award for outstanding work and great promise. His innovative work in fluid dynamics has the potential for great impact on the next generation of propulsion systems," said Nadine Aubry, the Raymond J. Lane Distinguished Professor and head of CMU's Mechanical Engineering Department.
You's research focuses on a computational framework for high-fidelity simulation and design of thermo-fluid systems that are innovative in energy conversion and energy utilization processes.
In addition to conventional energy conversion and propulsion systems, he also is working to improve sustainable energy systems such as wind and hydropower for electricity, and hydrogen systems such as combustors and fuel cells.
The Office of Naval Research launched the YIP in 1985, offering 10 grants of $50,000 to promising researchers. Since then 554 recipients have been named from 118 academic institutions.
###