May 03, 2011
Press Release: Carnegie Mellon Alumnus John Cooper Wins German Chancellor Fellowship
Cooper To Conduct Research on German Green Party and Nuclear Energy Debate
Contact:
Abby Houck / 412-268-4290 /
ahouck@andrew.cmu.edu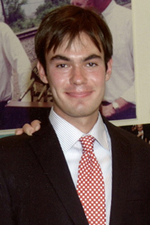 PITTSBURGH—John Cooper, a recent graduate of Carnegie Mellon University's
College of Humanities and Social Sciences,
is one of 10 U.S. recipients of the 2011
German Chancellor Fellowship
. The
Alexander von Humboldt Foundation
awards the fellowships to young, prospective leaders from the United States, the Russian Federation and the People's Republic of China.      
Cooper, of Mt. Lebanon, Pa., completed his undergraduate studies in history and German at Carnegie Mellon in December 2010. He is the second student in the university's history to receive this fellowship. The first CMU student to receive the award was Brian Mathias, a 2007 graduate of the
Bachelor of Humanities and Arts program.
"John submitted a first-rate proposal, building on his historical interests and his strong German language training," said Stephanie Wallach, assistant vice provost for undergraduate education and director of the
Fellowships and Scholarships Office.
"It was rewarding, especially for Jennifer Keating-Miller, our assistant director, who worked closely with John to see his proposal come together in its final version. The recognition he received is well deserved."      
The goal of the German Chancellor Fellowship Program is to give young leaders the opportunity to spend an extended period of time in Germany at an early stage in their careers. After the experience, fellowship recipients have the potential to become intermediaries between their home countries and Germany as they assume important positions in economics, science, politics and society.      
Modern Languages Department
faculty member Stephen Brockmann, a previous fellowship recipient from the Alexander von Humboldt Foundation, recommended Cooper for the award.      
"One of the key criteria for choosing young people for this prestigious fellowship is their potential as future leaders or 'multipliers,'" Brockmann said. "John is highly intelligent and articulate and gets along well with his peers; this makes him a natural leader. He will be a wonderful ambassador for the United States in Germany, but when he returns to the United States, he will be just as likely to be an ambassador for Germany here."      
The program includes an intensive language course, a four-week introductory seminar in Bonn and Berlin, a study trip around Germany and a final meeting in Berlin. Cooper will spend most of his time in Germany working with Julia von Blumenthal, a research supervisor at
Humboldt University
's Department of Social Sciences in Berlin.      
"I will be studying the nuclear energy debate in Germany and the history of the country's Green Party, Bündnis 90/Die Grünen, since the 1970s," Cooper said. "Partly through the party's actions, Germany has become a leader in environmental regulation and progress. It's a very exciting time for environmentalists in Germany, and I'm looking forward to studying their history."      
Upon returning to the United States, Cooper will study law at the
University of Pennsylvania Law School
in Philadelphia.      
While at Carnegie Mellon, Cooper served as co-coordinator of Eco-Reps, a student organization that develops educational programs for peers about lifestyle decisions and their impact on the environment. He spent the summer of 2010 interning in former U.S. Sen. Arlen Specter's Washington, D.C., office through Carnegie Mellon's
Milton and Cynthia Friedman Internship Program
. Cooper also spent the fall 2010 semester abroad in Freiburg, Germany, with the assistance of the Department of Modern Languages' Patricia Askwith-Kenner Scholarship.      
###
Pictured above is John Cooper.