May 20, 2011
Press Release: Carnegie Mellon's Metin Sitti Wins Prestigious Nano-engineering Award
Outstanding Research and Academic Leadership Supports National Engineering Award
Contact:
Chriss Swaney / 412-268-5776 /
swaney@andrew.cmu.edu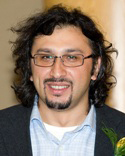 PITTSBURGH—Carnegie Mellon University's Metin Sitti received the 2011 Nano-engineering Award from SPIE – the international society for optics and photonics for his work on devices that can manipulate objects on a molecular level.
"This is a new field of robotics, and I'm honored to receive the award," said Sitti, director of the
NanoRobotics Lab
at Carnegie Mellon.
Sitti's research is leading to the development of nanorobots — robots smaller than the width of a human hair. The medical field wants the robots for health care, and the Department of Defense is interested in highly sensitive sensors created by Sitti's nanoengineering.
"The recognition is so well deserved by such a talented and innovative researcher," said Nadine Aubry, the Raymond J. Lane Distinguished Professor and head of
Mechanical Engineering
at Carnegie Mellon. "Carnegie Mellon is noted for leading-edge research, and Professor Sitti is the epitome of our problem-solving, thinking-outside-the-box environment."
Sitti also is using his work with geckos to inspire new methods to print electronics on complex surfaces. Along with a team of researchers nationwide, Sitti has developed a reversible adhesion method for printing electronics on a swath of complex surfaces, such as clothing, plastics and leather. The team designed a square polymer stamp with pyramid micro-tips that allows them to control adhesion strength. Like geckos, which are wizards at sticking to any kind of surface, the new polymer stamp also features a distinct adhesive quality.
"We are developing breakthroughs that will have long-range applications for both commercial and industrial use," Sitti said.
The award was given April 28 during SPIE's Defense, Security, and Sensing conference in Orlando.
###