June 20, 2011
News Brief: President Obama To Speak at CMU Friday, June 24
By Internal Communications bg02(through)andrew.cmu.edu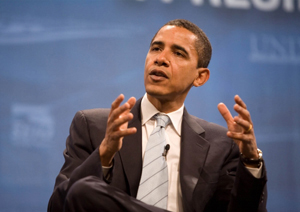 President Barack Obama will visit Carnegie Mellon's Pittsburgh campus next Friday to highlight the importance of manufacturing to the U.S. economy. A White House official said the president will speak about steps that government, industry and universities will take together to create new industries and new jobs. He will discuss cross-cutting technologies meant to enhance the global competitiveness of U.S. manufacturing and speed up the process of bringing ideas to fruition.
This will be the second time in a little more than a year and the third time since 2008 that President Obama will speak at CMU. His last visit was on June 2, 2010.
This visit comes after Carnegie Mellon recently introduced "Greenlighting Startups," a new initiative aimed at accelerating CMU's already impressive record of turning campus innovations into sustainable new businesses. Since 2004, CMU has doubled the number of start-up companies created by its faculty and students and now stands as one of the fastest growing entrepreneurial institutions in the United States.
Stay tuned for more details as they become available.