January 20, 2011
Press Release: Carnegie Mellon's Shawn Litster Earns NSF Career Young Investigator Award for Energy Research
Grant Will Also Support Development of New Teaching Initiatives
Contact: Chriss Swaney / 412-268-5776 / swaney@andrew.cmu.edu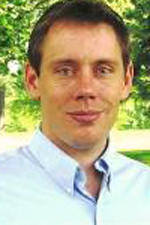 PITTSBURGH—Carnegie Mellon University's
Shawn Litster
was awarded a $400,000 Career Young Investigator Award from the
National Science Foundation
(NSF) to pursue fuel cell and lithium-ion battery research.      
"I'm delighted to receive this award. It provides important support for studying transport phenomena in fuel cell and battery electrodes using our unique micro-scale approaches. The award also supports my education initiatives in developing new approaches for teaching energy systems," said Litster, an assistant professor of mechanical engineering who teaches undergraduate and graduate courses in energy systems and thermodynamics.      
Nadine Aubry, head of CMU's
Mechanical Engineering Department
, praised Litster for his innovative and timely research. "We are so fortunate to have such outstanding faculty who pursue state-of-the-art research and work incessantly to translate their leading-edge work into important classroom curriculum. Shawn is a perfect example," Aubry said.       
"With over a hundred fuel cell vehicles on the road in the U.S., fuel cells continue to make important advances toward commercialization. They are an interesting energy technology because of their high efficiencies and fuel flexibility, including fuels derived from renewable resources," Litster said. "Likewise, advanced batteries for vehicles present an opportunity to improve efficiency and increase energy independence."      
Litster received his bachelor's degree in engineering and his master's degree in mechanical engineering 2004 and 2005, respectively, from the University of Victoria in Victoria, British Columbia.  He earned a Ph.D. in mechanical engineering in 2008 from Stanford University.
###
Pictured above is CMU Assistant Professor of Mechanical Engineering Shawn Litster.