February 24, 2011
Press Release: Aron Ralston, Carnegie Mellon Alumnus and Subject of "127 Hours," To Speak at CMU Commencement
Contact: Teresa Thomas / 412-268-2900 / thomas@cmu.edu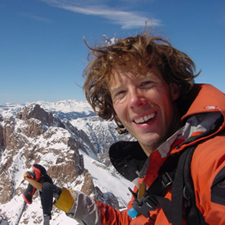 PITTSBURGH—Trapped alone in a Utah canyon for nearly a week, pinned by a half-ton boulder, Carnegie Mellon University alumnus Aron Ralston (E'97) had to choose between his hand and his life. He chose survival — amputating his own limb, rappelling 65 feet and hiking seven miles to rescue.      
Ralston will bring his amazing inspirational story home to Carnegie Mellon on May 15, 2011, when he delivers the keynote address at the university's 114th Commencement ceremony.      
Ralston's heroic story is the subject of the film "127 Hours," starring James Franco and directed by Oscar-winning Danny Boyle. Boyle's film, based on Ralston's 2004 New York Times bestselling autobiography, "Between a Rock and a Hard Place," received six Oscar nominations, including "Best Picture."      
"Aron's incredible story has been, and continues to be, an inspiration to millions around the world," said Carnegie Mellon President Jared L. Cohon. "He turned grave adversity into a learning and teaching experience for all of us. I know our graduates will enjoy and greatly benefit from hearing Aron speak."      
A highly talented student while at Carnegie Mellon, Ralston credits the university with helping him in the canyon. "The analytical and rational problem-solving I honed at Carnegie Mellon played a major role in helping me get out of there," he explained.      
But what kept him alive, said Ralston, was more elemental. "It was primarily my family," he explained. "In the end I realized what I survived on, what got me out of there, was love."      
At CMU, Ralston majored in
mechanical engineering
and
French
, and minored in
piano performance
. As a resident assistant, he was an important role model for students and earned the respect of his peers for his work ethic, sense of adventure and great humor. He also was active in numerous intramural sports and a member of seven honor societies, including Phi Beta Kappa. Ralston became a member of Carnegie Mellon's Andrew Carnegie Society as a way of giving back to the university for what he describes as "an incredible education."      
Ironically, his experience in Utah only caused him to redouble his efforts and intensity. He went on to climb all 59 of Colorado's highest peaks - solo, in winter. He's also drawn on his engineering skills, helping to design prosthetics for companies that have sponsored his climbs.    
Today, Ralston lives with his wife, Jessica, and their son in Boulder, Colo. He is an advocate for Utah and Colorado wilderness.
###
Pictured above is Aron Ralston.