December 14, 2011
Press Release: Teaching Old (Toy) Robots New Tricks; Device Adds Bluetooth Link for Toys, TVs
Brainlink System Uses Carnegie Mellon Software
Contact: Byron Spice / 412-268-9068 / bspice@cs.cmu.edu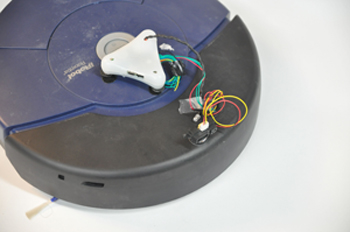 PITTSBURGH—Toy robots and other gadgets operated with infrared (IR) remote controls can gain new capabilities — and perhaps some intelligence — by use of a device called Brainlink that enables a Bluetooth link with an Android-based smartphone or a laptop computer.
The device, developed by Carnegie Mellon University spin-off BirdBrain Technologies with assistance from CMU's CREATE Lab, makes it possible to control a robot, such as WowWee's popular Robosapien toy, using a computer or Android smartphone.
The Brainlink system also includes a light sensor and accelerometer and has ports for connecting additional sensors, so users can add capabilities to old devices. The addition of proximity sensors, for instance, can help iRobot's Roomba vacuum cleaner avoid hitting walls.
Brainlink was developed with the support of a Small Business Innovation Research (SBIR) grant from the National Science Foundation.
"Millions of Robosapiens, Roombas and other consumer robots have been sold and many of these could serve as great platforms for education or research," said Tom Lauwers, who earned his doctorate in robotics at Carnegie Mellon's Robotics Institute and now heads BirdBrain Technologies in Pittsburgh. "By giving these devices Bluetooth links to Android phones and laptops and adding ports for sensors, we can repurpose these robots in ways that couldn't have been foreseen when they were made."
The Brainlink system includes a small triangular controller that attaches to the robot; an infrared LED connected to the unit can be positioned near the robot's IR detector to relay commands. The unit, powered by a rechargeable battery, has a Bluetooth range of 30 feet.
The Brainlink-equipped robot can respond to Bluetooth commands from a smartphone or laptop, but this link is one-way only. The unit, however, includes connectors that can be used for mounting multiple digital and/or analog sensors, enabling the robot to respond directly to changes in light, sound, temperature, air quality or other factors.
"Some of the most exciting applications are those possible by attaching a smartphone to the robot," Lauwers said. The smartphone's camera, microphone and speakers, as well as its onboard computing power, could enable a robot to respond to voice commands or locate certain objects.
"It's mostly for people who like to hack around or for educators who want to spice up a computer science or electrical engineering class," said Lauwers, who noted it's likely not suitable for a casual user.
In addition to robots, it can be used to control any device that has an IR remote control, including TVs, cable boxes and DVD players. But again, Lauwers cautions that Brainlink is not for everybody: "It's not meant as a substitute for an off-the-shelf universal remote control."
As part of the SBIR grant, the software for Brainlink was developed by Christopher Bartley, principal research programmer in the Robotics Institute's CREATE Lab, and Huaishu Peng, a master's degree student in the School of Architecture's Tangible Interaction Design program.
BirdBrain Technologies provides more information about Brainlink, including a video, and takes orders for the system ($125) at http://www.brainlinksystem.com/.
Carnegie Mellon is one of the fastest growing entrepreneurial universities in the U.S.  Its students and faculty have created more than 300 companies and 9,000 jobs in the past 15 years. Earlier this year, the university launched its Greenlighting Startups initiative, a portfolio of CMU incubator groups designed to speed innovation from the research lab to the marketplace.
The Robotics Institute is part of Carnegie Mellon's School of Computer Science. Follow the school on Twitter @SCSatCMU.
###
Pictured above is iRobot's Roomba vacuum cleaner with the Brainlink system attached. Brainlink can help Roomba avoid hitting walls.