December 12, 2011
Press Release: CMU Graduate Student, Dan Hussain, Tackles Shale Gas and Watershed Issues With New Entrepreneurial Tech Startup
Contact: Chriss Swaney / 412-268-5776 / swaney@andrew.cmu.edu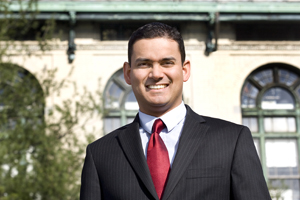 PITTSBURGH—The Marcellus Shale stampede is creating an entrepreneurial rebirth and a Carnegie Mellon University graduate student is tapping the economic boom.
Dan Hussain, a graduate student in the Department of Civil and Environmental Engineering, is launching a new company dedicated to improving the productivity of the shale gas industry while reducing its environmental impact.
His company, HydroConfidence — formed earlier this year with Concurrent Technologies Corporation (CTC) — developed its first product comprising sensors for monitoring groundwater systems and for monitoring and proactively alerting natural gas constituents of methane migrating from shale gas wells into water aquifers, homes and businesses. The shale gas producers can use this product to help reduce their risk of lawsuits, regulatory compliance issues, and business disruption if they are the cause of a leak, or to prove conclusively that they are not the cause of the leak.
"We're currently working with the Loyalhanna Watershed Association to develop and field test a prototype of the system for monitoring water aquifers in Ligonier Township. In the near future, our system will be able to determine the origin of methane contamination, and detect the loss of mechanical integrity of a borehole due to breaks or leaks in well casing," Hussain said.
His fledgling company's work reflects concerns about the environmental and health effects of hydraulic fracturing, or "fracking," a method of obtaining previously hard-to-reach natural gas resources that has sparked a drilling boom in Pennsylvania. Regulators and citizens have expressed concerns about methane migrating into water aquifers, but the lack of real-time monitoring capability prevents gas operators from distinguishing the difference between natural methane migration and methane leaking from shale gas wells.
"A pilot version of the HydroConfidence monitoring system has been installed in a Ligonier farm well to test a portion of groundwater from the Loyalhanna Watershed," said Susan Huba, executive director of the 298-square-mile Loyalhanna Watershed Association, which sports 2,500 miles of streams throughout southwestern Pennsylvania.
"The project is still in its early stages, but we think it is important to begin some regular monitoring as natural gas drilling increases in the region," program manager Josh Penatzer said.
Jon Knutsen, CEO of Franatech Corporation, reports that this Loyalhanna project may be the first time U.S. groundwater has been monitored for methane associated with natural gas extraction. Franatech, which specializes in underwater sensors, is working with HydroConfidence to develop new sensor technology for real-time monitoring of environmental contaminations.
"Improvements in horizontal drilling and hydraulic fracturing have permitted recovery from previously inaccessible deep shale deposits," said former U.S. Assistant Secretary of Energy for Policy and International Affairs Vincent DeVito, who currently serves as general counsel for HydroConfidence.
"With the Pennsylvania Department of Environmental Protection calling for shale gas operations to improve protection of water quality and to adopt requirements for background water quality measurements, innovative and cost-effective environmental monitoring is likely to become a required part of the permitting process," said Frank Cooper, chief technology officer of CTC.
"I'm excited with this new company and my work as a grad student at CMU," Hussain said. "I've always wanted to run my own company, and my CMU education and the CMU culture of entrepreneurship is giving me that opportunity."
In addition to Hussain, other CMU faculty and students involved in HydroConfidence include Jim Miller, associate research professor in the Department of Chemical Engineering, and undergraduate computer science students Nolan Carroll, Seth Vargo and Patrick Hogan. The project was funded through a grant from the Foundation for Pennsylvania Watersheds, a grant-making foundation that invests in efforts to protect healthy, natural streams around the state of Pennsylvania.
Carnegie Mellon is one of the fastest growing entrepreneurial universities in the U.S.  Its students and faculty have created more than 300 companies and 9,000 jobs in the past 15 years. Earlier this year, the university launched its Greenlighting Startups initiative, a portfolio of CMU incubator groups designed to speed innovation from the research lab to the marketplace.
     
###
     
Pictured above is CMU graduate student Dan Hussain.