August 29, 2011
Press Release: CMU's Jim Daniels Tells More Tales of the Motor City in "Trigger Man"
Contact: Shilo Raube / 412-268-6094 / sraube@andrew.cmu.edu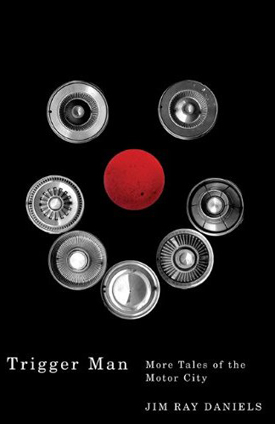 PITTSBURGH—Jim Ray Daniels, a writer well known for capturing the gritty spirit of urban America, has more tales to tell of city life.

In his latest collection of short stories, "Trigger Man," Daniels, the Thomas Stockham Baker Professor of English at Carnegie Mellon University, infuses humor into grim circumstances that his characters face because of dire industrial and economic situations. Grounded on the bleak streets of Detroit, he also explores the mythical "Up North," the idealized country of many Detroit workers' fantasies — an escape from the concrete and metal reality of their daily lives.
"The characters are a little older than in 'Detroit Tales,' my previous book of stories about Detroit," Daniels said. "The stories are a little darker and less coming of age. A number of these are family stories - families that are fractured and broken — and how they re-form out of the fragments."
Trigger Man features 10 new stories, including "Candy Necklace" — a sad story inspired by the book cover of "Downriver" by Jeanne Leiby.
"Looking at the cover brought me back to a certain place in childhood," Daniels said. "The main character is a young girl, and I liked the challenge of writing from a completely different point of view."
The story "Clown, Drown" draws from Daniels' 30 years experience as a college professor as it is essentially a paper for a community college composition class. Typos and grammatical errors are included to make it authentic.
While Daniels' characters in Trigger Man do face harsh situations, they are resilient and defiant.  "They are people coming to term with their lives," he said.
John Sayles, an Oscar-nominated director, wrote that the characters in Trigger Man "inhabit an emotional demolition derby, where even the 'winners' do as much damage to themselves as they do to others."
Trigger Man is Daniels' fourth book of short stories. He also has published 12 books of poetry, most recently "Having a Little Talk with Capital P Poetry," published by Carnegie Mellon University Press. In 2010, he collaborated with CMU professors Jane McCafferty and Charlee Brodsky on "From Milltown to Malltown," which combines poetry and photography to explore the transformation of Homestead, Pa., from the once thriving steel-producing capital of the world to an area divided. Daniels also has written three films, including 2010's "Mr. Pleasant" and edited or co-edited four anthologies.
Daniels credits teaching at CMU for stimulating his work across different genres. "In 1981, I taught Survey of Forms: Fiction, and teaching that class got me back into writing fiction," he said. "Writing in more than one genre frees me up and allows me to bring techniques from one genre to the other."
Published by Michigan State University Press, Trigger Man can be purchased at http://www.amazon.com/Trigger-Man-More-Tales-Motor/dp/1611860180.
     
###