WHERE WILL AN INFORMATION SYSTEMS DEGREE FROM CMU TAKE ME?
The world's most influential companies recruit Carnegie Mellon IS graduates.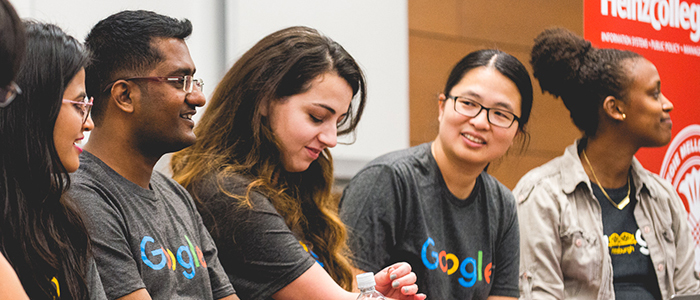 As the world becomes increasingly interconnected, our students are in high demand. Graduates of the IS program are recruited by a wide range of employers in global consulting, manufacturing, consumer products, finance, and technology. Apple, Credit Suisse, Deutsche Bank, Google, IBM, Microsoft, Procter & Gamble, and Salesforce are just a few of the companies that recruit here each year.
There has been a strong and growing job market for IS graduates, and you will find our alumni working with big consulting firms, major software and tech companies, Fortune 500 corporations, start-ups, and government agencies.
Want to continue on to graduate studies? You will be perfectly suited to pursue master's and doctoral studies in a wide range of fields. There are many possibilities at CMU alone, including:
Heinz College Accelerated Master's Programs (AMP) in
Other departments at the university
RECENT CAREER OUTCOMES
Class of 2020
Class of 2019
Class of 2018
Class of 2017
Class of 2016
Organizations that have employed our recent graduates include:
Accenture
Adobe
Amazon
Apple
AT&T
Bloomberg
BNY Mellon
Capital One
Carnegie Mellon University
Citi
Deloitte
Deutsche Bank
Epic Systems
ESPN
Etsy
Facebook
Fannie Mae
Freddie Mac
GE
GoDaddy
Google
Goldman Sachs
IBM
Indiegogo
JP Morgan Chase
LinkedIn
McKinsey & Company
Microsoft
Mozilla
Praetorian
PwC
Salesforce
Spotify
Uber
Wayfair
Yelp