NameCoach
Name Pronunciation & Pronoun Sharing Tool
NameCoach is a tool integrated into Student Information Online (SIO) that gives students the ability to record the preferred pronunciation of their names, provide the phonetic spelling of their names, and store their pronouns. This information is then made available in the internal student information system for authorized academic and administrative advisors, as well as in Canvas for instructors, removing the guessing game of how to correctly address students.
Why is NameCoach Important?
Similar to CMU's Preferred Name initiative, NameCoach aims to create a more inclusive campus community and classroom, and encourages a culture of respect. Recent research on student success, persistence and yield asserts how important a sense of belonging is for students and shows that pronouncing names and using pronouns correctly is critical to a student's sense of belonging. Many college campuses are enlisting NameCoach to help make the student experience more inclusive, especially for students who are gender nonconforming or identify as transgender.
Students are encouraged to record their name pronunciations, as well as add a phonetic spelling of their name and pronouns, in SIO to help administrative and academic advisors at CMU learn how to correctly address them.
How Do I Use NameCoach?
To use NameCoach, log in to SIO and select the Name Recorder button from your My Info page. Type in a phonetic spelling of your name and your pronouns, and then use the audio recorder to record the pronunciation of your name.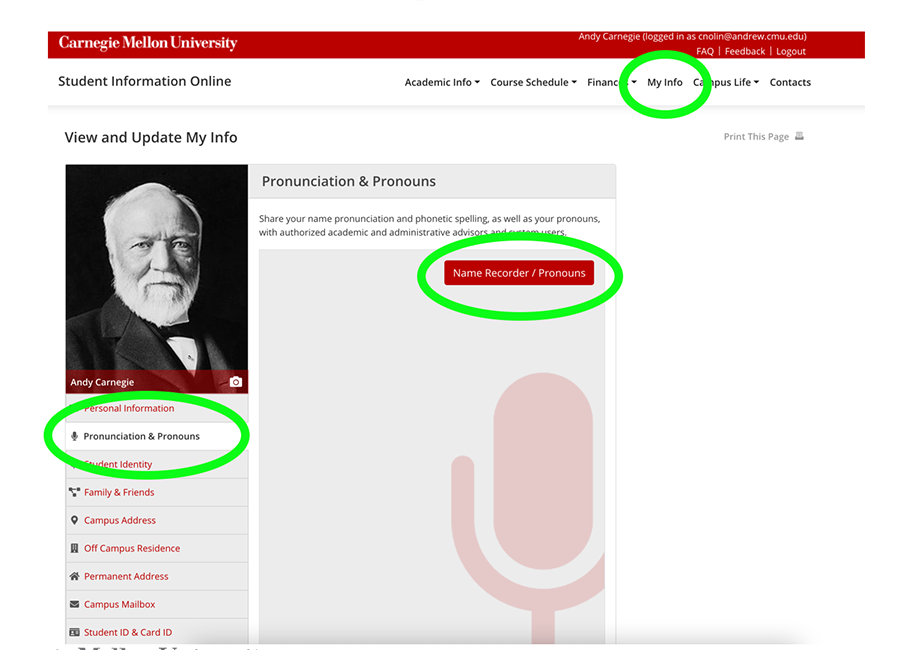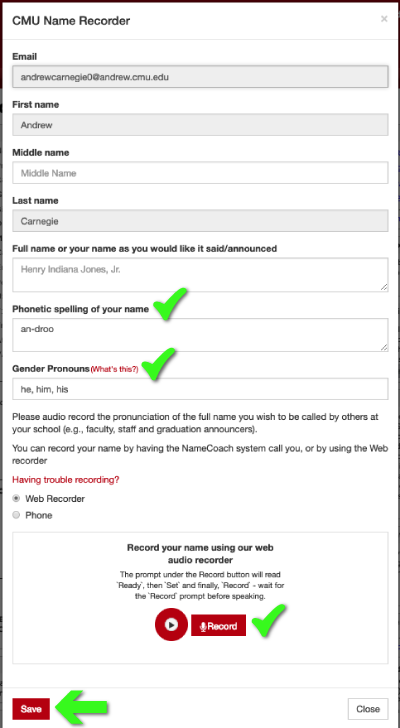 This information will be shared internally with authorized advisors and administrative staff in the student information system, as well as with teaching instructors using Canvas.
You may want to double-check your recording in Canvas, by clicking on the NameCoach link in the left navigation menu, to make sure it sounds as expected.
Who Can View My Preferred Name & Pronouns?
Pronoun & Preferred Name Usage