Celebrating International Education
November 14-18, 2022
The Office of Undergraduate Research and Scholar Development is thrilled to celebrate International Education Week this November 14th-18th alongside the amazing Office of International Education, our partners on their fabulous Study Abroad team, and of course, the exceptional students who have worked with OURSD to apply for - and often receive - scholarships and fellowships to fund their exciting educational experiences abroad!
Are you interested in exploring scholarships and fellowships that can help fund YOUR education abroad? Take a look at our Scholarships/Fellowships Abroad spreadsheet to learn more!
Featured Students:
Mahima Arya (Denmark)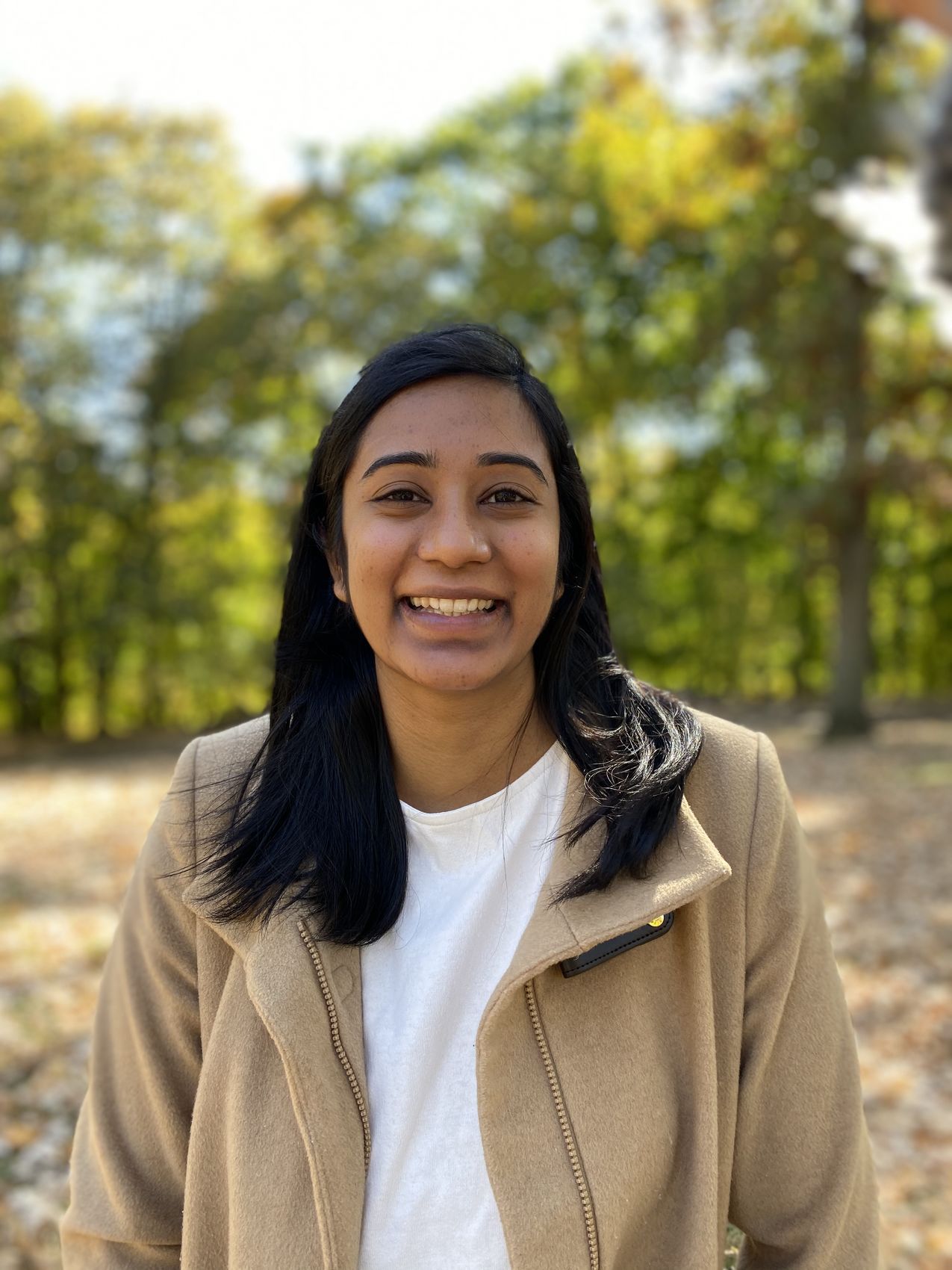 Mahima Arya is a CMU alumnus who earned a BS in Information Systems and Human-Computer Interaction in 2020. Over the 2022 Summer, she attended Humanity in Action in Copenhagen, Denmark. 
"My current efforts focus specifically on technology ethics and LGBTQ+ issues, but because there is no such thing as working on singular human rights topics in isolation, I knew that I would become a better activist if I dove deeper into the broader human rights landscape. The Humanity in Action Fellowship in Denmark was the perfect opportunity to do so, because its expansive theme of 'The Unity of the Realm and Human Rights' touched topics that I was looking to develop more knowledge on, like colonialism, climate change, and children's rights. Engaging in intercultural dialogue with the other fellows was incredibly valuable! I am grateful to have become friends with a cohort of individuals from all of the world - Germany, Bosnia and Herzegovina, Ukraine, etc. - who are happy to share their values and experiences and maintain a safe space for others to share theirs. It was impactful to hear directly from activists in Denmark, Greenland, and the Faroe Islands and learn about the grassroots movements they are organizing and supporting. I learned techniques for addressing complex human rights issues in my local context, which I know will be useful in my future work!"
"My favorite spot was Sydhavnstippen, a quiet park with grassy fields and views of the water. The highlight for me was the sheep and alpacas that roamed the grounds freely!"
Her favorite memory was "One of the fellows who was local to Denmark invited us to her home in the countryside. The way she welcomed us with open arms felt so warm - a feeling that can be hard to come by when you are on your own in another country - and the entire evening was full of giggles and joy!"
Emma Cordray (Spain)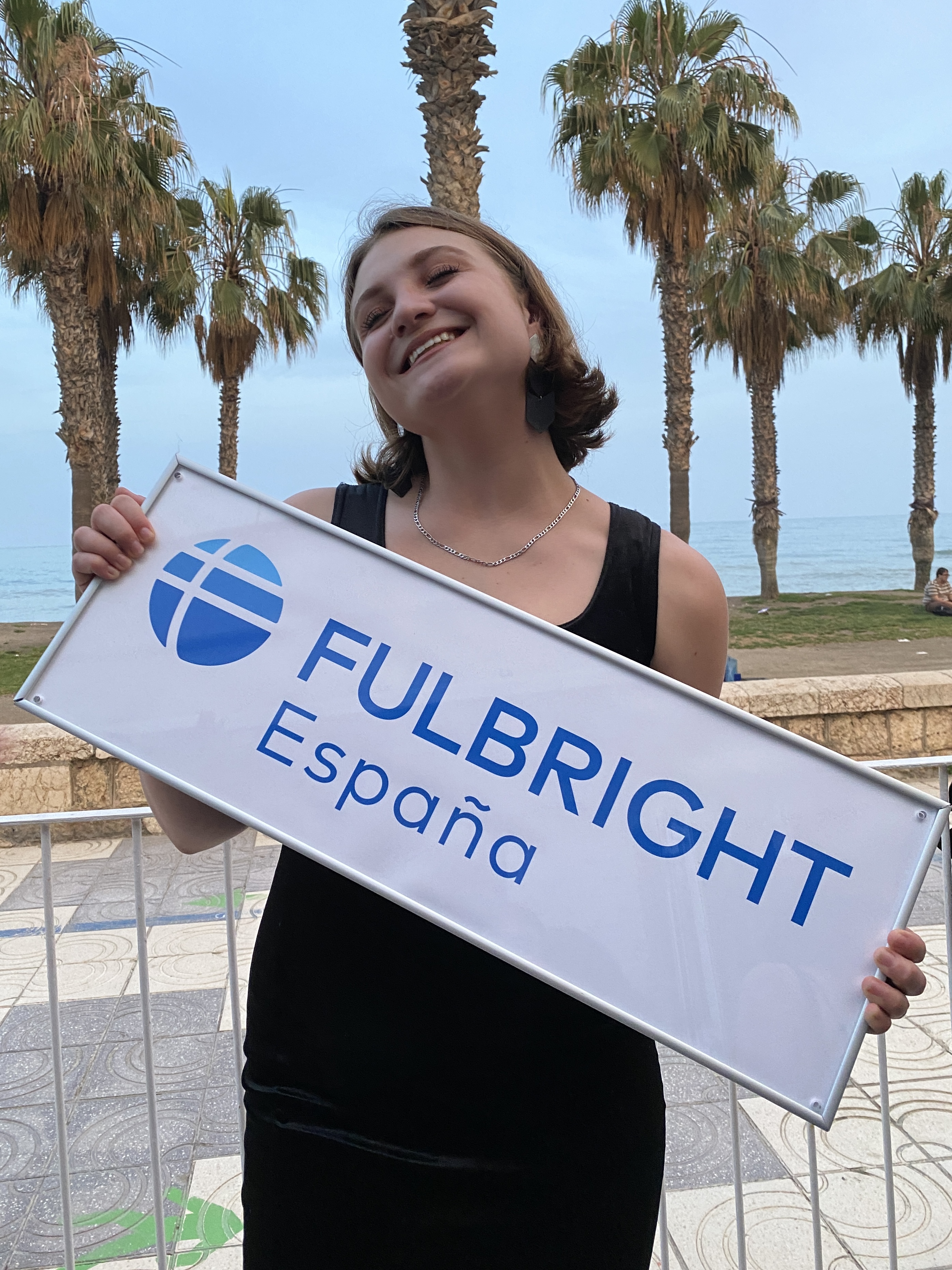 Emma Cordray earned a BHA in Hispanic Studies and Drama from CMU in 2021. She is currently a Fulbright English Teaching Assistant Mentor in Madrid, Spain from the fall of 2021 until the spring of 2023. 
"I studied abroad in Madrid through CMU's Modern Language program the summer after my freshman year and absolutely fell in love with the city and the country– its culture, its vibrancy– and I knew I wanted to come back! My favorite spot in Madrid is Plaza Olavide in Chamberí, this lovely plaza with restaurants across the perimeter, a playground for kids, a big fountain, and tons of benches. At meal times, every terraza is utterly filled with people, and it has the best energy. I love coming here with friends for tapas or with a latte from my favorite coffee shop Naji Specialty Coffee. It's impossible to choose a favorite experience so far! One experience that's really stayed with me though would be my trip to Valencia last year for the Las Fallas festival. All across the city, different Fallas build these enormous building-high sculptures based around a theme. They're breath-taking! That whole week, there are tons of parades and celebrations. And, for the festival, they burn all of them to the ground. It's unbelievable and beautiful and bittersweet, and going was one of the most special experience I've had in my life. I can't wait to go back this spring and return for years to come."
"I applied to be a Fulbright ETA with the premonition and blind hope that my passion for directing would translate into teaching, but I had never taught English before let alone for secondary students. I've absolutely fallen in love with teaching and working with middle and high schoolers. I didn't anticipate realizing that this age group is my biggest target audience for who I want to make work for. I love my students— I love their funny comments, their sarcasm, and I love being a part of them growing up. Of course, I sometimes leave school utterly exhausted and nihilistic, but that's outshone by the good moments. Also, I'm currently writing many stories with protagonists of their age range, so spending a lot of time with teens has helped me greatly in understanding their voices in how they would respond in any situation. Having this realization about wanting to make work for young people has really opened the floodgates for me creatively— from Disney movie musicals to animated TV shows to adaptations of children's novels, I feel like my goals have come into focus.  I'm inspired every day by my students."
"One of the reasons I wanted to come back for a second year was because I wasn't ready to say goodbye to my kids— from those I wave to in the hallway to those I tutor every week. I even have a theater group at my school that we started last year and are continuing this year. Teaching students both inside and outside the classroom is the best part of my week. I've also learned so much from the teachers at my school. Everything I know about teaching has come from them. I have so much respect for their patience, resilience, and passion. Being firsthand in the classroom and understanding lesson and curriculum planning will inform all of my creative work. I have so many ideas as to how I'll prioritize learning through my creative projects by building educational programs and collaborating with teachers to make classroom materials. Even beyond Spain, I know now that I always want teaching to be a part of my life, and I've come to see my artistic work as a form of teaching as well. Fulbright has shown me that this is a key part of myself and I'm so grateful for that. In coming to Spain originally, my first goals were 1) to have the space to reflect on my artistic voice and leadership ethos and 2) to broaden my global perspective. As a director and now writer, I personally take the responsibility of leading a team very seriously. When I graduated from CMU, I recognized that I had the foundational skills to be in my profession but I hadn't had the time to— without the storm of opinions around me— articulate my guiding principles. I wanted to breathe and think about the kind of work I personally believe is worth making and why that is. I also wanted to improve and practice the art of leading in a new space. My first year in Spain when I was teaching and directing, I had the time to consider all of this and more. Now, in my second year and as a Fulbright and Global Classrooms mentor, I'm helping to lead Madrid's Model UN program for more than 1400 students and 140 language assistants. I'm having the chance to put what I've been considering into practice through teacher trainings, teacher assistant trainings, meetings (in both English and Spanish), interviews (in Spanish!), and planning/structuring our Model UN Conferences. In addition, I've gotten to meet US Ambassadors, Diplomats, and Spanish officials. Through all of this, I've learned so much about comportment and what it means to be a cultural ambassador. That, tied with my artistic visions, has equipped me with a mission rooted in intercultural exchange by creating stories for young people across the world. Spanish culture has such a healthy mentality around work/life balance, which has rubbed off on me in the best ways. As a result, this experience has made me not only a stronger leader and artist, but a healthier person overall. I'm so grateful for this time and know I will carry all of this into the rest of my life."
Max Hirsch (Switzerland)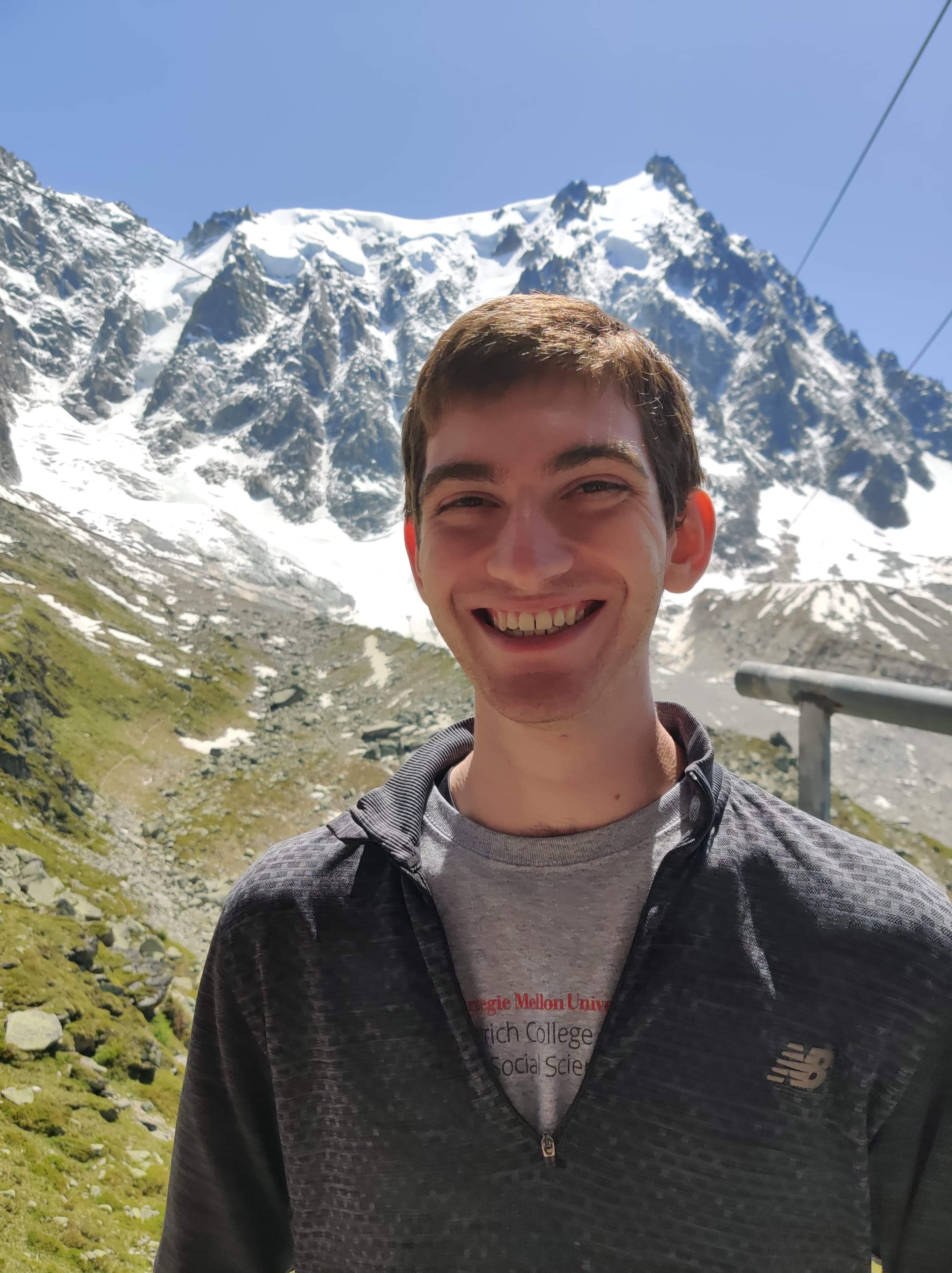 Max Hirsch is a current senior majoring in Mathematical Sciences and Statistics and in the Summer and Fall of 2022 attended the Swiss Federal Institute of Technology Lausanne in Lausanne, Switzerland. 
"I came to Switzerland for a summer research program at EPFL which allowed me to combine my interests in machine learning and numerical methods for partial differential equations. The Swiss Alps and classical music scene here were also a big plus (like the flag). My favorite spot in Lausanne is probably Le Foyer du Bon Accueil where some religious sisters have a peaceful little chapel. It's difficult to pick just one, but one experience that was particularly cool was going to the Verbier Festival and meeting a few of my favorite pianists–Evgeny Kissin, Daniil Trifonov, and Yuja Wang."
"I've had the opportunity to hear about a lot of different research in numerical analysis, going to a conference in Spain and a retreat that the numerical analysis groups at EPFL held in a small ski village. I've been exposed to many new areas of applied math, and now during my exchange, I get to take courses in some of these areas which aren't commonly offered in the US. I plan to start a Ph.D. in applied math next year, and I think my experience here at EPFL has helped give me a clearer vision as to what I would like to research in graduate school. I've also gotten to work with and make connections with several potential future research collaborators."
Xiaohan Liu (China)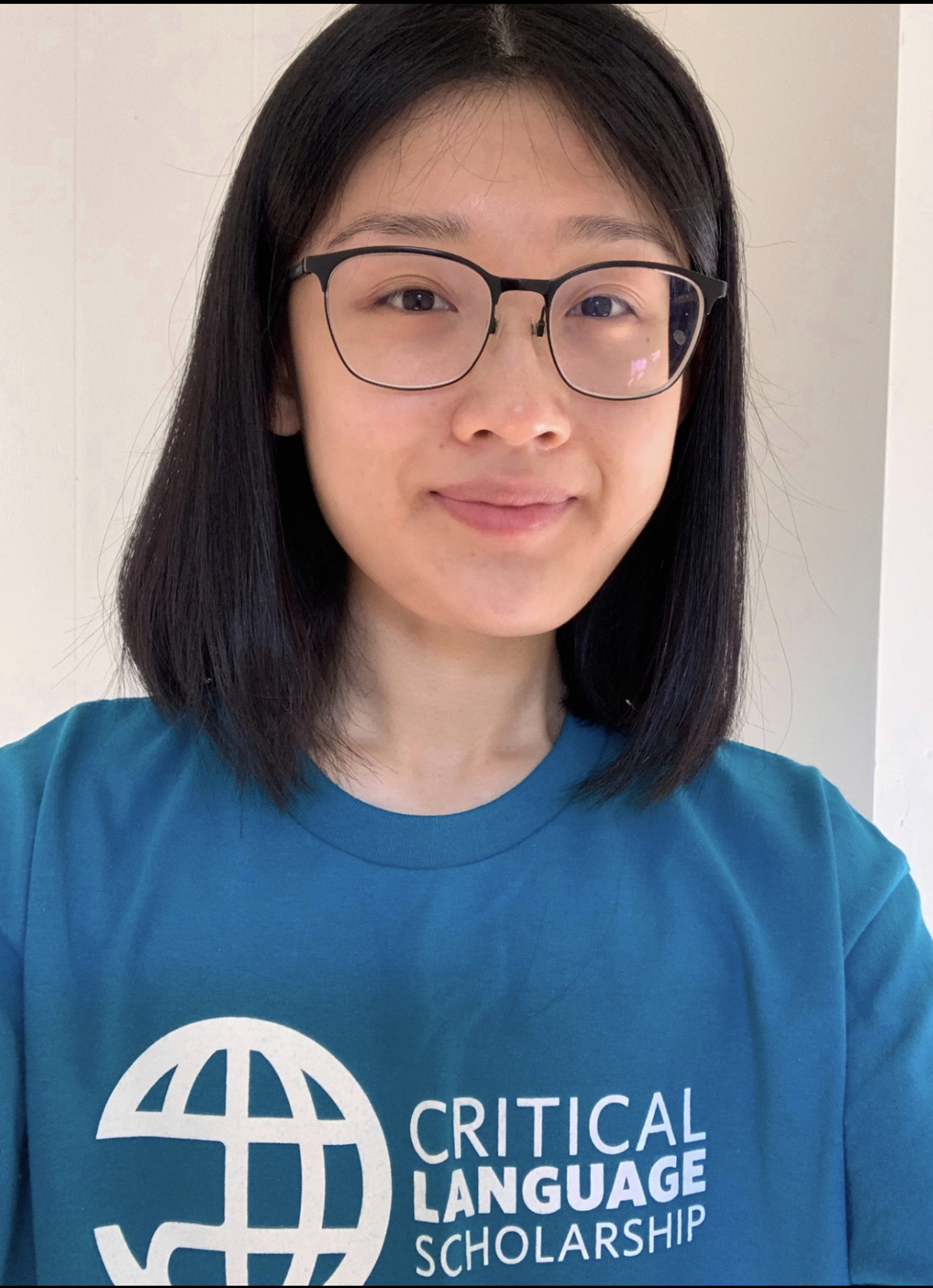 Xiaohan Liu is a Junior majoring in Statistics and Chinese Studies with a minor in Linguistics. Over the summer of 2022, he participated in the Critical Language Scholarship over zoom.
"Although I always spoke Mandarin Chinese at home growing up, I never formally studied thelanguage. I was taking Spanish classes in high school when I visited China and realized that Language was a barrier for me to learn about and absorb my Chinese heritage. That's when I vowed to improve my language skills. At that time, I could survive a casual conversation in Mandarin, but I was not able to communicate more complex or abstract ideas such as Chinese politics, current events, art, history, or philosophy. These things were the aspects of Chinese culture I wanted to learn the most about, so with my foundation in the language as a heritage speaker, formally studying Mandarin Chinese was a natural choice for me. The CLS Chinese program at my host institution did a wonderful job of blending intensive language study with learning about Chinese culture, society, and aspects of politics and current events. I felt that the curriculum was aligned to emphasize intensive study and repetition during class, and using the new language skills in-context outside of class. For example, we had biweekly cultural activities such as watching how a doctor treats a patient at a traditional Chinese medicine hospital, visiting a large matchmaking corner in a local city park, and interviewing farmers in the rural countryside which aligned with the current week's textbook topic. During the cultural activity, we would engage with locals about their views on various social and cultural topics using the new vocabulary and sentence structures learned. My host institution also assigned students with a language partner, a current student at the institution, with whom we video-called for at least two hours each week. A language partner was beneficial not only for language learning like how to talk about a specific topic or hobby but also for cultural exchange. We learned about each other's experiences growing up in China and the United States, and our perspectives on Chinese and American culture.
One of my favorite aspects of the program was connecting with the CLS scholars in my class, and with my language partner. There were only six students in the Advanced 401 class so we were able to get to know each other pretty well through group chats and Zoom calls outside of class time. Despite the virtual format of the program, we were still able to bond over daily dictation quizzes, homework and weekly presentations, and Friday night cultural activities. We are all studying very different majors in college, but we are all dedicated to studying Mandarin with the goal of using our language skills to foster a better understanding and relationship between people of two very different cultures. Before participating in the program, my perception of Chinese culture and society largely came from my parents, who have lived in the United States for over twenty years. China has changed tremendously since 2000. Participating in the CLS program opened my eyes to a modern society that is in many ways different from my preconceptions about China, even as a Chinese-American. Many people have strong opinions on East Asian political issues, especially relating to China, however, they may not have had an opportunity to hear various sides of the story. The CLS program connected me to the perspectives of CLS scholars in my cohort, Chinese university professors, college students, and other locals. I hope to bring my understanding of Chinese culture and people to future conversations on these topics. As with any study abroad experience, I built cross-cultural communication, problem-solving, and critical thinking skills that I will use as I continue to study language, and hopefully integrate Chinese Studies and linguistics into my primary major. After graduating from college, I hope to receive the Schwarzman Scholarship or Yenching Scholarship for graduate study in China. I am interested in careers in the federal government where proficiency in a critical language such as Mandarin Chinese is very beneficial or required."