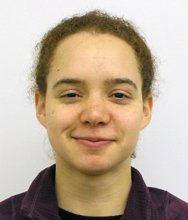 Publications
Erin McCormick, Ph.D.
Visiting Scholar
Erin recently earned her Ph.D. in the Department of Social and Decision Sciences at Carnegie Mellon University. She has interests in basic research about judgment, decision-making, problem-solving, and emotion, as well as applied work on behavior during emergencies.
In the Dynamic Decision Making Lab, she is currently working on a project about individual judgment and decision making in environments where the probability of an event occurring changes over time. In addition to the change detection project, she has worked on studies about the measurement and mitigation of cognitive biases (for example, the bias blind spot), survey methods to assess risk-taking propensity, and cognitive-loaded based lie detection methods. She received a Bachelor's degree in Psychology from Harvard University in 2010.
Contact