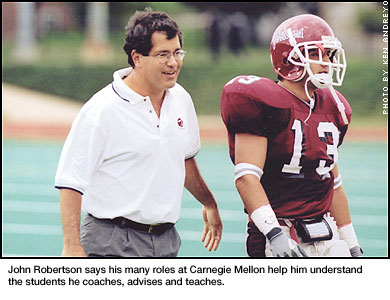 John Robertson Juggles Business School, Football Duties
Advisor, coach, instructor, student. John Robertson is the personification of that old expression about wearing many hats. How does one man lead so many separate lives? It turns out they aren't so separate after all.
Robertson is the director of undergraduate business administration as well as the defensive backs coach for the Tartan football team. He also teaches two classes: the History of Modern Warfare in the spring and the fall freshman business class, Introduction to Business History. If you're thinking that's nothing by Carnegie Mellon standards, don't forget to add on the fact that he's also finishing his Ph.D. in history.
This is Robertson's eighth year at Carnegie Mellon. He came to Pittsburgh as a newlywed so his wife could earn her Ph.D. in neuroscience at the University of Pittsburgh. ("Yeah, she's really smart!" he says.) He left his job as an admissions counselor working on minority and athletic recruiting at Concordia College and started coaching at Carnegie Mellon and working in the university's English department. He's coached the linebackers and the defensive line, too. He says moving around to different roles on the team keeps things interesting.
Robertson has served in his current position as director of undergraduate business administration for three years. In this role, he is the head advisor to the undergraduate students. He also represents the undergraduate business administration program on the Associate Dean's Council, helping to improve university policies and procedures for undergraduates across campus. He enjoys being an advisor, especially over his former role as an admissions counselor.
"Now I'm less of a salesman and more of an advocate," he explains. He was initially a little worried about the transition from humanities to the business school but has been very happy to find the students to be "motivated, bright and creative."
"A main element of my job as advisor is not to have all the answers," says Robertson, "but to send students in the right direction. I'm like a first step where we can talk things through, and if students need to talk to an expert, I can direct them to the right people."
Coaching isn't just a seasonal gig for Robertson, either. Of course he's busy when the football team is in action, but in the off-season he talks to recruits on the phone and meets with them when they are on campus.
Robertson is clearly proud of the Carnegie Mellon football team. "I think we are very good this year. We've done well so far, but we'll really test ourselves in some upcoming games." His praise extends beyond athletic abilities though. "The team is very diverse with engineers, architects and everything else. There is no 'easy major,' and the players are held to the same academic standards. In fact, the football GPA is higher than that for the average student body."
The same goes for his advisees. "The business school GPA is also higher than the average student body, and the students are so involved in clubs and activities," he said.
Robertson says that his many roles help him to understand the students he coaches, advises and teaches. "I see them in all three ways. It helps to have all these different types of contact. It also makes writing letters of recommendation easier," he smiled.
These roles also blend together. "They aren't totally separate," he explained. "Coaching is like advising, and advising is like coaching. Although I do shout more at the football players."
How does Robertson keep up with all his responsibilities? "The people here have been so accommodating," Robertson said. "I've been very fortunate. The cooperation from everyone is what holds it together."
And what about that Ph.D.? Does Robertson plan to teach full time when he's done? "Actually, I like the balance I have now between teaching, coaching and advising. I would feel a loss if I had to give any of the three up."
Top
Bridget O'Brien Decker