U.S. Department of Homeland Security, CERT Form Partnership
The U.S. Department of Homeland Security (DHS) has announced a partnership with the university's CERT® Coordination Center (CERT/CC) to create US-CERT, a coordination point for prevention, protection and response to cyber attacks across the Internet.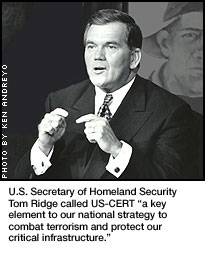 US-CERT will begin as a partnership between the DHS National Cyber Security Division (NCSD) and CERT/CC, and will grow to include other partnerships with private-sector security vendors and domestic and international organizations. These groups will work together to coordinate national and international efforts to prevent cyber attacks, protect systems and respond to the effects of cyber attacks across the Internet.
Carnegie Mellon's CERT/CC was formed in November 1988 within the Software Engineering Institute (SEI) by the Defense Advanced Research Projects Agency (DARPA) after an Internet worm brought 10 percent of Internet-connected systems to a halt. The SEI is a federally funded research and development center operated by Carnegie Mellon for the U.S. Department of Defense, the Software Engineering Institute's sponsor.
Today, CERT/CC alerts U.S. industry and computer users worldwide to potential threats to the security of their systems and provides information about how to avoid, minimize or recover from the damage. The center has played a key role in coordinating responses to major security events such as the Code Red worm, Melissa virus and, most recently, the MS Blaster worm and the Sobig.F virus.
U.S. Secretary of Homeland Security Tom Ridge called US-CERT "a key element to our national strategy to combat terrorism and protect our critical infrastructure."
"The recent cyber attacks such as the Blaster worm and the SoBig virus highlight the urgent need for an enhanced computer emergency response program that coordinates national efforts to cyber incidents and attacks," Ridge said.
Speaking at a briefing in Washington, D.C. last month, Carnegie Mellon President Jared L. Cohon expressed enthusiasm for the partnership between CERT/CC and the Department of Homeland Security, as well as its potential for future partnerships with industry and other universities.
"Carnegie Mellon is proud and pleased to have this opportunity to work with the Department of Homeland Security. We are committed to maintaining our longstanding leadership in cyber security and to building additional strength in this critical area," Cohon said.
"Our nation's growing use of the Internet for safety-critical applications as well as business transactions, coupled with the increased sophistication and speed of cyber attacks increases the risk that cyber attacks can cause significant damage in short periods of time," said Richard D. Pethia, director of CERT/CC. "We are pleased to have the opportunity to work with DHS and other partners to aggressively and continually improve our nation's cyber security incident response capability."
The DHS said that the creation of US-CERT is the first in a series of upcoming announcements on new partnerships and initiatives within the National Cyber Security Division.
Kelly Kimberland
University Hosts First Cybersecurity Journalism Awards
Carnegie Mellon's School of Engineering will host the first Cybersecurity Journalism Awards in conjunction with Newseum on October 27 at the National Press Club in Washington, D.C. The awards will be presented to print and broadcast journalists who have done the most to educate the public by giving readers and viewers a better understanding of America's war on terrorism.
Winners were selected by a panel of judges including Pradeep Khosla, director of Carnegie Mellon's Center for Computer Communications Security (C3S); Susan Bennett, head of international exhibits for Newseum and former national correspondent for Knight-Ridder Newspapers; David Ensor, national security correspondent for CNN; Carol Giacomo, diplomatic correspondent for Reuters; Marilyn Thompson, assistant managing editor of investigative reporting for The Washington Post; and Mark Thompson, national security correspondent for Time magazine.
Howard Fineman, chief political correspondent, senior editor and deputy Washington bureau chief for Newsweek, will be the keynote speaker at the awards ceremony.
A panel discussion on cyberterrorism will be held in conjunction with the awards from 11 a.m. to noon in the Press Club's First Amendment Room. Richard Pethia, director of CERT at the Software Engineering Institute, and Khosla will participate in the discussion, moderated by veteran journalist Susan Bennett, who also serves as director of international exhibits at the Newseum. Other panelists include Ariana Cha, technology reporter for The Washington Post, and John Swartz, technology reporter for The New York Times.
—Chriss Swaney