Five Honored with Andy Awards
The Andy Awards, the university-wide staff recognition program named for Andrew Carnegie and Andrew Mellon, honors staff for their contributions above and beyond normal job requirements. Creig Doyle, Chang-Hsin Chang, Jim Gindlesperger, Guy Winn and Randy Vandermolen were this year's winners.
Doyle, director of campus security, took home the first-ever Andy Award for culture, recognizing his efforts to foster a welcoming and nurturing workplace environment. Chang, a research programmer in the Human-Computer Interaction Institute, won the award for dedication. The award for citizenship was given to Gindlesperger, the university's loss prevention manager, and Guy Winn, a senior accountant in accounting services, was cited for innovation. Randy Vandermolen, a member of the technical staff at the Software Engineering Institute (SEI), won the award for enthusiasm.
The Andy Awards were presented in a Sept. 29 ceremony in McConomy Auditorium, University Center. Each winner received $750.
Creig Doyle—Culture
"As a 28-year veteran of the Carnegie Mellon University Police Department," wrote Sergeant Richard Sima in his nomination letter, "I have had the opportunity to serve under many university police chiefs. During these years, I have experienced leadership styles and personalities as diverse as the university community....
"From the very first meeting with our current chief, Creig Doyle, I sensed a man who possessed the skills needed to develop a unified and constructive organization; someone who would provide leadership through example and establish a pleasant working environment.
"My instincts were reliable and I am proud to nominate Chief Creig W. Doyle for the Andy Award in the category of Culture.... Through his commitment, enthusiasm and support, Chief Doyle has fostered a balanced and inclusive workplace culture."
In her nomination letter, Michelle Lockard, administrative assistant in the University Police Department said, "I have been with the Police Department for two years, with the university going on six years, and I have worked in the corporate world for 18 years. In all of those years, I must say that Creig Doyle is one of the best supervisors I have ever had. I have never seen such determination in making a department a successful one using teamwork, compassion (and) quality service.
"....He has no hidden agenda; everything he does, he does for the department. He allows employees to do their jobs and rewards them when they do it well. He gives credit where credit is due. His on-going support allows others to excel in their jobs."
Lieutenant Kevin W. Graham, assistant director for security, praised Doyle for developing "an ethical and balanced workplace culture. Diversity is welcomed in the racially mixed department where every member is made to feel like they want to exceed."
At the department's December 2002 Christmas party, Graham wrote, "every member of the department signed a plaque recognizing Chief Doyle for his accomplishments."
Chang-Hsin Chang—Dedication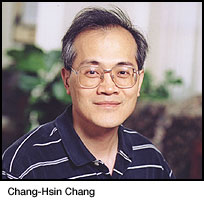 "If the Andy Awards are for the unsung heroes of our university, it will be extremely hard to find somebody who fits that description better than Chang," said Vincent Aleven, systems scientist at the Human-Computer Interaction Institute, in his nominating letter. "Chang is extraordinarily modest about his work and is a most pleasant and respected colleague."
"During his tenure with our research group," Aleven added, "Chang has been involved in the development of intelligent tutoring software and has produced work of the highest quality. He knows the complex tutoring software through and through and is the anchor of our programming team. He invariably steps it up when it counts the most: when last-minute bug fixes are needed before software is installed in a school; when a bug is detected when software is in use in a school; or when software needs to be ready for use by research group members during a demo, summer school or conference visit.
"At moments like that, Chang will be the first one to show up and the last one to leave."
In his nomination letter, Associate Professor Ken Koedinger of the Human-Computer Interaction Institute described Chang as "always willing and even enthusiastic about going beyond the call of duty to make projects successful. Besides putting in long hours on a regular basis, he will unhesitatingly stay late into the night or over the weekend to make project deadlines.....
"He was the key player in creating our Geometry Cognitive Tutor that is now in regular use (two days per week) in more than 100 schools around the U.S. More recently, he has been a critical player in a project to make a rapid development environment for non-Artificial Intelligence programmers to create Cognitive Tutors, and another to use those tools to create a Cognitive Tutor for Genetics. Those projects are succeeding in no small measure due to Chang's contributions as well as the productive and collegial atmosphere of team that he fosters by example."
Jim Gindlesperger—Citizenship
"Jim Gindlesperger is extremely knowledgeable and dedicates himself to providing programs which ensure a safe work environment for members of the university community," wrote Megan Marks of Environmental Health and Safety in her nomination letter. "His area of expertise primarily focuses on work-place safety and ergonomics.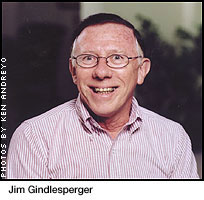 "He works in harmony with several university departments to provide significant contributions in the authorship and review of the university's emergency response plan. He educates individuals on the university's emergency response plan and many external events that alarm the community. His education program erodes the university community's ignorance.... We, as a university community, are able to embrace life as we had once known because Jim's efforts have empowered us to let go of our fears," Marks said.
"Following the terrorist attack on September 11, 2001," said Vice Provost for Research Duane Adams, "this country and all its institutions were forced to reexamine their vulnerabilities to such an attack, and to take steps to meet the needs of their constituents. Jim Gindlesperger initiated several actions to meet the needs of the Carnegie Mellon community. This was an unprecedented challenge, and Jim devised ways of keeping the Carnegie Mellon community aware of potential threats and risks through meetings, enhanced communications across the campus and an evacuation plan in the event of an attack. The work that started in response to 9/11 was the basis for dealing with the more recent concerns—the West Nile Virus and SARS. Jim's efforts had a campus-wide impact....."
Adams praised Gindlesperger for three specific accomplishments: organizing a series of town meetings in which the members of the campus community were informed of the university's emergency response plan; developing a wallet-sized evacuation card delivered to each student, staff and faculty member that informed them of their role if there ever was need to evacuate the campus; and organizing additional ways of keeping the campus community informed of potential threats to the university.
Guy Winn—Innovation
Linda Plazinski, associate director for Enrollment Services, supported Guy Winn's nomination for creating the new and most effective ADI accounting program.
"The ADI program Guy created for our third party journal entries has virtually omitted the chance for human error in posting the file to the General Ledger and has allowed for more time for other monthly tasks. In addition, the pivot table created from the file is useful in monthly reconciling," she said.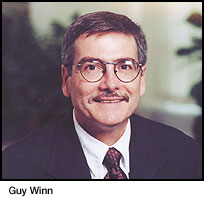 "In most departments," said Linda Rupert, associate director for Enrollment Services, "there seems to be one person to whom everyone looks in challenging situations. Guy transcends this profile by assisting anyone campus-wide that needs assistance.
"My first association with Guy was several years ago: A report generated monthly from a third party used by Enrollment Services was used to create journal entries on a monthly basis. This was in the days before Oracle, or even before the 'Web-JE'—these were hand-written journal entries.... I noticed that the accounts from the third party always referred to the same corresponding accounts in our General Ledger. I knew there should be some way to automate this task.
"Guy was one of the people who looked at the problem. In the response that we have come to rely on over the years, he said, 'Let me think about it a while and I'll get back to you.'
"He got back to me. Those journal entries have been automated and fed into the General Ledger each month for the past several years.
"In addition, Guy took the time to gain an in-depth knowledge of this process, so that over time he was able to add additional functionality to his monthly process. This automated process has given us the most sought-after commodity at month end —enough time," Rupert said.
Randy Vandermolen—Enthusiasm
"In my 21 years of working at Carnegie Mellon, I have not encountered another individual who so consistently exudes such an unwavering air of positivity, who displays such a balance of productivity in his own work and helpfulness to others and whose cheerfulness can carry others along through both good times and bad," said Bob Kubiak in his nominating letter for Vandermolen. "Randy continually inspires his coworkers with his unflagging zeal, unwavering optimism, positive attitude and service orientation."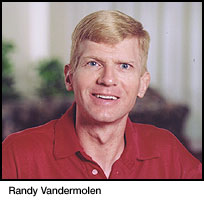 Steve Huth, manager of Information Technology at the SEI, praised Vandermolen for "the combination of technical proficiency, helping to create a good work environment and always maintaining a positive attitude."
"Randy always has a smile on his face and is eager to help," said Cathy Duncan, user services manager at the SEI. He approaches each task with the idea of 'how can I make it better than what they expect.'
"As the user services manager," she said, "I appreciate the help that Randy provides my team. He is willing to go out of his way to help a fellow IT employee (or) a user that has a question or a problem. He is the first one to volunteer when we need assistance, whether it is covering a shift because we're short-handed or helping with a problem that stumps us."
Duncan recalled that at one of her weekly team meetings, Randy's name came up when she asked if anyone had a topic they would like to discuss. The response was that the team wanted "to organize a 'Randy Appreciation Day' to thank him for his hard work, willingness to help and the time he spends coaching us."
Duncan emphasized that Randy "goes all out each holiday season by decorating the entire 3300/3400 corridors with lights and decorations, and by challenging other floors to beat us.... Randy is so devoted to this every year that he actually spends the Thanksgiving Holiday (Thursday and Friday) putting up most of the lights himself."
Top
Edmund Delaney