Distinguished Alumni To Be Honored at Homecoming, Oct. 24
On Oct. 24, during this year's Homecoming celebration, eight distinguished Carnegie Mellon graduates will be honored with Alumni Awards for their professional achievements, service and dedication to the university. They will join the nearly 500 alumni who have been honored since the Alumni Awards program began in 1950.
Awards will be presented in four categories: Distinguished Achievement, the university's highest level of recognition, given for notable achievement and leadership that serves as an inspiration to the next generation; Merit, for exceptional achievement and leadership; Service, for enduring and significant service and dedication to the university and its alumni community; and the Young Alumni Award, for exceptional achievements throughout the first 10 years as a Carnegie Mellon graduate.
Emmy Award-winning actor Ted Danson (A'72), Academy Award-winning costume designer Ann Roth (A'53) and chemical oceanographer Frank Millero (S'64, '65) will receive the university's Distinguished Achievement Award. Other honorees inclued business leader Candace Sheffield Matthews (E'81), director and choreographer Rob Marshall (A'82), composer and writer Ricky Ian Gordon (A'80), corporate vice president Alex Condron (IM'89) and scientist Jennifer H. Elisseeff (S'94).
Ted Danson
Distinguished Achievement Award

Ted Danson, born Edward Bridge Danson III in San Diego, Calif., was raised by his father in Flagstaff, Ariz. He originally attended Stanford University, but developed an interest in drama during his sophomore year and transferred to Carnegie Mellon's College of Fine Arts.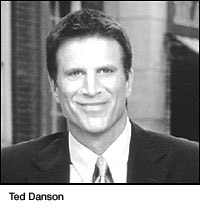 After graduating Danson made his first stage appearance in New York City as Reginald in an off-Broadway production of "The Real Inspector Hound." He then portrayed Tom Conway in the daytime drama "Somerset" from 1974 to 1976. In 1978, Danson moved to Los Angeles, where he taught acting at the Actor's Institute and was chosen as the "Aramis Man" for print and television advertisements for Aramis cologne. He landed his career-defining role as Sam Malone in "Cheers" in 1982.
During the show's 11-year run, he earned nine Emmy Award nominations for Best Actor in a Comedy Series, winning the award in 1990 and 1993. The role also earned him a Golden Globe for Best Actor in a Comedy Series in 1989 and 1990. Danson's television credits also include "Frasier," "Veronica's Closet," "Ellen," "Ink," and "The Larry David Show." He has also starred in the television movies "Gulliver's Travels," "Thanks of a Grateful Nation," "The Women's Room," "When the Bough Breaks" and "Something About Amelia," for which he won a Golden Globe Award. He currently portrays John Becker in the CBS sitcom "Becker," for which he has received a Golden Globe nomination.
Danson is credited with more than a dozen motion picture appearances, including "Mumford," "Saving Private Ryan," "The Onion Field," "Homegrown," "Three Men and a Baby," "Three Men and a Little Lady," "Cousins," "Dad," "Made in America," "Pontiac Moon" and "Getting Even with Dad." One of his most acclaimed performances was in "Body Heat," in which he played the best friend of fellow attorney William Hurt.
Danson is a founding member of the American Oceans Campaign (AOC), an organization established to alert Americans to the life-threatening hazards created by oil spills, offshore development, toxic wastes, sewage pollution and other ocean abuses. He was the national chairperson for World Health Day in 1989 and has served on the board of directors of Futures for Children.
He lives in Los Angeles with his wife, actress Mary Steenbergen, and his famly. Steenbergen has starred in such films as "Melvin and Howard" and "My Life as a House."
Ann Roth
Distinguished Achievement Award
In her four decades as a costume designer, Academy Award-winner Ann Roth has helped actors create some of their most memorable roles. "I'm creating a character that's been written on a page," she says of her craft. "My job is to help an actor or actress make that person live."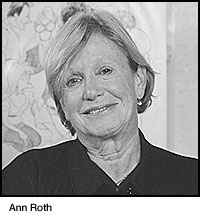 Roth's work has been featured both in Broadway productions and in films. Among her most famous stage credits are "A Portrait of the Artist as a Young Man," "The Odd Couple," "Play it Again, Sam," "The Best Little Whorehouse in Texas," "They're Playing Our Song" and "Hurlyburly." She has received Tony Award nominations for her work on "The Crucifier of Blood," "The Royal Family," "The House of Blue Leaves" and "Present Laughter."
Her work in films has also received critical acclaim. She was nominated for an Academy Award for "Places in the Heart" and "The Hours," and won the Oscar for "The English Patient." Other noteworthy film credits include "Sabrina," "Mambo Kings," "The Unbearable Lightness of Being," "The World According to Garp," "Nine to Five," "Hair," "Goodbye Girl," "The Owl and the Pussycat" and "Midnight Cowboy." She is currently working on the upcoming production of "The Stepford Wives."
In addition to her Academy Award in the United States, Roth also received a British Academy Award for "The English Patient," and was honored with an International Fashion Award in 1999. She also received the Costumers Guild of America's Lifetime Achievement Award last March.
Roth graduated from Carnegie Mellon in 1953 and rejoined the university as an adjunct faculty member in 1999 to teach a course for drama design graduate students. She received an honorary Ph.D. at commencement in 2000 and serves as a drama advisory board member.
Frank J. Millero
Distinguished Achievement Award
A chemical oceanographer and published scholar, Frank Millero's love of chemistry began as a child when he sold plant seeds to buy his first chemistry kit. His interest in chemistry lasted through high school, and he went on to earn a bachelor's degree in the subject from Ohio State University in 1961. He then attended Carnegie Mellon, where he completed master of science and doctor's degrees in physical chemistry in 1964 and 1965, respectively.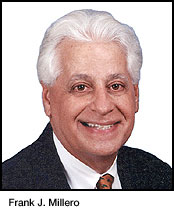 After leaving Carnegie Mellon, Millero researched automobile pollution and its abatement for Esso, and assisted in the development of some of the first catalytic mufflers and evaporation loss control devices on all automobiles.
Millero is now a professor of marine and physical chemistry and associate dean at the University of Miami's Rosenstiel School of Marine and Atmospheric Science. His major research interest lies in the application of physical chemical principles to natural waters to understand how ionic interactions affect the thermodynamics and kinetics of processes occurring in the oceans. He is the director of the University of Miami's Marine Physical Chemistry Group, which is involved in programs attempting to synthesize the global carbon dioxide cycle in the world's oceans.
Throughout his career, Millero has received numerous awards for his teaching and research accomplishments, including the Office of Naval Research Educator Award (1991-95), Sigma Xi Professor of the Year (1989), the Florida Academy of Science Medal (1991), a Gold Medal from Rudjer Boskovic Institute (1988), the Distinguished Faculty Scholar Award (1996) and the Provost Scholarly Activity Award (1998). He has also been named an American Geophysical Union Fellow. Millero has served on the National Academy of Sciences Ocean Science Board (1981-83) and is the editor-in-chief of the journal Marine Chemistry.
Candace Sheffield Matthews
Alumni Merit Award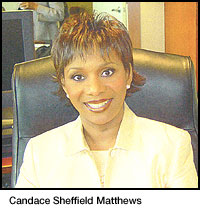 Candace Matthews' successful marketing career has gone far beyond her original undergraduate work in metallurgical science and engineering.
After graduation, Matthews earned an MBA from the Stanford Graduate School of Business and went on to hold senior marketing positions at General Mills, Cover Girl Cosmetics, Bausch & Lomb and CIBA Vision Corporation. She has served as the managing director of non-cola brands and vice president of new products and package innovation for The Coca-Cola Company.
From Coca-Cola, Matthews joined L'Oreal USA, which acquired Soft Sheen Products Inc., in 1998, and Carson Products in 1999. The two companies merged in August 2000 to become Soft Sheen/Carson, L'Oreal's worldwide headquarters for hair-care products for people of African descent. Matthews took the helm as president of Soft Sheen/Carson in 2001 and, realizing the significant growth opportunities in the ethnic hair-care market, made her top priorities for the company innovation and technology.
She has been featured in Black Enterprise, Essence, Marketing Week and Jet magazines. Her diligence, passion for the beauty care business and dedication to the African American community combined with her commitment to constant innovation qualify her as one of today's most powerful female corporate leaders.

Rob Marshall
Alumni Merit Award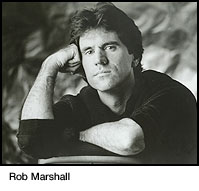 Rob Marshall, who directed and choreographed the cinematic hit "Chicago," made his entrance into professional theatre at age 12 and just kept going. Born in Madison, Wis., and raised in Pittsburgh, Marshall attended Carnegie Mellon's musical theater program, but took time off to join a touring company of the Broadway smash, "A Chorus Line." After earning his fine arts degree, he moved to New York City, where he sang and danced in several Broadway shows-eventually working his way up to assistant choreographer.
A dance injury suffered during a performance in "Cats" changed the direction of Marshall's career. Concentrating on choreography, he gained recognition for the musical version of "Kiss of the Spider Woman" and the Broadway revival of "Damn Yankees." Marshall also served as choreographer and director in productions of "Little Me," "Company," "Victor/Victoria," the Los Angeles stage revival of "Chicago" and the revival of "Cabaret."
Marshall's big-screen adaptation of "Chicago" won rave reviews and earned a total of 14 awards, including three Golden Globes and three Academy Awards. Marshall was awarded a Directors Guild of America Award and was nominated for both an Academy Award and a Golden Globe Award for his direction of the film.
Marshall is currently a top contender for directing the feature-film adaptation of the bestselling novel, "Memoirs of a Geisha."
Ricky Ian Gordon
Alumni Merit Award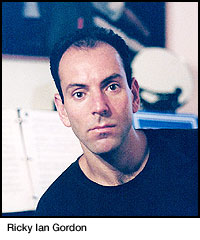 Ricky Ian Gordon sets poetry by such greats as Langston Hughes, Edna St. Vincent Millay and W.S. Merwin to his own music. Praised for his energy, passion for words and ability to write a memorable tune, the composer-lyricist turns to those celebrated poets for inspiration.
Preschool piano lessons and nightly poetry readings from his sister shaped Gordon's early interest in music composition and 20th- century American prose. After attending Carnegie Mellon as a pianist, Gordon realized that his true fascination was not with the practice and perfection of classic pieces, but with writing his own music and finding his identity as an artist.
Throughout the past decade, Gordon's reputation has grown steadily, thanks to a repertoire that encompasses compositions for concert hall, theater, opera and dance. He is the recipient of a number of awards, including the Jonathan Larsen Foundation Award; Stephen Sondheim Award; National Institute for Music Theater Award; numerous awards from The American Society of Composers, Authors and Publishers; and Special Recognition from the Gilman and Gonzalez-Falla Music Theater Foundation.
Gordon released his first solo CD, "Bright Eyed Joy," in 2001. "My Life with Albertine," an Off-Broadway adaptation of Marcel Proust's "Remembrance of Things Past" with music and lyrics by Gordon, debuted earlier this year. His work is featured on the AIDS Quilt Songbook, and he has worked as the composer in residence at Chicago's Lyric Opera.
Alex Condron
Alumni Service Award
Alex Condron has a deep commitment to both Carnegie Mellon and continuing his family's legacy.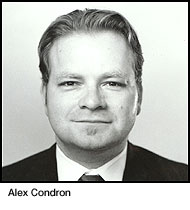 Condron is a lifetime member and former president of Carnegie Mellon's Andrew Carnegie Society. He also serves as the society's representative on the Alumni Association Executive Board.
Together, Condron and his wife, Tonja, established the Condron Family Legacy Scholarship to support undergraduate students in the business school. They sponsored a second scholarship last year.
After graduating from Carnegie Mellon in 1989 with a bachelor's degree in industrial management, Condron worked for PNC Bank in the Corporate Credit and Corporate Cash Management areas. In 1992, he moved to the Drew Management Corporation, a real estate management company owned and operated by his family. Today, Condron serves as the vice president and corporate secretary of Drew Management and sits on the board of Condron Partnerships, LTD.
Jennifer H. Elisseeff
Young Alumni Award
Jennifer H. Elisseeff, assistant professor of biomedical engineering at Johns Hopkins University, is at the forefront of tissue engineering and regenerative medicine. Her work focuses on developing materials and methods to replace cartilage, which doesn't naturally regenerate in the body.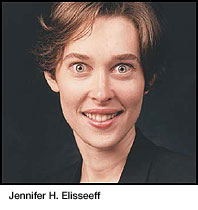 Central to her research is a process known as transdermal photopolymerization, which involves injecting a liquid polymer full of cartilage cells under the skin. Doctors then shine a light through the skin, and the polymer becomes a solid hydrogel. The cartilage cells use this hydrogel as a scaffold to reproduce and form new tissue.
Elisseeff's current work explores using adult stem cells in this hydrogel system. It could provide an environment for the cells to multiply, delivering a source of new bone or cartilage to replace injured tissue.
In 2002, she was named one of the country's top 100 innovators under the age of 35 by MIT's Technology Review magazine, which has also recognized her technology as one of 10 that will change the future.
Elisseeff graduated from the Mellon College of Science in 1994 with a bachelor's degree in chemistry. She then went on to earn her doctor's degree in biomedical engineering from the Harvard-MIT Division of Health Sciences and Technology.