School of Computer Science Dean Jim Morris Steps Down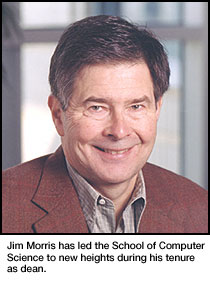 Jim Morris, dean of the School of Computer Science (SCS), has decided to step down at the end of his five-year term as dean. He will return to teaching, research and some special projects at the end of this school year.
Under Morris' leadership, SCS has risen to new heights of excellence in teaching, research and recognition. It has been ranked first among computer science schools, and research revenues have increased 50 percent during the last four years. The school's budget now tops $100 million.
SCS has also broadened the scope of its undergraduate program, making itself more attractive to women (who now make up 30 percent of the school's undergraduate enrollment) and giving all students more options outside the basic computer science curriculum. Quality of life for students is high, with a 98 percent first-year undergraduate retention rate.
Morris also notes the creation of new programs as one of the highlights of his tenure as dean.
"There are exciting new activities starting, such as Algorithms in the Real World, Computational Biology, Nanotechnogy and a program in Computation, Organizations and Society," he said. But he's quick to give others the credit. "These things were not my doing but happened through the extraordinary effort and talents of our faculty," said Morris.
Morris' progressive thinking has also had a major impact on the entire university.
"He headed the original initiative to establish our branch campus on the West Coast," said Provost Mark Kamlet, "enabling Carnegie Mellon to become a player in the Silicon Valley and giving our students and the university new opportunities for study, internships and interaction with key people and companies in that exciting part of the country."
While he views heading the West Coast initiative as one of his most satisfying accomplishments, Morris also notes the development of his faculty.
"I have encouraged many faculty to lead and work to build the institution and they have done it! The department heads, associate deans and others have made great contributions and are prepared to lead the school," he said.
Morris' service to Carnegie Mellon extends back to the 1980s, when he became the first director of the Information Technology Center (ITC), a joint venture with IBM that conceived and engineered the university's original "Andrew" project. In the early 1990s, he founded and was the first director of the Human-Computer Interaction Institute.
Morris has been a professor of computer science at Carnegie Mellon since 1982. He served as head of the ITC from 1983 to 1988 and took a leave of absence in 1990 to found and serve as the first president of MAYA Design Group, a consulting firm specializing in product design.
A native of Pittsburgh, he received a bachelor's degree in mathematics from Carnegie Institute of Technology in 1963, then earned master's and doctor's degrees in management and computer science, respectively, from the Massachusetts Institute of Technology.
In 1974, he joined the research staff at the Xerox Palo Alto Research Center (PARC) in California. During his eight years at Xerox PARC, he worked on the first distributed personal computer system and was a co-discoverer of a fast method for locating a phrase inside a large body of text. He returned to Carnegie Mellon in 1982 as a visiting fellow of Xerox and was recruited to direct the Andrew research project.
"We look forward to more exciting ideas and initiatives as Jim continues his career at Carnegie Mellon," said Kamlet.
Anne Watzman
Robot Hall of Fame Inducts First Honorees
On Nov. 10, Jim Morris will serve as master of ceremonies at the induction of the first group of robots and their inventors into the newly established Robot Hall of Fame™, a joint venture of Carnegie Mellon and the Carnegie Science Center. The Robot Hall of Fame is a concept Morris conceived.
Carnegie Mellon established the Hall of Fame to build upon its leadership position in robotics research and development, and to recognize the increasing benefits robots are bringing to society. It honors noteworthy robots, both real and fictional, along with their creators.
"In the coming decades, real robots will play increasingly important roles in our society," Morris said. "We want to honor robots that have served an actual or potentially useful function and demonstrated real skill, along with robots that entertain and those that have achieved worldwide fame in the context of fiction."