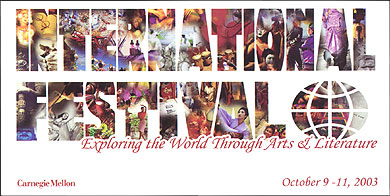 University Hosts 13th Annual International Festival Oct. 9-11
Exploring the World through Arts and Literature
Carnegie Mellon's annual International Festival, now in its 13th year, will be held Thursday, Oct. 9, through Saturday, Oct. 11, in the University Center. This year's event, "Exploring the World through Arts and Literature," will continue the tradition of past festivals by fostering awareness and celebrating the values, traditions and beliefs of world cultures.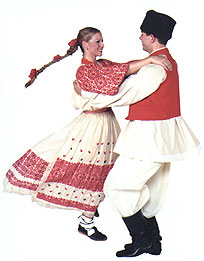 Throughout the International Festival, workshops, lectures, discussions and performances will act as a passport to different worlds. Cuban-American author Cristina Garcia will deliver a keynote address at 4:30 p.m., Oct. 9, in McConomy Auditorium. Garcia will speak about her novels as well as her own experiences regarding the complexities of a dual cultural identity.
Another highlight of the weekend will be a performance by the world-renowned, multicultural song-and-dance company, the Duquesne University Tamburitzans. The Tamburitzans will perform at 8 p.m. on Friday, Oct. 10, in Rangos Ballroom.
All events are free and open to the entire community.
Thursday, October 9
4:30-6 p.m., Keynote Lecture: Cristina Garcia, McConomy Auditorium
6-7 p.m., Lecture Reception & Book Signing, Connan Room
8 p.m., 10 p.m., Film: Velvet Goldmine, McConomy Auditorium
10 p.m., Not Just Tango: Hispanic Cabaret Series: Argentina, Skibo Coffeehouse
Friday, October 10
10 a.m.-8 p.m., Gallery Show Exhibit: J.S.G. Boggs: Money Images: The Cultural Iconography of Currency, UC Art Gallery
Noon-1 p.m., South Indian Classical Dance Workshop, Rangos 3
Noon-1 p.m., Personal Journey: Salma Zahr: Experiences in the Middle East, McKenna Room
1-2 p.m., Japanese Woodworking Demonstration, Peter Room
1-2 p.m., David Lewis: Ethnic Pittsburgh through Art and Architecture, McKenna Room
1:30-2:30 p.m., Salsa Dance Workshop, Rangos 1
2-3 p.m., Personal Journey by Ashok Kanagasundram: Eternal Rome: Drawing a Mural from History and Experience, McKenna Room
3-4 p.m., Flamenco Dance Workshop, Rangos 1
3-4 p.m., Hip-Hop 101 by Little Egypt, Connan Room
3:30-4:30 p.m., Pysanky Egg Demonstration, Peter Room
4-6 p.m., Cultural Student Food Fair, Rangos 2, 3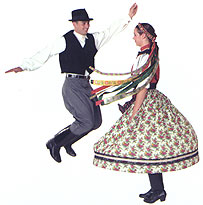 6-8 p.m., Gallery Reception: J.S.G. Boggs: Money Images: The Cultural Iconography of Currency, UC Art Gallery
8-10 p.m., The Duquesne University Tamburitzans, Rangos 1,2,3
10 p.m., Concert by Little Egypt, The Underground, Morewood Gardens
10 p.m., Midnight, Film: Whale Rider, McConomy Auditorium
Saturday, October 11
9 a.m.-4:30 p.m., Home/land: Artists, Immigration and Identity Exhibition, Society for Contemporary Craft, 21st and Smallman, Strip District
10 a.m.-5 p.m., Gallery Show Exhibit: J.S.G. Boggs: Money Images: The Cultural Iconography of Currency, UC Art Gallery
11 a.m.-Noon, Personal Journey by Anisha Anantapadmanabhan: Carnatic Music from India, Dowd Room
11 a.m.-2 p.m., African Batik Workshop and Lunch, McKenna Room
11 a.m.-3 p.m., Study Abroad Fair, Wean Commons, UC
11:30 a.m.-1 p.m., Piñata Making Workshop, Peter/Wright Rooms
Noon-1 p.m., African and Afro-Cuban Storytelling, Dowd Room
Noon-3 p.m., International Bazaar: Food and Craft Vendors, Live Music by Soma Mestizo, Rangos 1,2,3
1-2:30 p.m., Lecture by J.S.G. Boggs: Money Images: The Cultural Iconography of Currency, McConomy Auditorium
1:30-2 p.m., Study Abroad Information Session for Family Members Study Abroad 101, Peter/Wright Rooms
2-3 p.m., Tuika's Polynesian Island Magic Dance Performance and Workshop, Connan Room
2 p.m., Carnegie Mellon School of Drama Production: "Measure for Measure," Philip Chosky Theater, Purnell Center
2:30-3:30 p.m., Origami Workshop, Peter Room
3-4 p.m., Personal Journey by Paul Pinto, Wright Room
3:30-4:30 p.m., Tango Dance Workshop, Rangos 3
3:30-4:30 p.m., African Woodcarving Demonstration, McKenna Room
4-5 p.m., Sri Lankan Dance Performance and Workshop, Connan Room
4-5 p.m., On Art and Cannibalism: Aspects on Latin-American Contemporary Art at the Beginning of the Century, Peter Room
4:30-5:30 p.m., ReSunSum African Drum and Dance Performance and Workshop, Rangos 3
8 p.m., Carnegie Mellon School of Drama Production: "Measure for Measure," Philip Chosky Theater, Purnell Center
8 p.m., 10 p.m., Midnight, Film: Frida, McConomy Auditorium
10-11 p.m., Not Just Tango: Hispanic Cabaret Series: Argentina, Skibo Coffeehouse
For more information on the International Festival and up-to-the-minute schedule information, visit www.studentaffairs.cmu.edu/StudentActivities/internationalfestival/
Top
Anne Watzman