Gloriana St. Clair Named Dean of University Libraries
Gloriana St. Clair, Carnegie Mellon's university librarian since April 1998, has been named dean of University Libraries. President Jared Cohon said that the new title "more aptly reflects the importance of the libraries in the university's academic life."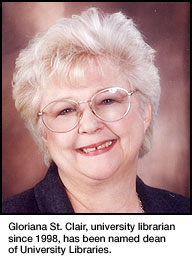 Under St. Clair's leadership, the University Libraries have led initiatives that are critical to globally enhancing the value of education through the use of information and communication technology. One example is the Million Book Project, an effort spearheaded by Carnegie Mellon to enhance educational opportunities worldwide. The University Libraries have digitized one million pages of primary source material, including the work of the late Senator H. John Heinz III, computer scientist Allen Newell and Nobel Laureate Herbert Simon. This year, another digitization project will put 622 titles in the Posner Family Collection of Fine and Rare Books on the Web.
"By working to create a librarian/archivist track, improve the undergraduate book collections and focus on much needed space issues, Gloriana has also placed an emphasis on meeting the broader needs of the libraries," said Provost Mark Kamlet.
St. Clair has received many honors throughout her professional career, including recognition for her leadership in The World Who's Who of Women. She edited librarianship's flagship journal, College & Research Libraries, from 1990 to 1996, and was the managing editor of the Journal of Academic Librarianship. When Elsevier bought that journal, St. Clair and many board members founded a new journal called portal: Libraries and the Academy, which is published electronically.
She has led or participated in various leadership activities in the field of library science and was the chair of the American Library Association's Library Research Roundtable and the chair of the Association for College & Research Libraries Excellence Award. She is a member of the Association of College and Research Libraries, the Digital Library Federation and past chair of the Pennsylvania Academic Library Consortial Initiative. St. Clair also has written numerous professional papers and made presentations about digital libraries and changes in the field of librarianship.
St. Clair came to Carnegie Mellon from The Pennsylvania State University, where she was associate dean for Information Access Services. She earned an MBA from the University of Texas in San Antonio and a Ph.D. in literature from the University of Oklahoma. Her master of library science degree is from the University of California at Berkeley and her undergraduate degree in English is from Oklahoma.
Top
Cindy Carroll