University News Briefs
Regional CEOs Discuss Globalization and Engineering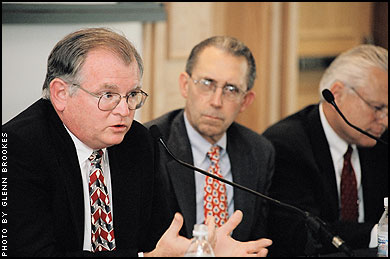 John Friel (far left), president and CEO of Medrad, and Carl J. Johnson (middle), chairman and CEO of II-VI Inc., were among the chief executive officers from regional corporations on campus last month for a panel discussion on how globalization has impacted the demand for engineers in the U.S. They focused on how a new wave of technology outsourcing could be cutting into job opportunities for U.S. engineering students. James W. Liken, president and CEO of Respironics, Inc, John Stanik, president and CEO of Calgon Carbon, and Markos I. Tambakeras, chairman, president and CEO of Kennametal, Inc., were also on the panel. John L. Anderson, dean of the College of Engineering, and William J. Holstein, editor-in-chief of CEO Magazine, moderated the discussion.


WSJ Ranks MBA Program No. 6


The Wall Street Journal has ranked Carnegie Mellon's MBA program sixth among 266 full-time MBA programs worldwide. This year's survey represents the opinions of 2,191 corporate recruiters. It is the third consecutive year that the university has ranked among the top 10.

Carnegie Mellon's MBA was also recognized for excellence in four academic concentrations: operations management (No. 1); information technology (No. 2); quantitative analysis (No. 2); and finance (No. 5). The program also ranks first with technology recruiters; second among small schools (schools with a full-time MBA enrollment of less than 500); and fifth among private schools.


Celebrating the Legacy of Barbara Lazarus

A day-long celebration of the life and work of Barbara Lazarus, Carnegie Mellon's associate provost for academic affairs, will be held on Friday, Oct. 17, in the Hamburg Hall Auditorium. Lazarus, who died this summer after a long battle with cancer, touched the lives of hundreds of students and staff through her efforts to give women and minorities increased access to non-traditional occupations and promote undergraduate research on campus.

The celebration will highlight the programs that Lazarus initiated and the key ideas behind her approach to research and education. Activities for the day include panel discussions on creating access for girls and women in math and science and undergraduate research; a time for sharing remembrances of Lazarus; and a discussion of Lazarus' career before she joined the Carnegie Mellon community. For more information, visit www.cmu.edu/cmnews/extra/031007_blazarus.html

Commerce Secretary Gets Lesson in Robotics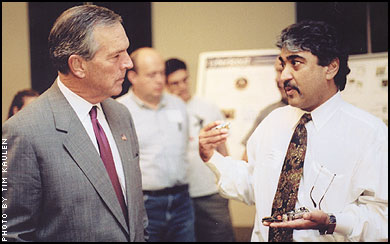 Don Evans, the U.S. Secretary of Commerce, was on campus last month to discuss with business school students the role that innovation will play in the future of commerce. As part of the visit, he observed a demonstration of robotics technology developed at Carnegie Mellon. Evans is shown above with Electrical and Computer Engineering Department Head Pradeep Khosla (right), who also directs the university's Institute for Complex Engineered Systems.

Morgan Discusses Book in Washington, D.C.
Granger Morgan, the Lord Chair Professor of Engineering and head of the Engineering and Public Policy (EPP) Department, discussed his new book, Science and Technology Advice for Congress, in Washington D.C., last month. The book is designed to help Congressional leaders improve the way they tackle key issues including blackouts, space shuttle launches and homeland security.
Morgan and co-author Jon Peha, associate professor of EPP, argue that Congress and its many committees need more than bare facts and brief interactions with technical experts to analyze and solve some of the nation's most challenging problems.

Gdovic Named New InSITeS Director
Ronald Gdovic, executive director of 3 Rivers Connect, has been named executive director of the Institute for the Study of Information Technology and Society (InSITeS) at the Heinz School.
Under Gdovic's leadership, 3 Rivers Connect helped to accelerate economic, social and educational development in southwestern Pennsylvania through applications of information technology. He's also taught a course on information technology and economic development at Carnegie Mellon.
InSITeS is dedicated to teaching, research and public outreach with regard to the social, economic, political and legal impacts of information technology.

Psychology Professor Meets Dalai Lama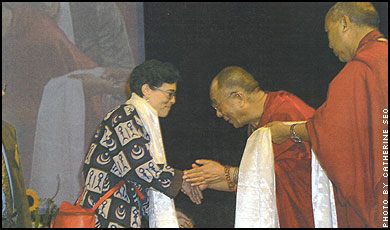 Psychology Professor Marlene Behrmann (left) was a panelist with the Dalai Lama, the leader of Tibetan Buddhism, at the Investigating the Mind Conference held in Boston last month. The goal of the conference was to identify the common ground between Tibetan Buddhism and biobehavioral science. Behrmann, an expert in visual perception and cognition, served on the mental imagery panel.

Researchers Awarded $1.1 Million by NIMH
Carnegie Mellon researchers Daniel Nagin and Jeffrey Dominitz, both of the Heinz School, have received a $1.1 million award from the National Institute of Mental Health (NIMH) to develop statistical methodologies to study the development of psychiatric disorders and violent behavior. The award will fund both ongoing research into the subject and two important new areas for expanded study—identifying factors that change developmental trajectories of violent behavior and developing a set of tools that predict individual behavior outcomes.
Changes Announced in Financial Leadership
Vice President for Administration and Chief Financial Officer Stefano Falconi has announced several key financial leadership appointments. Deborah Moon has been named assistant vice president and controller. Jim Gartner has been appointed senior director of university risk management. Rhonda Kloss has been appointed director of sponsored projects accounting.
Nominations Due Oct. 30 for Honorary Degrees
Members of the university community are invited to submit nominations for honorary degree recipients at this year's commencement. Degrees may be awarded in business practice, fine arts, humane letters, public policy, and science and technology. Nominees must have achieved preeminent levels of distinction in their field.
Deadline for nominations is Oct. 30. They can be submitted online at www.cmu.edu/advancement/honorary. Paper nomination forms can be obtained from the Office of the President, 6th floor, Warner Hall.
Skinner's New Book Graces Cover of Time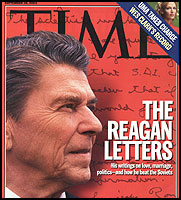 "Reagan: A Life in Letters," a new book co-edited by Kiron Skinner, assistant professor of history and political science, was the topic of a cover story in Time magazine. The book is a collection of letters Reagan wrote over 70 years.