Trustee Funds New Environmental Institute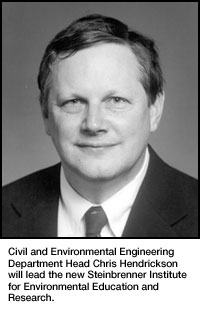 Carnegie Mellon Trustee W. Lowell Steinbrenner and his wife, Jan, have pledged seed funds of $4 million to establish the Steinbrenner Institute for Environmental Education and Research. The institute will aid the university's ambitious long-term strategic thrust to change the way society thinks and acts about the environment, through its educational and research methods and results, the issues it raises and the outcomes it produces.
"Because of social, economic and political circumstances, we undoubtedly will have to radically change our habits with regard to our natural resources," said Steinbrenner, a member of the university's environmental strategic planning subcommittee and former chairman of Contours Ltd., a specialty steel wire producer.
According to Chris T. Hendrickson, head of Civil and Environmental Engineering, the new institute is motivated in part by Carnegie Mellon's long tradition of successful research as well as its collaborative strengths in science and technology, design, economics and the social and policy sciences.
Hendrickson, who will head the new institute, said that plans are under way to offer seed funding and promote collaborative work in environmental research and education. The Steinbrenner Institute's initial focus will be centered on two critical environmental themes: energy and the environment, including electricity and energy for transportation; and urban infrastructure in both developed and developing regions, including both the built and natural environment in urban regions.
The new Steinbrenner Institute will also coordinate and enhance the impact of environmental research and education across campus. The educational focus will include an emphasis on helping all Carnegie Mellon undergraduates understand the problems, methodologies and practical solutions that can lead to a more sustainable world.
"Carnegie Mellon is leading the way in making our energy use and urban infrastructures safer and more effective," Hendrickson said.
Top
Chriss Swaney