Remembering 9-11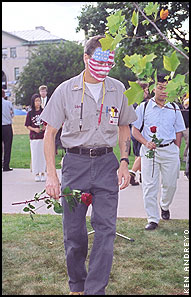 The university community mourned last year's tragedy with a series of events this past Sept. 11. Right, FMS electrician Glenn Gross places a rose by the tree that was planted in memory of Carnegie Mellon's alumni victims. Gross had his face painted like an American flag.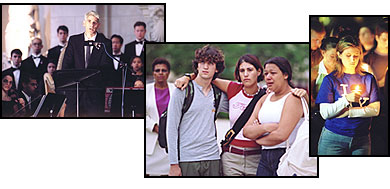 The Carnegie Mellon community participated in several events on Sept. 11 commemorating last year's horrific terrorist attacks on America. English Professor Jim Daniels (above left) read "Us, Now," a poem he authored last fall in tribute to the victims of 9-11, during a special School of Music concert in the College of Fine Arts Great Hall. Above, students participated in a moment of silence at 8:46 a.m. in recognition of the first attack on New York's World Trade Center. Activities on Sept. 11 ended with a 9 p.m. candlelight vigil at The Fence.


Former Department Head Returns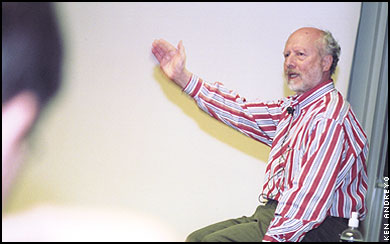 Joseph Traub, head of the Computer Science Department from 1971-79, was the guest speaker at the School of Computer Science in mid-September. Traub gave an anecdotal history of the department and explained how some of the traditions, such as "Black Friday," which really never takes place on Friday, and "The Cheese Cooperative," the department's periodic cheese and crackers party, actually began. "He implemented many of the traditions here," says Assistant Dean Catherine Copetas. "Alan Perlis, Allen Newell and Herbert Simon founded the department, but it was Joe who took this place and turned it into an organizational wonder."



Watson Festival Has Many Faces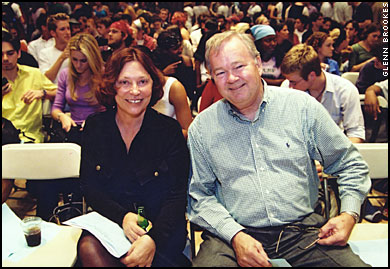 The Jill Watson Festival Across the Arts, in memory of the alumna and adjunct faculty member in the School of Architecture who was killed in the TWA Flight 800 crash in 1996, featured lectures, performances and workshops in a variety of artistic disciplines, including art, music and dance. Iranian-born film and video artist Shirin Neshat (bottom, left) spoke about her internationally renowned work, which addresses many cultural issues. Other activities included a student cabaret (middle photos) in the Alumni Concert Hall and a tap dance workshop (below), led by Ken Leigh Rogers, in the Purnell Center Dance Studio. Attending the festival were Janice and James Watson Jr. (above), parents of the late Jill Watson (A'87 ).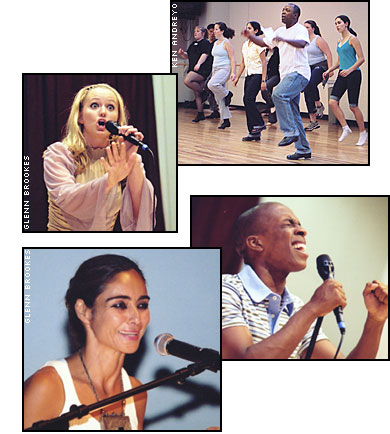 Star TV Producer Gary Smith Earns Alumni Achievement Award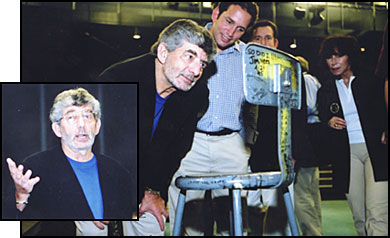 Emmy Award-winning television producer Gary Smith (A'56) received the Alumni Association's Distinguished Achievement Award at the annual awards ceremony during Homecoming Weekend, Oct. 4-6. Smith, known for producing television specials starring Judy Garland, Frank Sinatra, Julie Andrews, Barbra Streisand and Bette Midler, among many others, has won more than 20 Emmys with business partner Dwight Hemion. In 1993, Smith produced President Bill Clinton's inaugural gala, starring Streisand, Aretha Franklin, Bill Cosby, Michael Jackson and Chuck Berry. Above, on a stool in the Purnell Center's Studio Theatre where he gave a seminar for drama students, Smith takes time to read the autographs of some of the famous alumni who have come back to visit. William Purcell (E'44,'49), former leader of three national nuclear power programs, also received a Distinguished Achievement Award. The Distinguished Service Award went to Lucian Caste (A'50) for his extraordinary dedication and support of the university.



MCS Opens New Labs in Doherty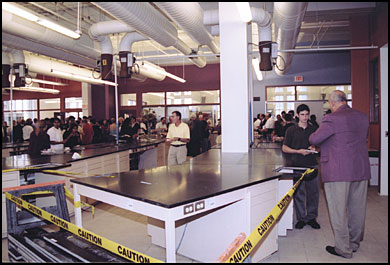 The Mellon College of Science Interdisciplinary Undergraduate Laboratories in Doherty Hall had its grand opening on Oct. 4. The new, eight-story, $26.4 million addition includes an experimental physics laboratory with an integral computer cluster and classroom, analytical chemistry labs, a lecture hall and auditorium, a computer cluster with 15 workstations, the interdisciplinary sciences laboratory, an outreach lab, a synthetic laboratory and a conference room for the Chemistry Department. It also houses new and renovated spaces for the School of Art.



Carnegie Mellon Cited for Being a Wind Energy Leader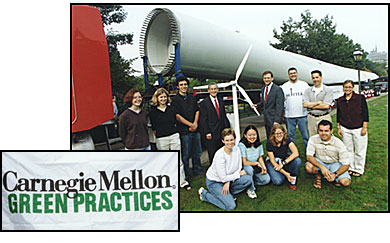 Civil and Environmental Engineering Professor David Dzombak (middle right), (holding model wind turbine) co-chair of Carnegie Mellon's Green Practices Committee, Jay Apt (middle left), (left of Dzombak) Distinguished Service Professor in Engineering and Public Policy, and several environmental engineering graduate students were on hand for ceremonies at the Phipps Conservatory and Botanical Gardens commemorating "Wind Energy Day" on Oct. 3. Carnegie Mellon was one of 13 companies and organizations honored by Community Energy for being a wind energy leader in Pittsburgh. The university is purchasing 5 percent of its energy need this year from Community Energy and will purchase 6 percent next year. At right, Dzombak, Apt and students pose in front of a 115-foot long fiberglass wind turbine blade, the type being installed on 230-foot towers in Tucker County, W.Va., two hours southwest of Pittsburgh. The students are (back row, l-r) Cortney Higgins, Gwen Christini, Paul Murphy, Gregson Vaux, Greg Lowry, Caroline Totten, (front row, l-r) Kathleen Johnson, Wei Tang, Kathleen McDonough and Jose Aguirre.







(09/06/02)