Center Gets $35.5M for Cybersecurity Work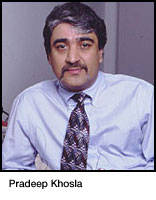 Carnegie Mellon's Center for Computer and Communications Security (C3S) will receive $35.5 million over the next five years from the Department of Defense to create a new network security paradigm to tackle the challenges related to Internet security, data storage and privacy issues stemming from America's ongoing war against terrorism.
The new multidisciplinary center will pull research faculty from the school's Electrical and Computer Engineering Department, the Department of Engineering and Public Policy, the School of Computer Science, the Department of Statistics, the Heinz School, the Software Engineering Institute and the CERT Coordination Center, the nation's first and best-known computer emergency response team.
Pradeep Khosla, head of Electrical and Computer Engineering and the newly formed C3S, said the crucial role that information technology plays in warfare and homeland security inspired Carnegie Mellon to create the new center.
"The focus on using technology to meet security challenges has implications on both private and public organizations, and that's why our research is a collaborative effort," said Khosla.
"In order for the Software Engineering Institute program in network survivable systems, including CERT/CC, to stay on the cutting edge, it is absolutely mandatory that we collaborate with leading researchers in the world," said Stephen E. Cross, director and chief executive officer of the Software Engineering Institute. "Those researchers are in C3S, and this grant is further proof of their preeminence."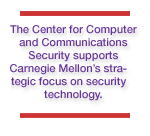 One of the center's latest research tasks includes development of "self-securing systems," computer components such as hard disk drives and network cards that will defend themselves, and ultimately each other, from attack.
Carnegie Mellon researchers say one advantage of making components self-securing is that each one can closely monitor itself, finding clues about intruders that go unnoticed by firewall devices, which must handle a large flow of information into a local network from the larger Internet.
A prototype of a self-securing disk drive has been developed and will be tested in a variety of industry sectors. Other research includes developing security for wireless broadcasting and remote sensor networks.
Because of the fast rate of innovation in the technology sector, there is a shortage of network security professionals.
In addition to research, the new center will coordinate a 16-month graduate degree program culminating in a master of science in information security technology and management that will be managed by the Information Networking Institute (INI), a designated National Security Agency center of excellence. The program, slated to begin in the fall of 2003, emulates the highly successful master of science in information networking in which students find careers in telecommunications and the wireless and mobile computing sectors.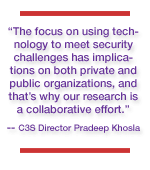 Carnegie Mellon was identified as a center of excellence in cybersecurity in June 2002. The designation gives Carnegie Mellon the green light to participate in the Federal Cyber Service Scholarships for Service Program. Participating students obtain scholarships from designated schools, such as Carnegie Mellon, in return for working in government-related cybersecurity jobs.
"I am pleased to have been able to secure the necessary federal funds for C3S, and I continue to be an advocate for its mission," said Congressman Mike Doyle, D-18th District. "Homeland security is a top priority in Washington, D.C., right now, and the center will be vitally important to our security efforts because of its concentrated focus on developing technologies for combating cyberterrorism. These efforts at Carnegie Mellon began even before terrorism and security took center stage, and the opening of the new center comes at the right time now that protecting cyberspace is a crucial element to our security, an element in which Pittsburgh and Carnegie Mellon will lead the way."
Chriss Swaney
(10/10/02)