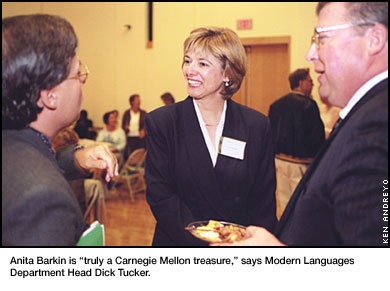 Barkin, Ditmore, Pethia, Heinz Morale Committee Earn Andys
Anita Barkin, Jane Ditmore, Richard Pethia and the Heinz School's Morale and Motivation Committee received this year's Andy Awards at a Sept. 23 ceremony in McConomy Auditorium.

Barkin, director of Student Health Services, earned the award for dedication and Ditmore, a senior sales associate in Entropy, garnered the Andy for enthusiasm. Pethia, manager of the Network Systems Survivability Program at the Software Engineering Institute, was cited for university citizenship, and the Heinz School committee won the Andy for innovation.

Winners of the Andy Awards, a university-wide staff recognition program, were selected based on contributions above and beyond normal job requirements. Individual winners receive $750 and teams are awarded $1,500 to be divided among team members.

Anita Barkin
In his nominating letter, Dick Tucker, head of the Modern Languages Department, called Barkin "truly a Carnegie Mellon treasure." He recalled how Barkin responded when a gravely ill international doctoral student was admitted to the Intensive Care Unit of UPMC Shadyside in June 2001.

"Anita rapidly swung into action coordinating the exchange of information among the various service providers and supporters," Tucker said. "She visited the student twice a day to personally facilitate the exchange of information on the scene among the medical personnel, insurance company representatives, legal counsel and the student's parents who spoke minimal English."

Tucker said when the student eventually returned to campus, Barkin continued to help by personally coordinating the check-ups by attending specialists, establishing a post-hospital regimen of personal care and helping to sort the myriad invoices that by then had arrived from health-care providers.

In a supporting letter, Dean of Student Affairs Michael Murphy said Barkin is always thinking about the health and welfare of Carnegie Mellon students, and along with her staff "has made our Health Center a model for others in the nation."

As an example of her dedication, Murphy noted her leadership role in many university-wide initiatives, such as health fairs, the Mosaic Conference, Family Weekend and campus immunization programs.

Murphy also praised her for the Health Services' certification from the American College Health Association. He said the certification is rare for a school the size of Carnegie Mellon.

"The limited resource base of a small school makes the meeting of the high standards of certification exceptionally difficult. Still, Anita set about to receive this recognition and she, along with her staff, made it a reality."

Jane Ditmore
Nominator Patricia Stacer, director of campus services, said Ditmore, a 20-year member of the university community, is the most enthusiastic employee in Business Services.

"Jane brings a positive, productive, cheerful and upbeat attitude to work," Stacer said. "She builds an esprit de corps within the department and with campus customers."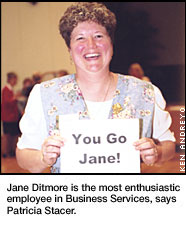 Stacer said Ditmore often arrives at work at 5:30 a.m. to be sure the donuts and coffee are ready for her "early bird" morning customers.
"Due to Entropy's location... she is the first point of contact for many visitors," Stacer added. "She skillfully handles every question, provides visitors with the correct directions and leaves customers laughing with her quick wit."
Dean of Student Affairs Michael Murphy said Ditmore has "enormous energy and is exceptionally committed to our community. She embraces her position not as a job but as an important role in the lives of those she touches.... She is a shining example to our students and others that loyalty, commitment and, indeed, enthusiasm are qualities to cherish."
Colleague Lynn Heverly said "Jane makes Entropy a really fun place to work, shop or just to visit. It is a gathering place, a place like 'Cheers,'" she said.
Richard Pethia
Nominator Stephen Cross, director and CEO of the Software Engineering Institute, presented to the review committee a long list of Pethia's successes, which have brought esteemed recognition to the university and have protected the school's computing infrastructure.
Cross credited Pethia with creating the world's first computer emergency response team (CERT/CC) in 1988 and leading its parent organization, the Network Systems Survivability Program. He led the development of the Internet Security Alliance, a well-respected industry association focused on Internet security, and was the first expert from the private sector to brief the President of the United States after the Internet Denial of Service attacks in February 2000. Pethia frequently testifies before congressional committees on cyber security issues.

"Carnegie Mellon's sustained national and international visibility and reputation is in no small part due to the hundreds of annual media reports citing the authoritative work of the CERT/CC," Cross said.
Cross also praised his work that has safeguarded computing on campus. "He championed the use of better security techniques within the university to protect vital information assets and to thwart cyber attacks against the university," Cross said. "He prioritized CERT/CC activities in support of campus IT systems. Carnegie Mellon's critical IT systems have never been compromised, unlike many major universities."
Christina Gabriel, vice provost for Corporate Partnerships and Technology Development, called Pethia "one of the key leaders who have established and maintained Carnegie Mellon's world-class reputation for information technology excellence.
"He is a consistent top-quality performer for the Software Engineering Institute," she said. "He works hard to bring different units of the university together to focus on making advances in cyber security research, education and service."
Heinz School Morale and Motivation Committee
(Dorothy Bassett, Ron Delfine, Debra Dennison, Janet Ford, Gary Franko, Bridget Jakub, Hope Markiewicz, Lynnette Morris, Kristin Niceswanger and Tara Trapani)
The Morale and Motivation Committee, formed in 2000, was honored for its work in enhancing staff morale and professional development within the Heinz School. Janet Cohen, the school's chief operation officer, said the volunteers on the committee receive no compensation other than their own satisfaction and enjoyment in making the Heinz School a great place to work.
"They focus on a variety of issues, from professional development to community involvement and morale problems," she said.
Nominator Brenda Peyser, associate dean of the Heinz School, said as the school grew "we found ourselves losing that feeling of a small family. Although we all knew growth was important, none of us wanted to sacrifice the strong relationships and fun that made working here so great. So, eight brave souls stepped forward to find ways to keep us happy and focused."
Mark Wessel, lecturer in economics and finance, said committee members "have made an enormous contribution to the sense of well-being and morale" of the Heinz School staff.
"They have accomplished this with a strategy of carefully surveying the wants and needs of individual staff members, intermediation with the school's top leadership and creative development of programs and ideas that serve all interests."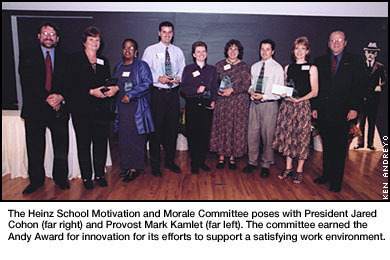 Edmund Delaney
(10/10/02)