Carnegie Mellon Moves to 21st in U.S. News & World Report Survey; Retains #7 Ranking in Business and Engineering
Business Program Again Rated Tops in E-Commerce
Carnegie Mellon's overall undergraduate program ranked 21st - up two spots from last year's rating - in U.S. News &World Report magazine's annual survey of national universities for its "America's Best Colleges" edition.
The university's undergraduate business and engineering programs retained their number seven overall rating of a year ago. U.S. News & World Report annually ranks undergraduate programs in business and engineering as well as specialty areas in those disciplines.
In specialty business areas, Carnegie Mellon retained its rankings from last year. Carnegie Mellon ranked first in E-Commerce, second in Management Information Systems, Production/Operations Management and Quantitative Analysis/Methods, 6th in Supply Chain Management/Logistics, 10th in Finance, 15th in Management and 17th in Entrepreneurship.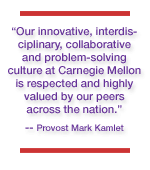 In engineering specialties, Carnegie Mellon was rated second in Computer Engineering - up one spot from last year - ninth in Electrical Engineering, 10th in Materials, 13th in Chemical Engineering and Environmental Engineering, 14th in Civil Engineering and 15th in Mechanical Engineering.
"We are pleased to again have a strong showing for Carnegie Mellon University," said President Jared Cohon. "Surveys are just one measure of the overall excellence of our educational programs but, these rankings confirm what we know-that Carnegie Mellon and our specialty programs rank among the best in the nation."
"It is very gratifying to know that in addition our quantitative measures, our peer assessment, which plays a significant role in each school's standing in the U.S. News survey, is very strong," said Provost Mark Kamlet. "Our innovative, interdisciplinary, collaborative and problem-solving culture at Carnegie Mellon is respected and highly valued by our peers across the nation."
Graduate School of Industrial Administration Dean Kenneth B. Dunn said the undergraduate business school's number seven overall ranking "underscores the caliber of our students as among the world's best thinkers and performers. We were also pleased to see the spotlight on our areas of academic concentration and recognize the university's leadership in the technology sector as a solid partner in helping us achieve a number one ranking in e-commerce," he said. John Anderson, dean of the Carnegie Institute of Technology (CIT), said the engineering program's ranking is a testament to the CIT faculty, students and staff.
"We're small but we produce excellent engineers who are entrepreneurial and enter the workforce ready and able to work beyond the boundaries of their disciplines. Computer engineering's second place rank reflects the impact of our innovative curriculum, the leadership of our faculty and the initiative of our students," Anderson said.
The overall ratings were determined by several measures including peer assessment (25%), graduation and retention rates (20%), faculty resources (20%), student selectivity (15%), financial resources, or spending per student (10%), graduation rate performance, described as the difference between actual and predicted graduation rates (5%) and alumni giving rates, which the magazine describes as an indirect measure of satisfaction (5%). Specialty areas were ranked according to the judgments of deans and senior faculty who rated each program they're familiar with on a scale of 1 (marginal) to 5 (distinguished). In other U.S. News & World Report listings, Carnegie Mellon was included among national universities with a strong presence of international students. In the 2001-2002 school year, international students made up 11 percent of Carnegie Mellon's study body. In a category called "Programs that really work," Carnegie Mellon's undergraduate research program was listed 18th.


The Numbers at a Glance
Overall Undergraduate Program - #21
Undergraduate Business - #7
Undergraduate Engineering - #7


Business Specialties
E-Commerce - #1
Management Information Systems - #2
Production/Operations Management - #2
Quantitative Analysis/Methods - #2
Supply Chain Mgmt./Logistics - #6
Finance - #10
Management - #15
Entrepreneurship - #17

Engineering Specialties
Computer Engineering - #2
Electrical Engineering - #9
Materials Science and Engineering - #10
Chemical Engineering - #13
Environmental Engineering - #13
Civil Engineering - #14
Mechanical Engineering - #15

For more on the rankings visit the Web at www.usnews.com.
Teresa Thomas and Bruce Gerson
(10/10/02)