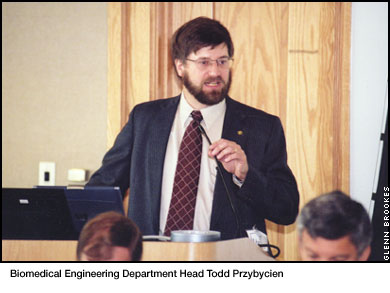 New Biomedical Engineering Department Established in CIT
Effort Aims to Meet Demands of Biotech Industry Carnegie Mellon's College of Engineering has created a Department of Biomedical Engineering to meet the growing needs of an emerging new biotechnology marketplace that pumped more than $4 billion into the regional economy in 2000.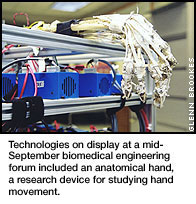 Tapping into a long-established culture of interdisciplinary education and research, the new department offers a double-major curriculum in which each student must complete the requirements of a traditional engineering program plus a palette of nine biomedical engineering courses, ranging from physiology and biochemistry to biomedical engineering design.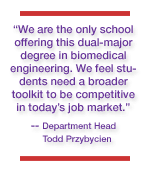 "We are the only school offering this dual-major degree in biomedical engineering," said Todd Przybycien, head of the new Biomedical Engineering Department. "We feel students need a broader toolkit to be competitive in today's job market, so our biomedical majors can opt for a double major curriculum that may include mechanical, chemical, electrical, computer, public policy, materials science, and civil and environmental engineering."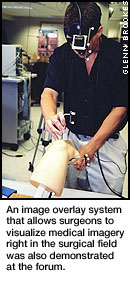 Because of the program's strong cross-pollination of engineering and biological science courses, students are exposed to new biotech research in areas of medical robotics, tissue engineering and assisted living. Already, Carnegie Mellon researchers are designing implants for holding arteries open after they have been cleansed of plaque. They are also developing therapies for regeneration of bone and cartilage and blood vessel formation.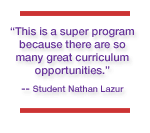 At a biomedical engineering forum in mid-September that officially marked the opening of the new department, participants toured the medical robotics labs in Newell-Simon Hall. Creations on display included specially designed imaging equipment for detecting cancer cells and a robotic hand for plotting medical data. A panel of experts, including engineering professors Jon Cagan and Mike Domach, Jim Osborn of the Center for Medical Robotics and Information Technology for Medicine and Surgery, and Jeffrey Hollinger, director of the Bone Tissue Engineering Center, discussed "Biomedical Engineering for the Real World."

Jonathan Rothberg, chairman and founder of CuraGen Corp., a genomics-based pharmaceutical company, and Astro Teller, CEO of BodyMedia, discussed the challenges facing biotech startups.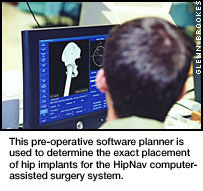 More than 50 students will graduate in 2003 from the new department that coordinates a summer internship program giving students firsthand experience at local pharmaceutical companies, hospital research labs and biotech startups.
"This is a super program because there are so many great curriculum opportunities," said Nathan Lazur, a Carnegie Mellon student majoring in biomedical and chemical engineering. "I eventually would like to go to medical school or pursue something in the biotech arena," he said.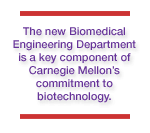 Lazur hopes to join more than 170,000 professionals now employed by 1,457 biotech operations nationwide. Company revenues increased from $8 billion in 1992 to $27.6 billion last year. The Biotechnology Industry Organization also reports that the industry spent $15.6 billion on research and development in 2001.
Since the biomedical and biotech industries are some of the most research-intensive industry sectors in the world, Carnegie Mellon's new biomedical engineering department plans to continue to push the limits on applying engineering precepts to medical treatment and understanding basic life processes.
Chriss Swaney
(10/10/02)