MBA Program Ranked #3 in the World by Wall Street Journal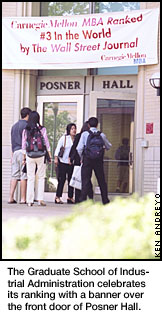 The Wall Street Journal has ranked Carnegie Mellon's MBA program third among 260 full-time MBA programs worldwide. This year's survey and rankings represent the opinions of 2,221 corporate recruiters. It is the second consecutive year that Carnegie Mellon has ranked among the top three.
"The Wall Street Journal ranking again confirms what we have always known about the caliber of our students and alumni," said Business School Dean Kenneth B. Dunn. "It is influential because it comes from recruiters who know firsthand that Carnegie Mellon is a source of academic innovation and unparalleled technology in business education as well as a program that produces global business leaders."
Carnegie Mellon's MBA also was recognized for excellence in seven of 11 academic concentrations. It ranked first in operations management, second in e-commerce and information technology, third in quantitative analysis, fourth in finance, fifth in entrepreneurship and ninth in strategy.
It also ranked Carnegie Mellon first in the technology sector and second in the east. Carnegie Mellon was rated as the number two private school and number two small school.
The extensive questionnaire sent to recruiters contained questions on school attributes, such as quality of past hires, faculty expertise and content of core curriculum, and student attributes, such as leadership potential, analytical and problem-solving skills, and strategic thinking.
The special rankings report and related information can be found on the Wall Street Journal's Web site at www.careerjournal.com.
The Carnegie Mellon MBA program features an analytic approach to global business management. Founded in 1949, it is recognized as the pioneer of quantitative problem solving with a reputation for creating new ways to transfer knowledge. The school's groundbreaking research, particularly in the areas of corporate finance, global macroeconomics and operations research, continues to serve as the basis for business decisions and academic research.
Deb Magness and Mike Laffin
(10/10/02)