Elizabeth Jones Earns $1 Million HHMI Chair
Will Lead Development of a Cognitive Tutor for Genetics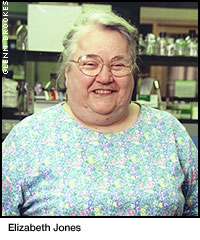 A new teaching assistant will help Elizabeth Jones, the Dr. Frederick A. Schwertz Distinguished Professor of Life Sciences and head of the Department of Biological Sciences, guide her genetics students through the problem-solving process, from abstract genetics theory to practice.
Who is this new teaching assistant? A more appropriate question would be "What is it?" This teacher is not human. It's an interactive computer software program called a cognitive tutor.
As today's students use computers for schoolwork, communication and entertainment, the cognitive tutor is a comfortable and most effective teaching tool. When the cognitive tutor was first developed at Carnegie Mellon by Psychology Professor John Anderson, it was tested for mathematics on the high school level. Students found they learned the material three times faster than by traditional methods.
Jones, who said she "was completely astounded" when she used the cognitive math tutor, wondered if an interactive computer program might help her teach genetics.
"I have been teaching genetics for 30 years and that entire time I have been trying to find useful teaching tools to help students learn to solve genetics problems," Jones said.
"Most tutoring software gives students a problem and an answer, but the cognitive tutor provides a starting point and multiple routes to the end point. It immediately notifies you of a mistake in the process, and if you can't correct it, you can ask for progressively revealing hints. You always get to solve the problem correctly, and you end up understanding each step you've taken."
Approximately 100,000 college students who take genetics nationwide each year, as well as 16,300 medical students, could benefit from a cognitive tutor for genetics.
Despite Jones' confidence in human tutors' ability to help her more than 70 undergraduate genetics students, she had neither the time nor person-power to develop and provide interactive tutoring for all of her students. However, the Howard Hughes Medical Institute's (HHMI) Million Dollar Professors Program has come to her rescue.
The HHMI, a private philanthropy dedicated to enhancing biomedical research and science education, invited 84 research institutions, including Carnegie Mellon, to nominate faculty members to be Million Dollar Professors. Those who were selected will receive $1 million over four years to bring their creativity from research laboratories to undergraduate classrooms.
After a rigorous selection process, Jones was chosen to be one of 20 professors to receive a HHMI Million Dollar Professorship. In addition to using the grant to further develop the tutor, Jones, along with other HHMI Professors, will participate in scientific meetings at the HHMI headquarters in Maryland. These professors will serve as a resource for scientists striving to improve undergraduate education.
In addition to Jones, the tutor will be developed at Carnegie Mellon by Kenneth Koedinger, associate professor in the Human-Computer Interaction Institute (HCII) in the School of Computer Science, Albert Corbett, senior research scientist in the HCII, Benjamin Maclaren, senior research programmer in the HCII, Linda Kauffman, principal lecturer in Biological Sciences, and Matthew Wood, a research associate.
Jones said that several modules should be ready for testing this semester, and she hopes that an entire course can be taught with the tutor next year.
Kathleen Anne Fischer
(10/10/02)