Annual United Way Campaign is Under Way
Donors May Win Trip to Orlando or $500 Gift Certificate to Seven Springs Ski Resort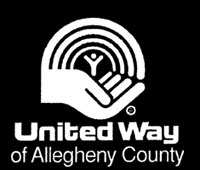 If the charitable work being done by the region's many deserving United Way health and human services organizations isn't enough to entice you to contribute to this year's annual campaign, perhaps a trip to Orlando, Fla., and a $500 gift certificate to Seven Springs will.
Carnegie Mellon donors making their contribution online will be entered in a raffle for a trip for four to Orlando, compliments of the United Way. The prize includes round trip airfare from Pittsburgh and use of a four-bedroom home with a swimming pool for seven nights. The home is 15 minutes from Disney World. You must make your contribution online by Dec. 31 to be eligible to win the trip, which must be taken by July 30, 2003. The drawing will be held on Jan. 15, 2003. In addition, Carnegie Mellon will raffle off among university donors a $500 gift certificate to Seven Springs Ski Resort. You can donate online or by campus mail by Nov. 17 to be eligible for the gift certificate. The drawing will take place on Monday, Nov. 18.
Weekly prizes will also be raffled off each Monday, Oct. 14 through Nov. 18. Prizes include gift certificates to Borders, Panera, Max & Erma's, Eat'n'Park, Union Grill and Starbucks.
"The health and human services organizations of the United Way provide food for the hungry, safe shelter for those who are otherwise homeless, assistance for battered women and day care for Alzheimer's victims, to name but a few United Way activities," states Provost Mark Kamlet, chairman of the university's United Way Campaign. "The United Way organizations protect the most vulnerable persons in our region and absent their support many children, elderly and others in need would have nowhere to turn."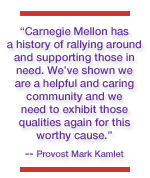 "I urge every member of the university community to participate in this campaign. Carnegie Mellon has a history of rallying around and supporting those in need.
We've shown we are a helpful and caring community and we need to exhibit those qualities again for this worthy cause. Regardless of the size of the contribution, whether it be $10, $100 or $1,000, every donation plays a key role in our university-wide effort," Kamlet said.
Last year, 16 percent of the university's faculty and staff population raised more than $167,000 for United Way. The goal this year is to exceed that level and to increase the number of faculty and staff who participate in the campaign. Donations can be made to the United Way's general fund or targeted to particular service sectors or specific agencies. Among the latter are independent campus-affiliated organizations such as the Role Models program (9841) and the Cyert Center for Early Childhood Education (1321).
Individuals can make their tax-deductible donation at www.unitedwaypittsburgh.org/uwac/carnegiemellon. You can access the United Way Web site through the Carnegie Mellon front door at www.cmu.edu. For more information, contact Edna Jackson of the Provost's Office at 8-6685 or ej16@andrew.cmu.edu.
Bruce Gerson
(10/10/02)