Monday, November 30, 2015
PieceMaker Expands for the Holiday Season
PieceMaker
has announced plans to expand into four Toys "R" Us locations across the mid-Atlantic region during the holiday season. The self-service 3D printing kiosks, created by Carnegie Mellon University alumni Arden Rosenblatt (ETIM'13) and Alejandro Sklar (ETIM'13), unveiled its newest Toys "R" Us location in Freehold, New Jersey.
In addition to the Freehold location, PieceMaker unveiled a kiosk at the Toy "R" Us' Times Square location in New York City.
"Times Square is going to be a perfect store for us," says Rosenblatt. "Beyond toys, jewelry accessories and key chains, we do a lot of fun local souvenirs. We're going to help all sorts of visitors to New York City make personalized mementos of their trip."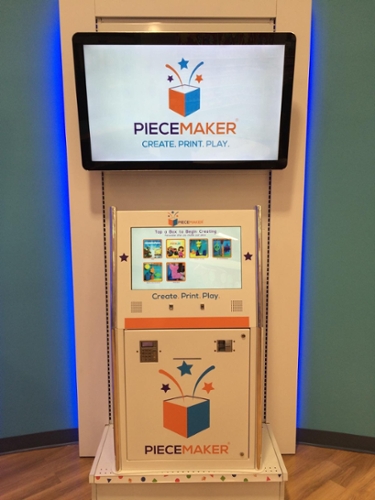 The partnership seems natural for both parties. "In general, part of the benefit for retailers is the very physical experience. It's not something you can mimic online," explains Rosenblatt, PieceMaker's co-founder and CEO. "On top of that, it's educational. Visitors can see the new technology and this is a very interactive, experience."
PieceMaker has updated its kiosk, but the customer interaction is the same. "All the magic happens through the kiosk," explains Rosenblatt. "We have a constantly evolving library of products."
Visitors select the color, add text or emojis and mix and match parts to create a one-of-a-kind 3D printed toy, accessory or keychain. "Once they've designed their personalized product digitally, customers can pay at the kiosk, and the product is 3D printed on the spot with ABS plastic," Rosenblatt says. "People are welcome to stay and watch the printer, or pick up their product at checkout."
Each customized item takes no longer than 30 minutes to print out, and costs between $5-15.
Thanks to a new licensing deal with Nickelodeon, visitors to a PieceMaker kiosk will now be able to choose from a variety of items, including characters from "Spongebob Squarepants," "Teenage Mutant Turtles" and "Dora the Explorer."
"We are tremendously excited to join together the world of 3D printing and personalization with such popular Nickelodeon characters, especially as kids see their customized pieces come to life right in store," says Rosenblatt. "Nickelodeon is a leader in bringing cutting-edge technology and experiences into kids' everyday lives, and we are thrilled with this partnership."
PieceMaker has reworked the kiosk software to make user interaction easier than ever. The product library is now scalable, and product inventories can be updated simultaneously across all locations with a few clicks of a button.
It's not just the software that's getting a new look. "We've built some incredible 3D printers, ones that we've been fine tuning for almost three years, and our kiosks are manufactured in Western Pennsylvania," Rosenblatt says. "We're excited to be building this in the United States."
PieceMaker had its start in the E&TIM (Engineering & Technology Innovation Management) program and College of Engineering. PieceMaker entered as a PROBE in the Center for Innovation and Entrepreneurship's on-campus incubator Project Olympus and is an Open Field Entrepreneurs Fund company.
By: Emma Diehl, ediehl@andrew.cmu.edu