Monday, July 27, 2015
*Where Are They Now: Matt Humphrey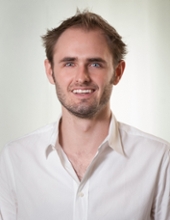 "Step one: completely and utterly embrace failure," advises Carnegie Mellon University alumni Matt Humphrey. Humphrey, who began his Computer Science degree at 13, is no stranger to the successes and failures of startup life.
Humphrey started his first company while pursuing his undergraduate degree. He co-founded the company with classmates he met at CMU. They used video game technology from video games to virtually test retail stores and products in 3D. "[We were] almost able to make that company successful, but we ultimately ended up having to shut it down," says Humphrey.
Humphrey embraced the failure and moved onto his next project--an MBA. During business school, he and colleagues started developing a peer-to-peer video delivery company. The company went on to become the first Project Olympus PROBE (PRoject Oriented Business Explorations), the subject of many of the early "Show-and-Tells", and the ended up getting funding from Y-combinator.
Humphrey and team spent that summer working on the project with Y-Combinator, which was in Boston at the time. "Most people were doing internships with Microsoft, Google, financial firms, or consulting groups, and we were doing a start up."
Humphrey found a passion for startup work, and when his second startup did not pan out, he moved out in Silicon Valley to be another co-founder for another company.
"I think a lot of people feel like they have to have the perfect idea, or every step of the business plan has to be all worked out," reasons Humphrey. "I would argue that just getting in it and doing, you learn so much more perspective about to have a better and more thoughtful idea with great execution."
After working on various iterations of successful social games and Facebook apps, Humphrey started HomeRun, an e-commerce platform in January of 2010.
"We would call small businesses nationwide, get discounts on their services, and match them with customers looking for great local experiences. We built an awesome business at HomeRun.com, and ended up powering offers programs for huge brands like JP Morgan Chase, American Express, Yellowpages.com, and a variety of others," explains Humphrey.
Within a year and a half, HomeRun had over 80 staff members, millions in revenue, and a best-in-class platform. In 2011, Humphrey, and his team decided to sell HomeRun for "just North of $100 million."
As a sign of dedication to the company, Humphrey spent two years working at HomeRun after the acquisition. In the meantime, he started doing a lot of angel investing, growing his portfolio of investments to 60 companies in the past few years. But he knew he would eventually be back in the startup game.
"Depending on how you count, this is startup seven for me," says Humphrey. "The first three were miserable failures, the next two did okay and made some cash, but we never built the long-term business we wanted to. Then HomeRun went very well, and this one is going even better."
The seventh is LendingHome, started late last year. "We rebuilt the mortgage process from end-to-end online, making it simple, fast, and reliable. Simply put, we are the best way to get a mortgage." Humphrey explains. "We provide a fundamentally better customer experiences to all borrowers and also provide capital to those that banks don't traditionally serve."
LendingHome has expanded from a few employees last October to over 150 this month and raised over $109 million in total financing.
The idea behind LendingHome is ambitious, and Humphrey urges aspiring entrepreneurs to think just as big. "You don't want to chase something so big that it's not doable, but make sure that it's big, meaningful, and the people coming to work every day are super excited to chase something that's going to be a big step forward, not an incremental gain."
"I tend to see a lot of people doing little, small innovations--things that are features, instead of a big product or platform."
LendingHome is innovating where banks won't, pushing Humphrey to learn continually and solve new problems--a skill he credits CMU and the CIE with teaching him.
"Being around such smart people and the exposed to such interesting problems [at CMU], you learn how to be super analytical and break things down. This helps in every aspect of building a business regardless of what you're doing or what space you're attacking."
By: Emma Diehl, ediehl@andrew.cmu.edu