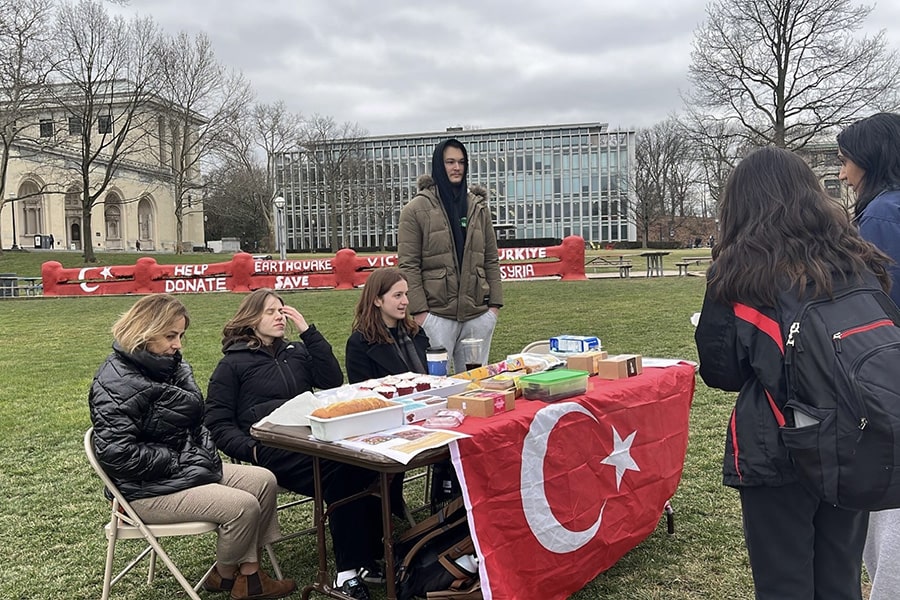 March 01, 2023
Culture of Compassion: CMU Students Collectively Raise More Than $48k for Turkey, Syria Earthquake Victims
By Rachel Latsko
Media Inquiries
Peter Kerwin
University Communications and Marketing
What began as individual fundraising efforts in the form of social media posts and baked goods quickly transformed into a community effort within Carnegie Mellon University and throughout Pittsburgh on behalf of earthquake victims in Turkey and Syria.
CMU's Turkish Student Society (TUSO) partnered with members of the University of Pittsburgh's Turkish American Student Association, Turkish Students of Duquesne University, and Pittsburgh Turkish American Association to host two fundraising events that raised over $33,000.
"When something tragic happens, you're in shock and you're frustrated. Then, you look to others and find inspiration," said Mehmet Deniz Birlikci, a junior studying artificial intelligence in CMU's School of Computer Science. Birlikci, along with sophomore Maya Kundakci, spearheaded initial fundraising before joining with TUSO. "At CMU, all it takes is one student to say let's do this, and then the community shows up."
Whether that's CMU's Robotics Institute Professor Zeynep Temel running to Trader Joe's to stock up on supplies for the student bake sale, CMU Turkish alumni matching donations or student organizations postponing painting CMU's Fence to give precedence to the Turkish undergraduate and graduate student painters, Turkish students felt the support.
Caner Dikyol, a Fulbright Scholar and first-time Fence painter, was moved by friends' and colleagues' reactions to his painting efforts.
"The change of paint color ignited excitement amid a tragic situation. My friends and colleagues asked how I was feeling, how my family was doing and if they were safe," said Dikyol. "The kindness of the CMU community reminds us of humanity in tragic situations."
TUSO at CMU is currently accepting donations through the Turkish Philanthropy Fund.