June 28, 2023
Personal Mention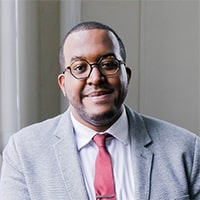 Ezelle Sanford III, assistant professor of history, has received the 2023-2024 Innovations in Pedagogy and Teaching Fellowship from HistoryMakers, the nation's largest African American video oral history archive. Sanford shared this honor with 12 scholars across the country. Sanford was recognized for the course he developed, "Introduction to African American History: Black Americans and the World." During the course, students will use The HistoryMakers Digital Archive to review the history of Black Americans from a global perspective. The HistoryMakers Innovations in Pedagogy and Teaching Fellowship aims to foster classroom innovation and teaching and to diversify curricula while furthering student learning and research skills during the upcoming academic year.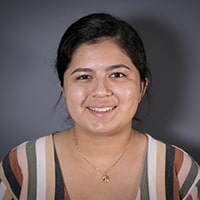 Ph.D. candidate Sofia Martinez has been awarded the prestigious Dwight David Eisenhower Transportation Graduate Fellowship by the U.S. Department of Transportation, Federal Highway Administration. Martinez earned her Bachelor of Civil Engineering from the University of Portland in Oregon.
Co-advised by professors Costa Samaras and Corey Harper, she is focused on the electrification of the U.S. public transportation sector to reduce carbon emissions. "I am grateful to receive this wonderful distinction and even more grateful to those who have helped me along the way," says Martinez. The Dwight David Eisenhower Transportation Fellowship Program (DDETFP) was founded to attract the most talented individuals in the country to the transportation field and promote the development of the transportation workforce. Managed by the Technology Partnership Program, Federal Highway Administration, the DDETFP covers a wide range of transportation modes. It grants fellowships to students who are pursuing degrees in disciplines related to transportation. The DDETFP is inclusive of all modes of transportation. Read the story.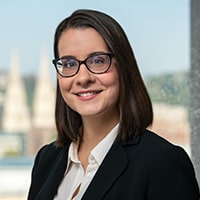 Tricia O'Reilly has been announced as the chief of staff to CMU President Farnam Jahanian. O'Reilly has been serving as interim chief of staff since January 2023. "Tricia has been one of my key advisors since she joined the university in 2016, having previously served as senior director for executive communications," said CMU President Farnam Jahanian. "Her work on behalf of my office, including engaging with partners across campus and beyond, has already had significant impact, and I am delighted to be able to rely on her continued leadership." As chief of staff, O'Reilly works with partners across campus to advance the university's strategic priorities on behalf of the president. She is a key advisor to the president and to the executive management team and plays a critical role in planning and decision-making, providing leadership for a broad set of university-wide initiatives. "I am excited to support and advance university priorities and President Jahanian's leadership during this time of tremendous opportunity for CMU," O'Reilly said. "I look forward to working alongside the leadership team and with faculty, staff, students and external partners in support of our shared vision for the future." Read the story.
SEI Announces 2023 AJ Awards Recipients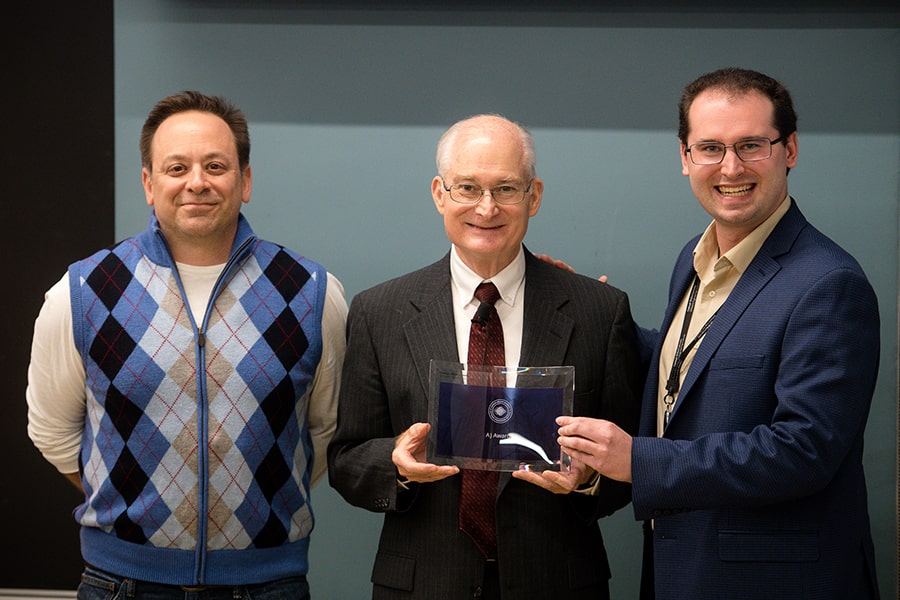 SEI Director Paul Nielsen, center, presents the team AJ Award for serving the customer to members of the Missile Defense Agency Team, Matthew Milazzo, left, and Ryan Karl, right.

The Software Engineering Institute recently announced the recipients of the 21st annual AJ Awards, which recognize outstanding staff accomplishments. The AJ Awards are named in honor of Angel Jordan, former university provost, who is considered the founding father of the SEI.

The recipients of AJ Awards are:

Director's Office Awards for Excellence
Christopher Fairfax, Ipek Ozkaya, and SEI Trade Show Team of Connie Sapienza and Leslie Chovan

Inspiring Leadership
Grace Lewis

Leading and Advancing — Individual
James Wessel

Leading and Advancing — Team
FEMA Disaster Scenario Team — Stephen Beck, Sebastian Echeverria, Jeffery Hansen, Gabriel Moreno, Dan Plakosh, Jason Popowski, David Walbeck

Living our Shared Values
David Biber

Newcomer of the Year
Shen Zhang

Operational Excellence — Individual
Melissa Ludwick

Operational Excellence — Team
Long Range Stand Off Weapon Team—Stephen Beck, Natalie Chronister, Alan Cohn, Harold Ennulat, Tom Merendino, Bryce Meyer, Dan Plakosh, Jason Popowski, Michael Riley, John Robert, Doug Schmidt, David Walbeck, Jim Wessel

Serving the Customer — Individual
Kevin Pitstick

Serving the Customer — Team
Missile Defense Agency Team—Luiz Antunes, Stephen Beck, Jordan Britton, Peter Capell, Alan Cohn, Patrick Earl, Jeffrey Hamed, Ryan Karl, Mena Kostial, Rich Malina, Jay Marchetti, Bryce Meyer, Matt Milazzo, Dan Plakosh, Jason Popowski, Nicholas Reimer, Doug Reynolds, Michael Riley, David Svoboda, Jim Wessel, Hasan Yasar

Who's New at CMU?
Carnegie Mellon welcomes the following new staff members this and last week.
Azra Sharaf, Senior Systems Analyst, Enrollment Systems;

Jonathan Walkush, Director of Finance and Operations, Biomedical Engineering;

Vijaya Sambhavi Inapuri, Salesforce Marketing Cloud Developer, Info Services, University Advancement;

Evariste Nsengumuremyi, Academic Program Manager, Rwanda — Information and Communication Technology;

Abigail Medvic, Research Assistant MacWhinney Lab, Psychology;

Ali Petrisek, Research Associate I, Biological Sciences;

Ariane Seymour, Junior Java Developer, Enterprise Information Systems, Computing Services;

Christopher Nichols, Laborer I, Facilities Management Services;

AnaBella Lassiter, Academic Coordinator, Heinz College;

Carissa Falcone, Group Exercise Fitness Instructor, Athletics & Physical Education;

Douglas Elliott, Technical Lead, Application Management, Enterprise Application Support, Computing Services;

Michael Garbett, Temporary Employment Service, HR Operations;

Minh Khue Le, DevOps Engineer, Machine Learning Department;

Yuanlin Wu, Research Associate, Computational Biology Department;

Yuhang Li, Research Assistant II — LiMN Laboratory, Neuroscience Institute;

Zoe Nehrer, Academic Program Manager, Student Academic Success Center;

Ted Keim, Receiver FMS, Operations - Storeroom/inventory, Facilities Management Services;

Esther Hylva, Temporary Employment Service, HR Operations;

Leanne Rosso, Outreach Associate, School of Architecture; and

Yuchen Wu, Research Assistant, Robotics Institute.