January 11, 2023
Winter Storm Impacts Pittsburgh Campus; More than 100 Respond to Mitigate Damage
By Kathryn Leary kathrynl(through)andrew.cmu.edu
Media Inquiries
Peter Kerwin
University Communications & Marketing
When Winter Storm Elliott moved across our region over the holiday break, it altered many faculty, staff and student travel plans. The massive cross-country storm's damaging winds and arctic air also affected local homes and structures, including several buildings on CMU's Pittsburgh campus.
The combination of rapidly changing temperature, extreme cold and high winds created many winter weather challenges, including water damage from broken frozen pipes in 12 campus buildings. Impacts to Roberts Engineering Hall, Posner Hall and the Hall of the Arts were especially significant. A team of more than 100 first responders, including CMU's facilities crew and health and safety personnel, mobilized on campus beginning on Christmas Eve to mitigate the damage and immediately start repairs. Occupants of affected areas were contacted with details and next steps specific to their location. Because of the team's quick action, all impacted spaces will be ready for use by the first day of classes on Jan. 17.
"This storm was extreme in so many ways, it's hard to be prepared for something of this magnitude," said Daryl Weinert, CMU's vice president for operations. "But our teams reacted quickly and combined their expertise to accelerate the recovery time. I'm very proud of our response to such an unusual event."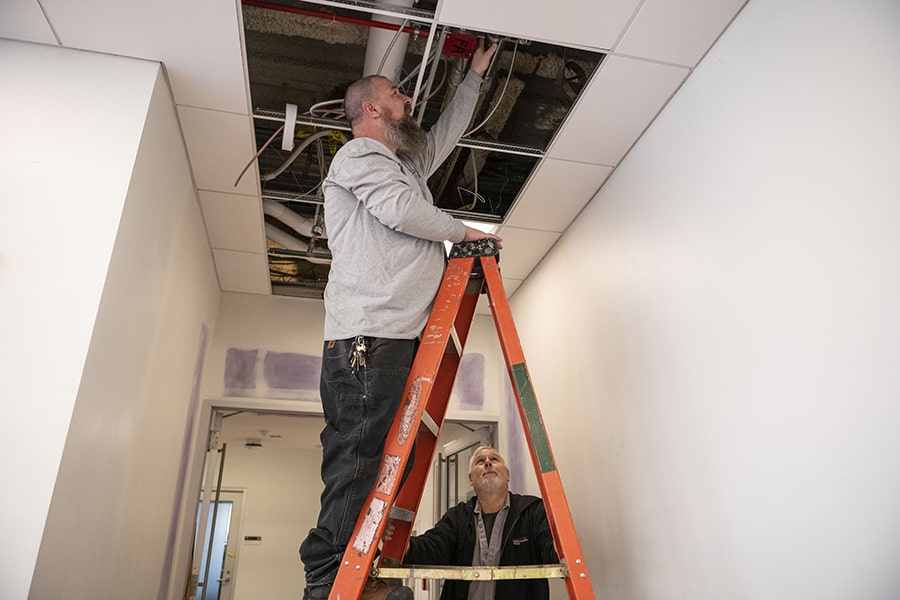 Plumbing staff Mike Lucas and Steve Wengryn work to verify fire suppression line fittings are holding after repairs to a section of pipe in the Hall of Arts.
"The damages to our campus could have been much worse, but our team's extraordinary efforts mitigated the impact of the severe weather on our facilities," said Carnegie Mellon President Farnam Jahanian. "I am profoundly grateful for this group's swift response and collaboration as they answered the call to action when it was needed most."
CMU community members can view a list of Winter Storm Elliott frequently asked questions (FAQ) for more information about the winter storm damage, details regarding the impacted areas, contacts for specific questions about the storm and what to do if your area has been affected.