January 23, 2023
Bruce Gerson, Voice for CMU, To Retire After 40 Years
For four decades at Carnegie Mellon University, Bruce Gerson has used his voice to advocate for student-athletes, share news with the campus community, tell stories about talented staff, announce the Andy Awards and welcome audiences to commencement from the loudspeaker in Gesling Stadium.
"There were always countless people at commencement who knew that voice," said Jennifer Boyer, executive director of University Events and Engagement. "It felt like a friend greeting you." 
Gerson, who has served as director of Internal Communications at Carnegie Mellon for most of his career, has announced his retirement. His last day will be Feb. 3.
"I want to congratulate Bruce on his long and successful career at Carnegie Mellon. For four decades, he has exemplified a strong commitment to his work and to CMU. We thank him for his many contributions to University Communications and Marketing throughout that time," said Nicholas Scibetta, vice president for University Communications and Marketing.
Gerson kicked off his 40-year career at the university as sports information director for the Department of Athletics, where he kept records for all 19 varsity sports, promoted student-athletes and generated stories for local, regional and national press.
"As a communicator, Bruce has helped people understand the greatness of our university for decades."
— Joshua Centor
One of his proudest moments as sports information director, according to his wife, Beverly, came in 1987, when Sports Illustrated magazine shared the story of his effort to increase student attendance at a football game by handing out a free computer disk to the first 400 students who arrived at the Tartans' home game against Case Western Reserve.
"Bruce was a talented sports information director and a wonderful friend during my tenure at Carnegie Mellon," said Rich Lackner, former head football coach for the Tartans. "Being an advocate for the coaches and most importantly for the student-athletes was foremost in Bruce's eyes. Teamwork is critical to success in the athletic department, and Bruce was always a team player!" 
After more than 12 years as sports information director,  Gerson found the many evenings and weekends he spent going to games left him little time to spend with his growing family. It was then that he left his sports role behind and moved into central communications.
The Gersons  have three sons — Gary, Greg and Gabe — and a granddaughter, Joanna, who recently turned a year old. Gabe and his wife, Alexandra (Grande), are alumni of CMU's College of Engineering and Tepper School of Business.
"It's been a privilege to work with Bruce over the past 15 years," said Joshua Centor, associate vice president of Student Affairs and director of Athletics, Physical Education and Recreation. "He's had a number of roles at the university, but as a communicator he has helped people understand the greatness of our university for decades."
A three-time Andy Award nominee, Gerson has written and edited hundreds of news items and feature stories for The Piper, helped prepare and distribute internal communications for university leadership, and served as a core member of the university's Emergency Preparedness and Response Team.
"His example taught me how to be a good coworker and member of the CMU community."
— Susie Cribbs
Lisa Kulick, director of content in the Tepper School of Business, remembers first working with Gerson in the late 1990s, when he prepared a newsletter for Carnegie Mellon known as the 8-1/2 x 11.
"It was literally a sheet of 8-1/2 x 11 paper, tri-folded, that included only the weekly news that could physically fit on its double-sided surface," Kulick said. She helped him turn the 8-1/2 x 11 into a digital piece that preceded The Piper.
"When I think of Bruce Gerson, I think of an even-keeled, no-nonsense news guy who did not get flustered or lose his patience, despite the swirling chaos that sometimes knocked the rest of us off balance," Kulick said. "Perhaps it was the miles-long runs he took daily at lunchtime with former Vice President of University Relations Don Hale. Or maybe it was just his good-hearted, supportive nature. Kind and genuine, he was always quick to share an amusing story or check in on how you were doing. And when you needed a keen eye on your long-winded draft, he could turn it into a crisp, terse piece with an AP-style magic wand." 
Susie Cribbs, associate director of content and web communications in the School of Computer Science dean's office, said she had the good fortune of working for Gerson when she was fresh out of college.
"I couldn't have asked for a better mentor. He helped me become a better writer and editor, sure, but his example taught me how to be a good coworker and member of the CMU community," Cribbs said. "He understands how important people are, and he goes out of his way to make them feel appreciated and heard."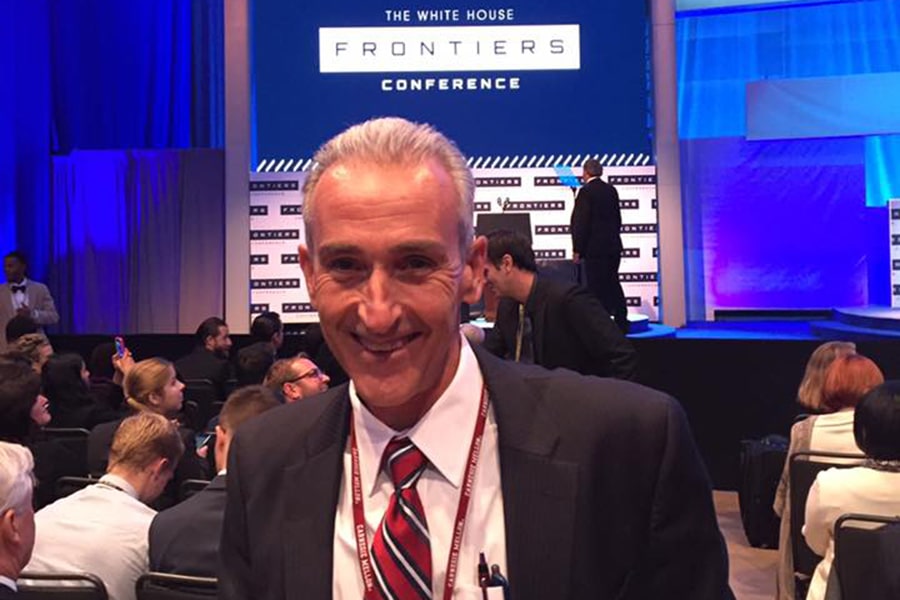 As a member of the communications team, Gerson helped to cover the White House Frontiers Conference hosted by Carnegie Mellon in 2016. The conference brought together some of the nation's top innovators to discuss how new frontiers in science and technology could improve lives and shape the future.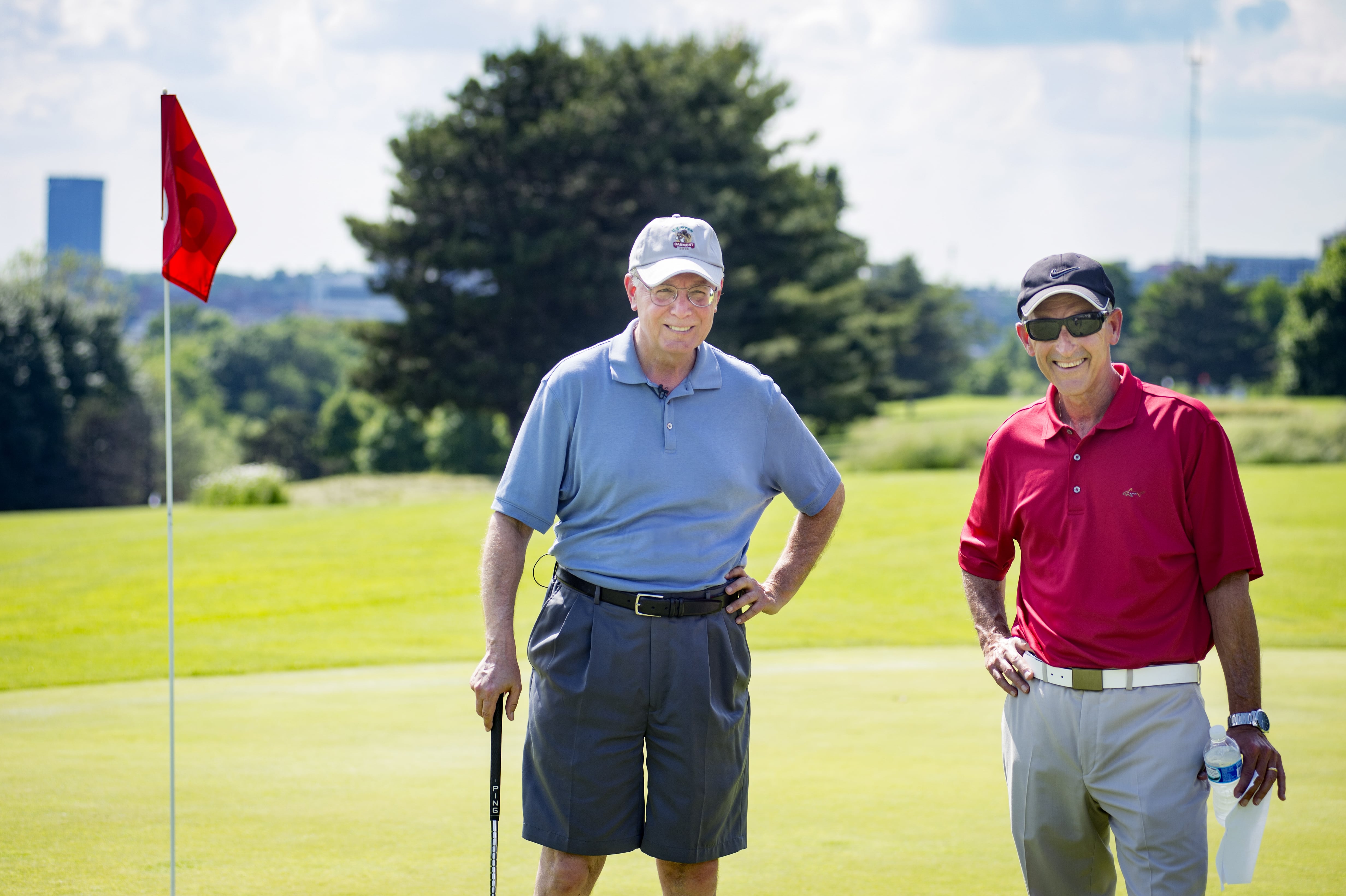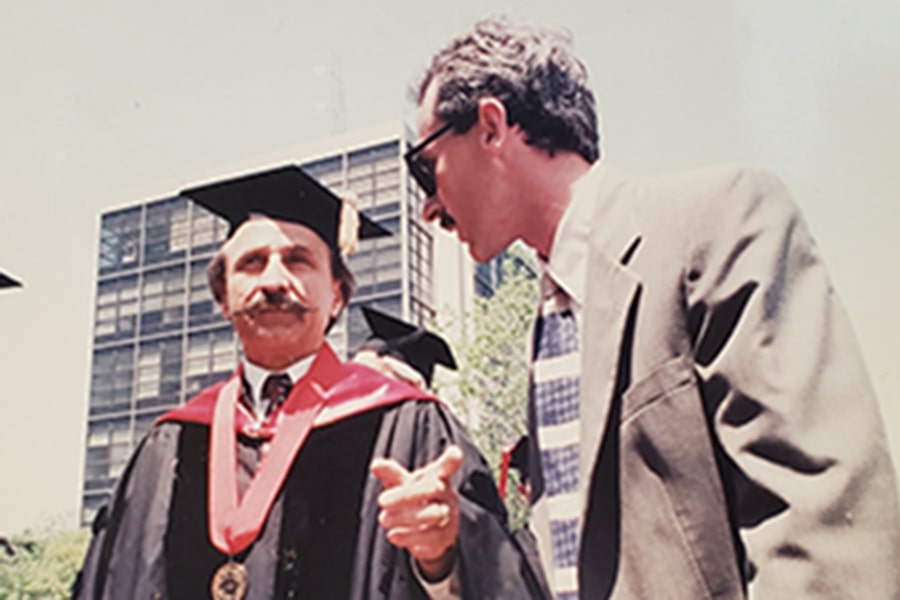 Gerson and former CMU President Robert Mehrabian exchange a few words at a commencement ceremony.
Gerson had a chance photo opportunity with CMU alumnus Ted Danson in 2004.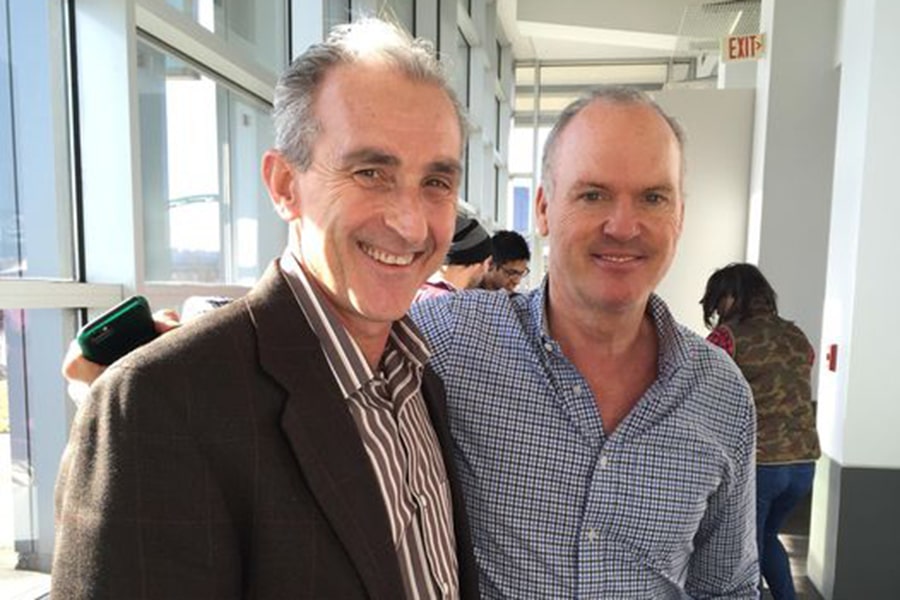 Gerson posed with award-winning actor, director and Pittsburgh native Michael Keaton during Keaton's first trip to CMU's Entertainment Technology Center as a Visiting Scholar.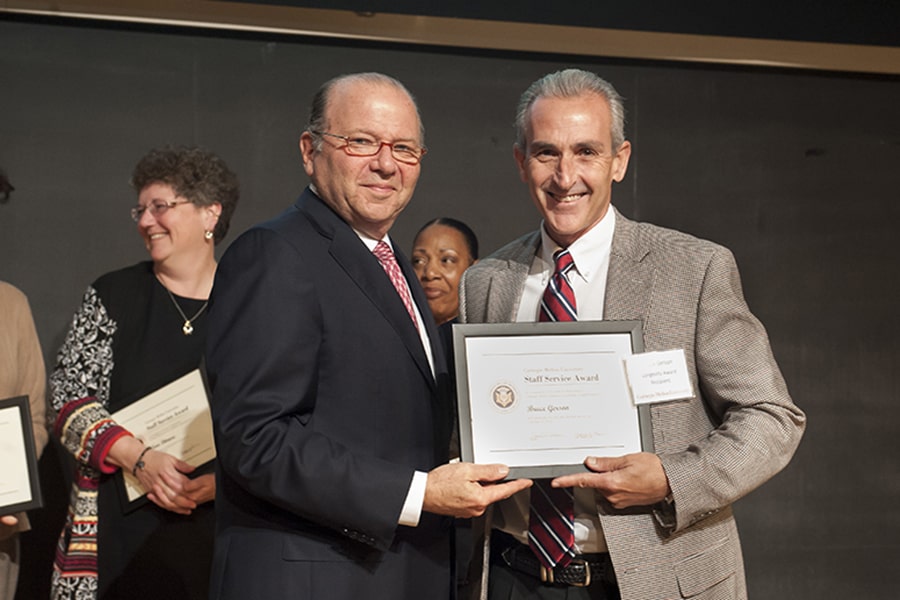 Former CMU President Jared L. Cohon congratulated Gerson on 30 years of service to the university at the Andy Awards Ceremony in 2013.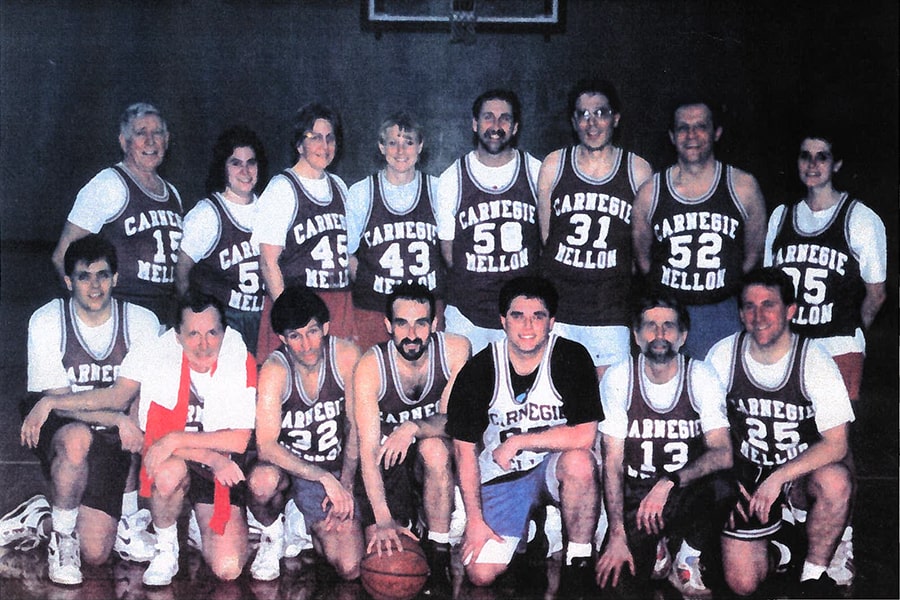 In the 1980s, Gerson (front row, hand on the ball) helped organize a faculty and staff basketball team that played the Tartans in a pre-season game.