November 16, 2022
News Briefs
Men's Cross Country Team Wins Mid-Atlantic Regional; Men, Women to Compete in NCAA National Meet
By winning the NCAA Mid-Atlantic Regional Championship for the fourth straight year last Saturday the men's cross country team automatically qualified for the NCAA Division III National Championship Meet this Saturday, Nov. 19, at Forest Akers in Lansing, Michigan. This will be the Tartans' eighth straight team appearance at the championships and 15th in the last 16 years.
The Tartans, ranked 11th in NCAA Division III, placed five runners in the top eight and all seven runners finished in the top 25 to earn all-region honors. Senior Elijah Sech led the Tartans with a second-place finish. Sophomore Colin McLaughlin, junior Jacob Hsu and junior Charlie Murphy placed third, fourth and fifth. Sophomore Matthew Coyle placed eighth, freshman Ryan Podnar 19th and sophomore Aleksei Seletskiy 24th. 
The women's cross-country team will also compete in the NCAA Division III Championships Saturday after placing second in their Mid-Atlantic Regional. Three Tartans finished in the top 35 to earn all-region accolades, led by graduate student Kristen Seballos, who placed fifth. Senior Mona Yaun finished 13th and sophomore Alyssa Hoffman placed 22nd.
Learn more about the men's and women's cross country teams.  
Women's Soccer Team Advances to NCAA Round of 16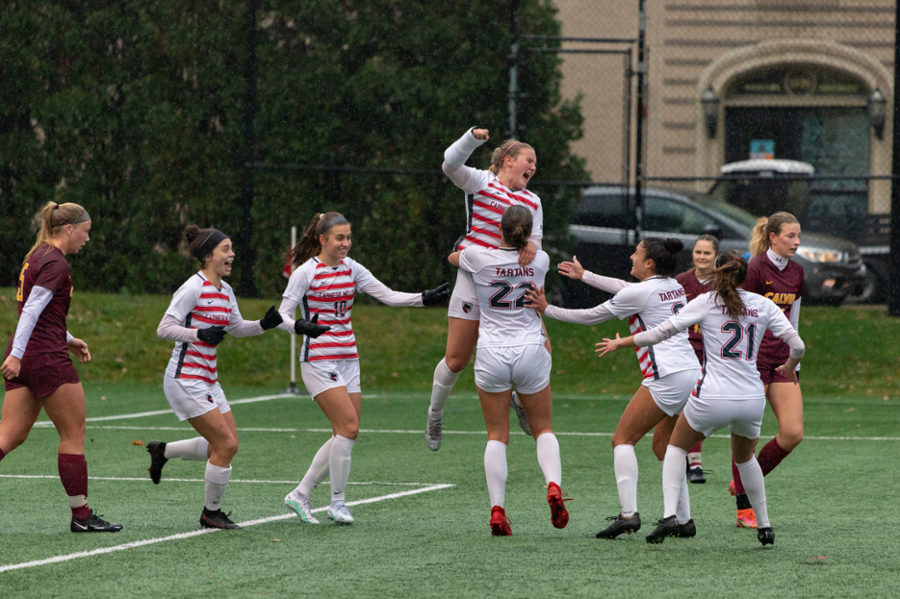 The Tartans celebrate a goal in their 2-0 win over Calvin last Saturday.
The seventh-ranked Carnegie Mellon women's soccer team advanced to the sectional semifinal round of the NCAA Division III Women's Soccer Championship with a 2-0 victory at home against 10th-ranked Calvin University last Saturday. Junior Cecelia Dieterich opened the scoring in the first half and Alex Adams added a second-half goal.
The Tartans, now 14-2-2, will host Washington University (Mo.) at 5 p.m. Saturday, Nov. 19. If they win they will play at 6 p.m. Sunday against the winner of Saturday's Messiah-Emory match.
While the Tartans play on, several individuals have earned All-University Athletic Association honors. Senior Rachel Legg has been named the UAA Women's Soccer Defensive Player of the Year and first-team All-UAA, while Adams and Dieterich were second-team All-UAA selections. Senior Olivia Brand and sophomore Avery McGuirt received honorable mention recognition.
Learn more about the women's soccer team.
Meet with the Provost Nov. 30
Provost Jim Garrett will continue to host office hours for students, faculty and staff this fall. Office hours vary to accommodate the variety in our community members' schedules and will be held at the dates and times below:
Wednesday, November 30 from 2 - 3:30 p.m.; and
Wednesday, December 14 from 9 - 10:30 a.m.
Appointments will be made in person on a first-come, first-served basis. All office hours will be held in CCR East in Warner Hall, unless otherwise noted.
Please join Provost Garrett to share your feedback and ideas or just to say "hi." He is always happy to meet and talk to the community about their experiences and ways we make the CMU experience better for everyone.
Girls of Steel Candy Fundraiser Runs Through Dec. 15
Carnegie Mellon's Girls of Steel Robotics club, a K-12 outreach initiative of the Robotics Institute, is partnering with Sarris Candies in a fundraising effort in which 25% of the proceeds raised will be donated to the Girls of Steel. 
Order candies online now through Dec. 15. Candies will be shipped to you, or your friends and family for free with a $5 per order packaging and handling fee. Fees may vary per state.
When ordering:

Enter the CMU/Girls of Steel Group ID: 10-2445
Choose from holiday candies, chocolate covered pretzels, hot cocoa bombs, and more.
Who's New at CMU?
Carnegie Mellon welcomes the following new staff members this week.
Kierstyn Cassidy, Casual Lifeguard, Part-Time, Athletics & Physical Education;

Junya Inohara, Data Center Tech Lead, SCS Computing Facility;

Angela Lupinetti, Associate Director, Communications - University Events and Engagement, University Advancement;

Christine Niyizamwiyitira, Scholar-in-Residence, Rwanda - Information and Communication Technology;

Harper Adkins, AV Sr. Departmental TEF Technician, Computing Services;

Julianne Bendzsuk, Early Child Educator, HR Operations;

Kevin Smith, Receiver FMS Operations - Storeroom/inventory;

Kimberly Falce, Administrative Coordinator, Parking and Transportation Services;

Mackenzie Shaak, Investment Accountant, Investment Office;

Nicole Parker, Hourly Shuttle/Escort Driver, Shuttle Service;

Spencer Worms, Systems Software Engineer, Business Applications Operations, Computing Services; and

Tina King, Senior Academic Coordinator, Dietrich Academic Advisory Center.